Gorham — A two-year, $15 million project is set to begin later this month to fix sinkholes under Interstate 70 in western Kansas.
The project will improve the look and feel of the roadway in Russell County, the Kansas Department of Transportation said.
Truckloads of soil, enough to fill 25 Olympic-size swimming pools, will be used to level out two areas of sinking road near Gorham.
An overpass west of what is called the Crawford sinkhole will also be torn down, and the Russell County Commission agreed to close a county road leading up to a bridge that crosses over I-70.
The bridge has settled nearly 6 feet on one end. Despite that, it is considered to be in good shape except for some cracking.
Preparation for the overpass demolition has started, and it will be removed with the aid of explosives.
During the demolition work, expected to last at least eight hours, traffic will be rerouted to the former U.S. Highway 40.
"We're just real fortunate old 40 is here," Zimmer said. "It's saved us several times."
A third sinkhole, known as the Ruback sink, has subsided about 3 feet but is not as noticeable as the other two, KDOT geologist Neil Croxton said.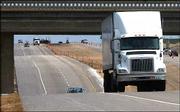 Abandoned oil wells in the Gorham Oil Field are believed to be the reason for the sinking roads. The wells were improperly plugged, allowing groundwater movement in an area about 1,300 feet below the surface.
Sinkholes develop and the ground level begins to sag as salt dissolves underground, according to KDOT.
The decline is subtle, but the roadway drops about 6 inches a year at the Crawford sink.
Since KDOT first tried to level the ground in 1971, the roadway has fallen 12.3 feet. In 1971, crews raised the highway about 5 feet and repaved the lanes.
Copyright 2018 The Associated Press. All rights reserved. This material may not be published, broadcast, rewritten or redistributed. We strive to uphold our values for every story published.