On June 6, 2003, a 28-year-old Lawrence woman met a man at a downtown nightclub. He passed himself off as a friend of a friend, and after she gave him a ride home, he threw her to the ground, punched, choked and raped her. She lost consciousness twice. The second time, she said, she felt a warm numbness, even though she knew she was cold and water from a nearby rainspout was pouring into her ear. "I got the feeling that if he choked me like that again and I passed out, I wasn't going to be able to come back," she said. "I decided that if I went to sleep, nobody would know."
As soon as the attack ended, the woman began a different kind of ordeal, one that a majority of rape victims never experience: the drawn-out process of reporting the crime to police, testifying in court and trying to see a successful prosecution through.
Now that her attacker, 20-year-old Patrick C. Neal, has been convicted and sentenced to more than 22 years in prison, the woman is speaking out in hopes she can encourage other victims to come forward.
Her story underscores the fact that, even though people say attitudes about sexual assault have changed in recent decades, between 60 percent and 75 percent of sexual assaults still go unreported, statistics show.
"If more people press charges, maybe this wouldn't be as big of a problem as it is," the woman said. "There was never a point when I thought I wasn't going to press charges. ... I would rather go through more pain now than to be tortured with it for the rest of my life knowing I didn't do all I could to put him in jail."
The Journal-World does not identify victims of sex crimes unless they approve such identification. The woman does not want to be identified.
Visible, invisible bruises
The early-morning attack happened outside Jacksonville Apartments, 700 Monterey Way, after the woman drove Neal home from La Tasca, 943 Mass.
One thing that set her case apart from many other rapes was the long trail of physical evidence, including scrapings from under her fingernails, surveillance-camera photos of her and Neal at a convenience store minutes before the attack, and photos of her bruised, swollen face and neck.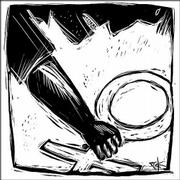 This evidence made convicting Neal easier for Dist. Atty. Christine Kenney's office, but Kenney and others said most rape cases still came down to "he said, she said."
"I think sexual assaults are still very difficult crimes to prove," Kenney said.
"If this had happened to her and there had been no bruising and none of those obvious signs of what happened, her credibility would have been more in question (in front of a jury)," said Sarah Jane Russell, executive director of GaDuGi SafeCenter, formerly known as Rape Victim-Survivor Services.
But even in cases where a victim is determined to prosecute and there's ample evidence, victims must overcome plenty of challenges, including questions from a hostile defense attorney, fears of being harassed or publicly identified as a rape victim, and a confusing mix of emotions.
"It still hurts," the woman said. "Even though it shouldn't be, it's still a very shameful thing. I know there's nothing that I did to deserve this or provoke this ... (but) even now I don't want everyone to know my name because it's very embarrassing, and I feel bad."
'Everyone knows'
April is Sexual Violence Awareness Month. Activities planned locally include silent vigils the night of April 21 to honor people who have experienced sexual violence.Vigils will be from 7 p.m. to 8 p.m. at the following places:¢ Stidham Union, Haskell Indian Nations University.¢ Danforth Chapel, Kansas University.¢ Osborne Chapel, Baker University.¢ Plymouth Congregational Church, 925 Vt.For more information, call the GaDuGi SafeCenter at 843-8985.
Immediately after the attack, the woman sought help at a nearby Walgreens store, one of the few all-night businesses in the area. A Lawrence Police officer arrived, followed by Lawrence Douglas-County Fire & Medical workers. She sat in plain view as they talked with her, and she remembers a couple of young male college students walking past, one nudging the other and pointing.
"Everybody's staring at me like I'm a lizard or something," she said.
She turned down an ambulance transport because she was worried about the cost. (She later learned that her roughly $1,000 in medical bills would be paid by the state's crime-victim compensation fund.)
After riding around in a squad car to help a police officer find the site of the rape, she went to Lawrence Memorial Hospital. There, she had hairs pulled from her body, four vials of blood drawn and underwent a probing sexual-assault exam.
Doctors were worried she had a crushed larynx, so X-rays were taken. A technician asked a well-meaning but unwelcome question: "What happened to you?"
By the time she left the hospital, it was the middle of the next afternoon.
That night, she had nausea from painkillers. She didn't sleep for four days.
It wasn't until about a week later that she was able to go out in public. She went to Target wearing dark sunglasses and an oversized jacket with a collar that covered the abrasions on her neck.
Everywhere inside the store, she saw short-haired young men who might have passed for Neal. "Everyone knows what happened to me," she kept thinking.
When she emerged from the store and entered the parking lot, she looked around and felt panic.
"All I could see were people that could hurt me," she said.
The GaDuGi SafeCenter, formerly known as Rape Victim-Survivor Services, served 110 people locally in 2003, according to the agency's figures.But the actual number of rape victims probably was much higher. According to a Bureau of Justice Statistics survey from 1998, only one in four women and one in 10 men report rape to law enforcement.
Forced to move
Early in Neal's criminal case, the woman found out that her full name and exact address were part of a public police report given to Neal and his attorney. She worried his supporters would find her and hurt or harass her.
"Why is it necessary for him to know my full name and my address?" she asked. "It's not, and I think it should be changed."
Kenney, the district attorney, also thinks state law should be changed to keep defendants from getting that information. Defendants have a right under the U.S. Constitution to confront witnesses against them, but Kenney said it was possible to preserve that right while protecting victims in sensitive crimes.
"I don't think it's necessary for that kind of personal information to be floating out there publicly," she said.
The woman decided to move out of her east Lawrence apartment complex and back in with her parents, but her landlord refused to let her out of the lease. She ended up paying rent for several months even though she wasn't living there.
"We've run into that before," victim advocate Russell said. "There was plenty of substantiation that this was not a made-up thing, and there was certainly not a human response to that."
Prior to the attack, the woman went to two or three concerts per week. For the most part, she since has stopped going. She stopped working at night, and lost some longtime friends because of a dispute with a roommate related to her apartment lease.
Help from Harry Potter
Kansas' rape-shield statute prevents defense attorneys from bringing a victim's sexual history into evidence unless a judge finds it's relevant to the defense. Still, taking the witness stand can be a terrifying experience for victims.
Neal's attorney tried to insinuate during questioning that another male witness in the case was a past boyfriend, the woman said. Some victims have trouble using detailed anatomical terms in front of a room full of strangers -- something they must do to help prosecutors establish the elements of the crime, Kenney said.
One thing that helped the woman through her case was reading the Harry Potter series, in which the fictional hero, a bespectacled young wizard, battles Lord Voldemort, a villain so evil and powerful that people fear to speak his name.
"I could totally identify with that because I knew who that person was," she said, alluding to Neal. "As hokey as it is to say, Harry Potter got me through this whole thing."
At Neal's sentencing March 11, his attorney made the argument he shouldn't be sent away for so long because of an event that took less than an hour. When it was the victim's turn to speak, she stood up and used a quote from the Harry Potter series that describes Lord Voldemort: "Fear of a name increases fear of the thing itself."
Then she called Neal by name and said, "I take away your freedom."
Neal, who was on probation in Johnson County for aggravated battery of a 14-year-old girl at the time of this rape, was sentenced to 22 years and three months in prison for rape and a year for aggravated battery. He is appealing the conviction.
Even if victims of sexual assault don't want to press charges as this victim did, Russell suggested they at least contact her office.
"You really can heal," she said. "You are not the same person you were before this happened in your life. That isn't necessarily a negative. You have the power to change the meaning of the event."
Copyright 2017 The Lawrence Journal-World. All rights reserved. This material may not be published, broadcast, rewritten or redistributed. We strive to uphold our values for every story published.