San Francisco — Barry Bonds has sought Willie Mays' approval ever since he was old enough to tag along with his godfather in the San Francisco Giants' clubhouse. Six MVPs, a single-season record 73 home runs, and countless other accomplishments never felt like quite enough.
Hitting his 660th homer to tie Mays for third place on the career list has done the trick.
Bonds hit a towering three-run shot Monday that splashed into McCovey Cove, sending the Giants to a 7-5 win over the Milwaukee Brewers.
"It was like a weight was just lifted off my shoulders," Bonds said. "I felt a sense of accomplishment in baseball. It's a relief now to be able to stand next to my godfather and finally feel like I've accomplished something in the game of baseball. It was a big way of getting his approval that I've finally done something."
Bonds connected in the fifth inning on a 3-1 pitch from Matt Kinney (0-1) for his second homer of the season. The estimated 442-foot blast put the Giants ahead 5-4. It was the 28th time Bonds has homered into the water.
The 39-year-old Bonds was greeted at home by several teammates, and he stepped on the plate, raised both hands in the air and pointed to the sky.
Mays, who turns 73 next month, hurried to congratulate Bonds, giving his godson a hug and a kiss outside the dugout. Mays presented him with a torch decorated with 25 tiny diamonds, symbolic of the number Bonds wears. They both carried the torch before the 2002 Olympics.
Bonds came back out of the dugout and waved to the fans in each direction as they cheered, "Barry! Barry!" and gave him a standing ovation. The sellout crowd of 42,548 seemed to forget about the steroid controversy surrounding their slugger and his personal trainer.
"The fans appreciate a good baseball player," manager Felipe Alou said. "I know some guys were booing, but they love the guy."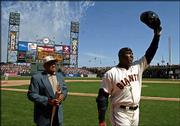 Children along the left-field wall bowed to Bonds when he came out to play the field in the top of the sixth. A banner of Bonds was unfurled from the light tower to the left side of the main center-field scoreboard to match one of Mays on the other side.
Hank Aaron leads the career list with 755 home runs, followed by Babe Ruth with 714.
Bonds, who set the single-season homer record in 2001, went five games without a homer after hitting one last Monday at Houston.
"Maybe I'm just too stupid to walk him every time," Brewers manager Ned Yost said. "I'd venture to say there's not another player on this planet better than Barry Bonds."
Giants starter Jerome Williams (1-1) pitched six innings, allowing four runs on eight hits.
Pirates 13, Cubs 2
Chicago -- Greg Maddux's Wrigley Field homecoming with the Chicago Cubs was upstaged by Kris Benson.
Benson allowed one hit in six superb innings, outpitching a wild and ineffective Maddux in Chicago's first game at Wrigley Field since losing last year's NL championship series.
Maddux (0-2) left the Cubs in 1992 after winning the first of four straight Cy Young Awards, signing with the Atlanta Braves.
He lasted only 32/3 innings, giving up five walks, eight hits and six runs.
Benson (1-0) gave up a first-inning infield single and two unearned runs.
Reds 4, Phillies 1
Philadelphia -- New stadium, same old Phillies.
Paul Wilson allowed just one run over 71/3 innings in the first game at Citizens Bank Park, triggering boos from a sellout crowd, frustrated by the home team's slow start. Bobby Abreu hit the first home run, the only bright spot for a dismal Phillies offense that has scored 16 runs in seven games.
Mets 10, Braves 6
New York -- Newcomers Kaz Matsui and Mike Cameron each drove in two runs, and Steve Trachsel was terrific on the mound and at the plate in a New York victory.
Todd Zeile added three hits as a makeshift Mets lineup roughed up former teammate Mike Hampton (0-1) in building a 10-0 lead.
Trachsel (1-1) allowed one run and four hits in six innings, and also drove in two runs.
Rockies 7, D'backs 4
Denver -- The Colorado Rockies rallied for four runs in the seventh inning, capitalizing on Arizona reliever Jose Valverde's wildness. The Rockies erased a 3-0 deficit in their home opener before a sellout crowd of 48,013.
The Rockies had just one hit in their winning rally. Colorado loaded the bases with a single and two walks off Mike Koplove (0-1), then Koplove walked in a run. Valverde relieved and hit a batter and threw two wild pitches -- all allowed runs to score.
Astros 10, Cardinals 5
St. Louis -- Richard Hidalgo hit a three-run home run and broke an eighth-inning tie with a sacrifice fly to lead Houston to a win.
Craig Biggio had three doubles, three RBIs and scored three times for the Astros. Ricky Stone (1-0) pitched one scoreless inning to get the win.
Copyright 2018 The Associated Press. All rights reserved. This material may not be published, broadcast, rewritten or redistributed. We strive to uphold our values for every story published.