Cleveland — After blowing two games, David Riske wasn't about to waste another one.
And once the rage burned inside Cleveland's closer, there wasn't much the Minnesota Twins could do.
"I told myself, 'This is not going to happen again,"' Riske said. "I pitched mad."
Travis Hafner hit a grand slam, Cliff Lee went six innings, and Riske finally closed one out as the Indians won their home opener, 6-3, Monday.
"We finally pulled one out," outfielder Coco Crisp said. "We got the lead and kept it."
The Indians celebrated their first 10 years at Jacobs Field by unveiling a new $7 million scoreboard.
A few innings later, Hafner gave Cleveland fans the kind of moment they've gotten used to while watching the Indians bludgeon the AL Central for most of the past decade.
Hafner connected in the third inning off Kyle Lohse (0-2), and Matt Lawton added a solo shot in the seventh for Cleveland, which stopped a three-game losing streak.
The Indians went 2-5 -- three were extra-inning losses -- on a season-opening road trip they could blame squarely on their bullpen's inability to finish games.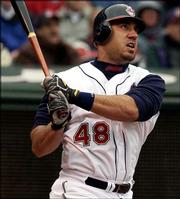 But Lee (1-0), who allowed five hits in six innings and induced three double plays, handed over a 5-2 lead that Cleveland's relievers finally protected. Jack Cressend worked a one-hit seventh, and Rafael Betancourt a 1-2-3 eighth before Riske, who has twice given up ninth-inning leads, let the Twins pull within 6-3.
Cleveland's fans then booed Riske, who decided enough was enough.
"I needed something to turn my switch," said Riske, a former set-up man who inherited the closer's job in spring training when Bob Wickman had a setback in his comeback from elbow surgery.
Rangers 7, Angels 6
Arlington, Texas -- Pinch-hitter Brad Fullmer burned his former team with a three-run double that capped a five-run sixth inning. Hank Blalock was 3-for-5 with a go-ahead two-run single and finished the four-game series with 10 hits.
Copyright 2018 The Associated Press. All rights reserved. This material may not be published, broadcast, rewritten or redistributed. We strive to uphold our values for every story published.