Jews have been celebrating the spring festival of Passover for more than 3,000 years, eating symbolic foods, singing traditional songs and saying Hebrew blessings as a way to recount the Exodus of the Israelites from slavery in Egypt to freedom.
Millions of Jews around the world, as well as many Jews in Lawrence, gathered with friends and family around the dinner table Monday and Tuesday to have Passover Seders -- special meals designed to retell the ancient story of Moses, a hard-hearted Egyptian pharoah and the Jewish people's overcoming of hundreds of years of oppression.
Passover, an eight-day holiday, began at sunset Monday and concludes at nightfall Tuesday. Most Jews observe the festival by having one or two Passover Seders at the holiday's outset.
Also, the week of Passover is a time when many observant Jews abstain from eating bread or any food with that contains a leavening agent -- in Hebrew, called chametz. Instead, Jews eat matzah, which, unleavened and crackerlike, is called the bread of oppression.
Passover is an essential part of Jewish life, whether Jews identify themselves as Orthodox, Conservative or Reform.
"It is absolutely central if you consider that more Jews celebrate some aspect of Passover than any other Jewish holiday," said Rabbi Scott White, spiritual leader of the Lawrence Jewish Community Center, 917 Highland Drive.
"Part of it has to do with the fact that Passover is celebrated around the table, and it's a meal. Here, you don't have to go to the synagogue to observe this holiday. You have it (at home) with your family and friends."
The way Jews celebrate the festival is at the Passover Seder. Seder is a Hebrew word that means "order," in the sense of blessings, songs and rituals that take place in order and retell the Passover story.
"It's kind of a reliving of the Exodus experience through eating symbolic foods. It's one of the most ingenious and successful educational events, I would dare say, for any cultural group. It's really worked as a way of telling the story," White said.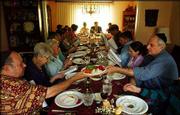 Game of 'Jewpardy'
Passover is an especially festive time in the Lawrence home of Neil Shanberg, his wife, Liz Kundin, and their children, Clara, 13, and Pamina, 11.
Family members and friends from across the country gather each year to celebrate a lively Passover Seder at long, decorated tables.
Shanberg and Kundin played host to a Seder Tuesday night for 24 adults and children from the Lawrence area and as far away as California, Florida, Maryland, New Jersey and Texas.
Participants used the Shanberg family's own Haggadah during the meal. Haggadah, a Hebrew word that means "telling," is a special prayer book of blessings, songs and the story of how Moses came to lead the Jewish people to freedom.
Many Jewish families put together their own Haggadahs and use them annually.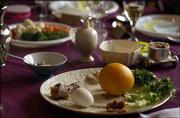 Passover is all about making an ancient story meaningful to new generations, in such a way that Jews celebrating Passover are meant to feel as if they themselves had experienced the journey of the Hebrews from slavery to freedom.
But accomplishing this doesn't have to be boring -- and at Shanberg Passovers, it isn't.
Shanberg and Kundin have developed a family tradition, a game called "Jewpardy," as a way to test Seder guests, especially children, on their Passover knowledge.
The game is like a Jewish version of the television program "Jeopardy," in which contestants choose to answer questions in a variety of categories and for increasing amounts of money.
It worked the same way at the Shanberg Seder, with the questions falling into these categories: people, plagues, songs, story and "who said it."
Neil Shanberg skillfully played the game's "host," quizzing the guests and eliciting laughter around the table.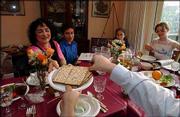 "He's Abraham Trebek," said one guest, referring to longtime "Jeopardy" host Alex Trebek.
Interactive learning
Liz Kundin continued in the spirit of celebrating Passover with a contemporary twist.
She led guests in singing several songs, which used clever lyrics to relate the Passover story, sung to the tune of such pieces as The Beatles' "Yesterday" and John Denver's "Leaving on a Jet Plane."
Even the food at the Seder was fun.
Aside from traditional dishes such as matzah ball soup and chopped liver, the meal featured "matzah pizza" -- pieces of matzah bread, spread with tomato sauce, oregano and mozzarella cheese, and baked in the oven for six minutes.
"It's the original thin-crust pizza," Shanberg said, jokingly.
His sister, Debbie Solomon of Princeton Junction, N.J., attends a Passover Seder at Shanberg's home every year. She brings her children, Brian, 15, and Sarah, 10.
"Neil is carrying on the Shanberg family tradition of thoughtful, meaning Seders," said Solomon, who has a bachelor's in Near Eastern and Judaic Studies from Brandeis University.
She explained that the Passover celebration has always been meant to keep an ancient story fresh in the minds of Jews.
"Passover is interactive and tactile. There are foods you eat to evoke the bitterness of slavery and the sweetness of freedom. The Seder has been an interactive, multi-generational learning experience for 3,000 years," she said.
The Passover Seder is a special meal that uses symbolic foods to retell the ancient story of the Hebrew Exodous from Egypt into freedom.The meal features a Seder plate, which contains several traditional components: the roasted bone of a chicken or lamb; a hard-boiled egg; bitter herbs; charoset (a mixture of chopped apples, walnuts, wine and spices); parsley; and a cooked potato or raw onion.Some families also include an orange on their Seder plate, a modern innovation that has come to symbolize the important role that Jewish women play in the life of the Jewish people.The Seder is accompanied by kosher wine and matzah, an unleavened, cracker-like bread.Matzah is eaten during Passover because, after the Egyptian pharoah freed the Hebrew slaves, they did not even have time to wait for their bread to rise. They fled into freedom immediately, taking the unleavened bread to eat on their journey.
Copyright 2018 The Lawrence Journal-World. All rights reserved. This material may not be published, broadcast, rewritten or redistributed. We strive to uphold our values for every story published.