Baghdad, Iraq — Iraqi insurgents fought U.S. troops in Fallujah and held sway over all or part of three southern cities in the worst violence since Baghdad fell a year ago today.
In an ominous turn, militia forces loyal to firebrand Shiite cleric Moqtada al Sadr seized 13 foreign hostages and threatened to burn three Japanese captives alive if Tokyo did not withdraw its troops.
The U.S. death toll across Iraq for the week climbed to 40 with the death of a Marine Thursday in Fallujah, the Sunni stronghold west of Baghdad, as the newly invigorated insurgency raged through its fourth day.
The top U.S. commander in the Middle East, Gen. John Abizaid, said Thursday that he was considering holding several thousand troops here beyond their planned departure this spring in an attempt to squelch continuing uprisings by insurgents.
Abizaid, the chief of the U.S. Central Command, said he might extend the combat tour of the Army's 1st Armored Division and might also request that the 3rd Infantry Division, which left Iraq last summer, be brought back much sooner than planned.
Abizaid hinted at imminent U.S. combat operations in parts of central Iraq where Shiite militiamen hold positions that were supposed to be under the control of troops from Poland, Spain, Ukraine and other nations participating in a U.S.-led military coalition.
"I think it's safe to say that U.S. units will be used anywhere in this country," said Abizaid, who would not elaborate on his plans to reassert control of cities overtaken by members of al Sadr's Mahdi Army and other armed Shiite groups.
Abizaid also indicated that the next phase of U.S. combat operations would be lengthy and could be more extensive than the Marine action in Fallujah. "I think you'll see a series of very clear military moves over the next couple of weeks that will get ourselves in position to do what needs to be done," he said.
"We're going to do whatever it takes to ensure that we're successful out here, and if that includes bringing in more troops, we will," he said. "We will do whatever is necessary to get the situation under control, to include bringing in additional forces (and) extending forces."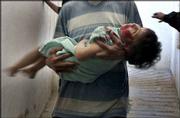 "Everything is on the table," he said.
Hostage footage aired
The insurgency further threatened shaky Iraqi security as the U.S.-led Coalition Provisional Authority prepared to hand sovereignty to an Iraqi government on June 30.
L. Paul Bremer, the chief U.S. administrator of Iraq, warned Shiite pilgrims to beware of danger this weekend at their shrines, recalling the deadly bombings in Karbala and Baghdad that killed nearly 150 during celebrations last month.
TV pictures aired in the Middle East by the Al-Jazeera satellite network and rebroadcast during prime time in Japan showed the three Japanese hostages -- two aid workers and a journalist -- wide-eyed and moaning in terror as their black-clad captors held knives to their throats, shouting God is Great in Arabic.
The Japanese government called the abductions "unforgivable" but said they did not justify withdrawal of its 530 troops doing reconstruction work in the south. It was not clear when the three were captured.
Two Arab aid workers from Jerusalem -- one who had once lived in Georgia -- were abducted in a separate incident, and a Syrian-born Canadian humanitarian aid worker for the International Rescue Committee was taken hostage Wednesday by a local militia in Najaf.
Eight South Korean Christian missionaries were seized by gunmen outside Baghdad. Seven were freed after one of them escaped, the Foreign Ministry in Seoul said.
Heavy fighting
Marines battled insurgents firing automatic weapons and rocket-propelled grenades in continued heavy fighting at two mosques in Fallujah. U.S. forces have surrounded the city 35 miles west of Baghdad, but opened the blockade for a convoy carrying food and medicine sent by Sunni clerics in Baghdad.
The U.S. military, meanwhile, reported the deaths of three 1st Infantry Division soldiers on Wednesday and Thursday in attacks by Sunni insurgents -- though the circumstances and day of each death were not provided. The Army said a fourth soldier died from wounds received in an attack last week.
Ministry resignation
The fighting in Fallujah, nearby Ramadi, and across the south has killed more than 460 Iraqis -- including more than 280 in Fallujah, according to the director of the city's hospital, Rafie Al-Issawi.
The spiraling violence, which began Sunday, raised questions about whether Iraqi police and security forces would confront the violence and whether U.S. allies would stay the course.
In Baghdad, Iraq's interim interior minister suddenly resigned, stunning Iraqi and U.S. officials. The departure of Nouri Badran, a Shiite Muslim, reflected severe dissatisfaction with the performance of the national police, which Badran oversaw. While many police officers have fought alongside U.S. troops to quell the urban unrest, others have ceded their stations, vehicles and weapons to the insurgents.
There also were concerns about whether the largely passive Shiite majority would remain peaceful and shun al Sadr's attempts to enlist them against the Americans.
Still, U.S. administrators insist they are making both political and military progress. U.N. envoy Lakhdar Brahimi is in Iraq, trying to establish a system to pick an interim Iraqi government. And Marine commanders said they were winning the fight for Fallujah.
"The mission is going particularly well. We made inroads into the city and we are driving the enemy resistance back," said Marine Lt. Col. Greg Olsen. "We're winning every firefight."
In the south, the al-Sadr's al-Mahdi Army militia had full control in the cities of Kut and Kufa and in the central part of Najaf. Police in the cities have abandoned their stations or stood aside as the gunmen roam the streets.
In Najaf, a policeman watched helplessly on Thursday as a pickup truck carrying a dozen heavily armed Shiite militiamen went past his police station -- already in the militia's hands.
"Look, how can we control such a situation?" he asked a reporter.
Copyright 2018 The Lawrence Journal-World. All rights reserved. This material may not be published, broadcast, rewritten or redistributed. We strive to uphold our values for every story published.