Houston — Hard to imagine a better homecoming for Roger Clemens.
Looking nothing like a guy who had called it quits, Clemens dominated Barry Bonds and the Giants, holding them to one hit over seven scoreless innings in his Houston debut, pitching the Astros past San Francisco, 10-1, Wednesday night.
"It sure was nice coming home," Clemens said. "It was just real enjoyable."
Only Ray Durham's clean single to center field in the third inning prevented a most special night at Minute Maid Park from becoming a truly historic one.
Clemens posted his 311th victory and tied former teammate and mentor Tom Seaver for 16th place on the career list.
"It's nice to get the first one under way," Clemens said. "It's been a long time coming since I first decided to play."
Not a bad comeback for a guy who retired -- albeit for only 78 days -- after last season. At that time, it appeared the standing ovation he drew from Florida Marlins players and fans in Game 4 of the World Series would be his farewell.
Instead, a sellout crowd of 42,863 that included former President Bush and Hall of Famer Nolan Ryan, plus family members and friends in Clemens' suite, began cheering even before the first pitch of his NL debut.
"I was just hoping my energy level would stay at a high level and it did," Clemens said.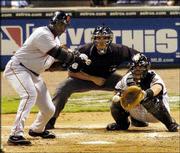 He even delivered a hit-and-run single in his first at-bat. He kept the ball as a souvenir.
Clemens struck out nine, including Bonds looking twice at 94 mph fastballs. Bonds left town with 659 home runs, still one behind his godfather, Willie Mays, for third place on the career list.
It was the first time in major league history that a pitcher with 300 wins had faced a hitter with 600 home runs.
"Good for him. Instead of doing it here, let him go home and do it in front of people who have seen him grow up," Clemens said.
Bonds drew an intentional walk the first time he came to the plate, flipping aside his elbow guard when the count went to 2-0. The next time up, Bonds dropped his bat after a 3-2 pitch and headed toward first, only to hear plate umpire Mike DiMuro call strike three.
"Me and Roger have a lot of respect for each other, there's no doubt about that," Bonds said. "He'll come at me sometimes and he'll have his way. Sometimes I'll have my way. Tonight, it went his way."
Reds 3, Cubs 1
Cincinnati -- Ken Griffey Jr. hit a two-run homer in his first at-bat of the season, leading Cincinnati to a victory that spoiled Greg Maddux's reunion with the Chicago Cubs. Adam Dunn also homered off Maddux. Griffey, who missed the season opener because of a strained calf, hit his 482nd career homer to put the Reds up 3-0 in the third and leave the pro-Cubs crowd in a funk.
Expos 3, Marlins 2
Miami -- Claudio Vargas allowed four hits in six innings, and Carl Everett and Orlando Cabrera each homered to lift Montreal over Florida. It was a rare victory against starter Brad Penny, who was 10-2 against Expos in the last five seasons. It also snapped Florida's seven-game winning streak at home against Montreal. Rocky Biddle pitched a perfect ninth for his fist save.
Cardinals 9, Brewers 4
St. Louis -- Scott Rolen capped a five-run rally in the seventh inning with a three-run homer. Jim Edmonds and Rolen each hit their first homers of the season for the Cardinals. The Cardinals overcame a shaky debut from Woody Williams, who threw 82 pitches in three innings, allowing three runs -- two earned -- on six hits. Wes Helms had three hits with two RBIs for the Brewers, who missed a chance to start the season 3-0 for only the sixth time in franchise history. They last did it in 1995.
Braves 18, Mets 10
Atlanta -- Adam LaRoche got the first two hits of his big league career during an 11-run inning, helping Atlanta beat the New York Mets. Johnny Estrada and pinch-hitter Julio Franco also had two hits in the fourth -- the biggest inning for the Braves since they scored a team-record 13 runs against Houston on Sept. 20, 1972. Every starter for the Braves had a hit except Rafael Furcal, who walked twice. Mike Piazza hit two homers for the Mets and finished 5-for-5 with four RBIs. He moved from catcher to first base in the seventh, the second time since 1993 he has played that position.
Phillies 5, Pirates 4
Pittsburgh -- Philadelphia scored twice in the eighth off Brian Boehringer to rally for their first victory of the season. Pat Burrell had two more hits, giving him five in two games, and drove in two runs for the Phillies. Rheal Cormier got the victory with 1 2/3 scoreless relief innings. Craig Wilson hit his second homer in as many games for the Pirates.
Diamondbacks 9, Rockies 5
Phoenix -- Richie Sexson hit his first home run for Arizona, sparking a seven-run fourth inning that sent the Diamondbacks past Colorado.
Brent Mayne drove in three runs, including a two-run triple in the fourth. Roberto Alomar also had a two-run triple, and Brandon Webb (1-0) worked six effective innings for the win. Webb also had a pair of run-scoring singles, the first RBIs of his career.
Jason Jennings (0-1) was knocked out in the fourth.
Dodgers 2, Padres 1, 11 innings
Los Angeles -- Paul Lo Duca's two-out RBI single in the 11th inning drove in Milton Bradley with the winning run, and Los Angeles beat San Diego for a second straight victory in its last at-bat.
Bradley started the winning rally by drawing a one-out walk from Eddie Oropesa (0-1). After Shawn Green flied to center, Ismael Valdez relieved Oropesa and Bradley stole second on the first pitch.
Bradley went to third on a wild pitch before Lo Duca lined a 1-2 pitch past third baseman Sean Burroughs down the left-field line for his fourth hit of the game.
Copyright 2018 The Associated Press. All rights reserved. This material may not be published, broadcast, rewritten or redistributed. We strive to uphold our values for every story published.