Venus is one lucky dog.
The black puppy, less than three months old with floppy ears and paws too big for her body, was curled up with a blanket and Winnie the Pooh toys under a table at the Lawrence Humane Society.
It seemed unlikely that the pup is of a breed that stirs passion, criminal activity, fear and hate. In the past few years, numerous reports of pit bull attacks have appeared in the news, and pit bulls injured in local dog fights are frequently brought into the Lawrence Humane Society.
But for some pit bull owners and advocates, saving dogs like Venus, whom the local humane society removed from a cruelty situation in Lawrence, has become a mission.
"They're incredibly loving, loyal creatures," said Suzanne Mott, Topeka, of Missouri Pit Bull Rescue. MPR is a small volunteer network of foster homes for pit bulls.
"We see terrible, horrible abuse cases who don't even have the energy to stand, and still, when a person walks into a room, their tail starts thumping," Mott said.
Mott has two pit bulls of her own and is a caretaker for two others looking for homes. MPR finds homes for about 30 dogs each year - just a fraction of the dogs the group hears about, but can't help.
"It is very overwhelming to choose which dogs to save sometimes," Mott said. We can go to the shelter when we have one space open and there will be 30 to 40 pit bulls, all needing a home and all deserving of one."
Risky business
The Lawrence Humane Society takes in 75 to 80 pit bulls each year. Only 12 were adopted out last year. For all other breeds, 85 percent are adopted out or returned to their owners, said Midge Grinstead, the humane society's executive director.
The Lawrence facility does not adopt out any dog that has been used for fighting, Grinstead said, because the dog might be dangerous to both humans and other animals.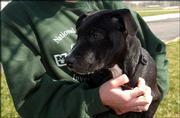 "If I risk this facility on a dog, then I'm not doing my job," Grinstead said.
Pit bulls are friendly, Mott said, but "we can't deny their history that they have been bred to be fighting dogs."
According to MPR's Web site, "The American pit bull Terrier was developed to recognize other dogs as adversaries, and selectively bred for specific fighting abilities. They were also bred to be very friendly with people so they could be manageable in the pit. These characteristics are genetic, and contrary to what people think, have little to do with how you raise the dog."
'Is that a pit bull?'
"It always makes me sad the way people react when people hear it's a pit bull. Sometimes it makes me angry," Mott said. "You learn to get much thicker skin."
Pit bull owner Brock Ginther, Kansas City, Mo., said about half the people he encounters with his dog Levi already know she's a pit bull. The other half, Ginther said, have already started playing with her when they ask.
"I've never had any reaction - yet - where people back away," he said. He adopted Levi from MPR one month ago, and has brought her to work regulary.
But even thick skin doesn't prevent some pit bull owners from getting frustrated and hurt when people back away from her dogs.

"A lot of people don't even know what a pit bull looks like," said Stacy Hoobler, formerly a cruelty investigator for the Lawrence Humane Society. She now works at Helping Hands shelter in Topeka.
Hoobler uses her own rescued pit bull, Noah, who was seriously injured in a dog fight near Lawrence, to educate people about the breed. She has brought Noah to schools in Lawrence, Kansas University and the Lawrence Police Department.
"He's laying on his back, tummy-side up, licking the kids," Hoobler said. "The minute I say 'pit bull', the teacher grabs the kids and backs up. That's when the education kicks in."
MPBR also does education campaigns, including adoption campaigns at pet stores like PetCo and PetSmart.
Education is much easier when the dogs are present, Mott said.
Background checks
Both MPR and the Lawrence Humane Society go through extensive pet and potential owner screening before placing a pit bull in a new home. The local human society's process includes visits to the home to check for sturdy fencing, look at the general condition of the residence and to ensure there are no other animals in the home.
If the home is in poor condition, Grinstead said, "Are they going to take care of that dog? Probably not."
MPR also asks for references.
"There are so many bad people who try to get these dogs," Mott said.
The Lawrence Humane Society also does not adopt to people living in the city of Lawrence because of the high chance of pit bull theft.
County residents, however, may adopt a pit bull from the local shelter, but only after a thorough screening of the potential owners, a background check by a private investigator, and temperament testing of the dog.
Temperament testing includes watching the dog interact with the local shelter's staff, snapping fingers at the dog and saying "fight" or "get 'em" to see how the dog reacts. Lawrence Human Society uses Emily Weiss (SAFER) temperament tests, which include a stare test and a pinch test among others.
"Any dog can be aggressive, any dog can be a biter, any dog can be nice," Grinstead said.
A local humane society staff member visits the home six months after the adoption as well.
MPR similarly screens all dogs and puts every dog they rescue in typical family pet situations to test for negative reactions. The group has zero tolerance for human-directed aggression, and will not adopt any pit bull that shows those signs. The group adopts out only the dogs they think best represents the breed. The group also screens owners to ensure they understand the breed and how to handle the dog. MPR also follows up with owners.
"Once you own one, you are so enamoured with that dog, I guess it becomes a passion to try to save them," Mott said.
Copyright 2018 The Lawrence Journal-World. All rights reserved. This material may not be published, broadcast, rewritten or redistributed. We strive to uphold our values for every story published.