Kansas University is out of the NCAA basketball tournament, but Lawrence still will play a starring role this Final Four weekend.
A documentary on KU legend Wilt Chamberlain airing Sunday on CBS will feature several interviews filmed in Lawrence and photographs and game footage collected from KU's archives.
"I think it's great," said longtime KU sports announcer Max Falkenstien, one of the interviewees. "It's good publicity for Lawrence and KU. I'm sure most of the images about KU and Lawrence will be positive."
The documentary follows Chamberlain through his basketball career at KU, from 1955 to 1958, and his National Basketball Assn. career from 1959 to 1973.
The film isn't without controversy, though.
Sister's concerns
Chamberlain's sister, Barbara Lewis, didn't want the documentary to be completed and urged Chamberlain's family and friends not to participate. Her opposition limited the broadcast footage the NBA released to the documentarians, because the league only releases such footage with permission of players' families.
"I don't know if she was concerned that we would do a rip job" or whether she wanted to make a documentary of her own, co-producer Steven Stern told The New York Times in a story published Friday.
He added: "She said she's the only one who knew what Wilt wanted."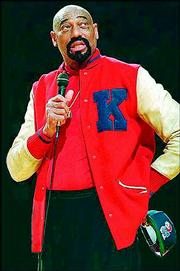 Lewis, Stern and the show's other producer, Bob Bodziner, couldn't be reached for comment Friday by the Journal-World.
Falkenstien met Lewis in December, when KU played Stanford in Anaheim, Calif., and interviewed her at halftime of the game.
"She was a lovely, lovely lady," Falkenstien said. "If I had known she was opposed to doing this (documentary) at all, I probably wouldn't have done it. I didn't know it until after the fact."
KU photos, video
Falkenstien said he suspected Lewis felt the Chamberlain family should have received financial compensation for the documentary.
Lewis' opposition to the documentary apparently convinced the documentarians to come to Lawrence and sort through the hundreds of Chamberlain photographs and hours of video footage housed at University Archives at the Spencer Research Library.
"They would have been up the creek a little," said Bill Myers, a library spokesman. "We were able to supplement what they had in a little way."
The film crew collected 180 photos and watched 25 hours of video during their week in Lawrence, which was in November.
"In all my years of television production, which dates back to 1982, I was never more impressed with the level of cooperation that we received from the fine people at the University of Kansas," Bodziner said in a KU news release. "Everyone was truly thrilled to help in any way they could, and we were always made to feel at home and welcome."
Bodziner said he was impressed with the variety of materials found at KU.
"The footage that Archives was able to supply helped make our Wilt Chamberlain documentary a special one," he said. "And if you don't believe me, please tune in and see Wilt Chamberlain's high-jump at the Kansas Relays, circa 1957, in color. It is discoveries like that that enable special documentaries to be made."
Journal-World editor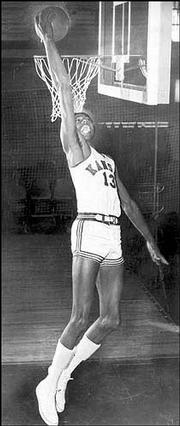 Bill Mayer, Journal-World contributing editor, was interviewed by Bodziner's crew while they were in Lawrence. Mayer, as a young reporter at the Journal-World in the 1950s, covered Chamberlain.
Mayer said Chamberlain's domination would make him a legendary figure for years to come.
"Even today he holds something like 50 NBA records," Mayer said. "Nobody's ever going to average 50 points in one season or 25 rebounds in a season. Nobody's going to ever score 100 points in a game again."
'Was revolutionary'
Mayer said he hoped the documentary also discussed the challenges Chamberlain faced when he came to racially segregated Lawrence in the 1950s.
"He was revolutionary in so many ways," he said. "The racial situation wasn't like he would have liked it, but he talked about walking into bars, and they wouldn't dare not serve him."
Falkenstien said he didn't think the documentary would have any greater impact than other TV pieces about Chamberlain. And Falkenstien added that the honor of introducing Chamberlain when he returned to KU in 1998, when the star's jersey was retired, far outweighed the honor of appearing in the documentary.
Chamberlain died the next year, and left $650,000 to KU programs.
"He changed the whole game of basketball, with his dominance and all the things he could do," Falkenstien said. "Nobody has ever dominated the game as he dominated it in college or in the pros. That's why there's still all the attention on him."
In 1,045 regular-season NBA games; the 7-foot 1-inch Chamberlain scored 31,419 points, an average 30.1 points per game. He also averaged 22.9 rebounds and 4.4 assists a game. Here's a look at some other stats from Wilt's pro career:Most points single game:100 while with Philadelphia Warriors vs. New York Knicks, March 2, 1962Highest season scoring average:50.4, Philadelphia, 1961-62Most rebounds game:55, Philadelphia v. Boston Celtics, Nov. 24, 1960Highest season rebounding average:27.2, Philadelphia, 1960-61Here's a look at states from Wilt's KU career:Highest single game scoring:52 points vs. Northwestern, Dec. 3, 1956Highest season scoring average:30.1, 1957-58Single game rebounding:36 in 1958 vs. Iowa StateSingle season rebounding:18.9, 1956-57Highest career rebounding average:18.3, 1957-58Highest career scoring average:29.9, 1957-58
Copyright 2018 The Lawrence Journal-World. All rights reserved. This material may not be published, broadcast, rewritten or redistributed. We strive to uphold our values for every story published.