Mozykowski-Roenfeldt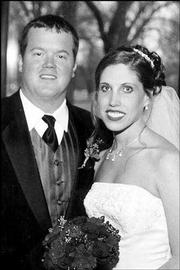 Sarah Ann Mozykowski and Richard Matthew Roenfeldt, both of Lawrence, were married Jan. 17, 2004, at Trinity Lutheran Church with the Rev. Dr. Gary W. Teske officiating.
The bride is the daughter of Cheryl Mozykowski and Richard Mozykowski, both of Lawrence. The groom is the son of Dr. Richard and Lynn Roenfeldt, Dodge City.
Matron of honor was Amy Paquette. Best man was Michael Greenberg. Bridesmaids were Aime'e Malloy, Megan Winter, Doris Cordero and Nichole Weatherwax. Groomsmen were Alan Stukenholtz, Matt Moody, Ramon Juma and Adam Highland. Ushers were Nathan Winter, Richard Espe and Clayton Van Meter. Flower girl was Katrina Roenfeldt. Ring bearer was Zachary Paquette. Candle lighter was Kayla Roenfeldt. Soloists were Matt Moody, Michael Mozykowski and Karen Rourke. Readers were Matt Paquette and Christine Lancaster. The wedding coordinator was Carmen Hocking.
A reception was given after the ceremony at the Knights of Columbus in Lawrence. The couple took a honeymoon trip to Puerto Vallarta, Mexico.
The bride is a 1996 graduate of Lawrence High School. She is a phlebotomist at the Community Blood Center in Lawrence.
The groom is a 1993 graduate of Dodge City High School. He is employed by Classic Eagle Distributing in Lawrence.
The couple reside in Lawrence.
Copyright 2018 The Lawrence Journal-World. All rights reserved. This material may not be published, broadcast, rewritten or redistributed. We strive to uphold our values for every story published.