Any 9-year-old moving to a different school can relate to the plight of NASCAR rookies: It's not easy being the new kid.
"You don't want to get any of these veterans on your bad side right off the bat,'' said Casey Mears, who is in his sophomore Nextel Cup season.
"You want to come in gracefully but competitive, and that's hard to do.''
But some veterans say it's not as hard as it used to be. As the sport has grown, many drivers make their upper-division debuts with more experience, more talent and more support. The result is fewer rookie-induced wrecks and more top finishes by first-year racers.
"Probably racing experience-wise, he had a heck of a lot more when he came in than I had when I came in,'' the semi-retired Bill Elliott said of today's rookie. "You can't put that in as a true rookie.''
As evidence, Elliott pointed to his teammate at Evernham Motorsports.
Kasey Kahne has won two poles and finished second twice and third once in his first five Cup races as Elliott's replacement in the No. 9 Dodge. Kahne spent two years in the Busch Series before joining the Cup circuit and has a long list of open-wheel accomplishments on a racing resume he began building as a 14-year-old.
His other teammate, Jeremy Mayfield, has nothing but praise for Kahne, who will turn 24 on April 10.
"He already knows how to race,'' Mayfield said, driver of the No. 19 Dodge. "I'm not worried or concerned when I'm running around him in practice or in the race.''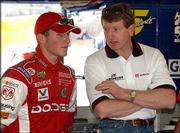 Kahne has also benefited from his team, which finished the 2003 season with Elliott as the hottest driver on the Cup circuit.
"Right now, he is in the right stuff,'' said Matt Kenseth, the reigning Cup champion and 2000 Rookie of the Year. "I knew he was good all along, and, if you put him in good stuff, he's going to run good.''
But a fast start won't promote a rookie to the veteran ranks, nor strip the NASCAR-mandated yellow stripe from the back bumper of a rookie's ride. And Kahne knows that.
"I try to respect those guys and what they're doing,'' Kahne said. "I don't want jump in here as a rookie and act like I know what I'm doing. So I just try to go in there and be myself and try to learn from those guys.''
But even the best rookies are prone to mistakes. Brian Vickers, the 2003 Busch Series champ, and Johnny Sauter triggered this year's version of "the Big One'' during the Daytona 500, and Brendan Gaughan, winner of the past four Craftsman Truck races at Texas Motor Speedway, was involved in a wreck at the Subway 400.
"There are cars out there that cut down on you,'' Mayfield said. "They don't understand we're racing the leader, not each other. The rookie who doesn't figure that out, he doesn't make it in this sport.''
NASCAR tries to help ease a rookie's development, conducting prerace meetings at each event.
"Basically, they get a veteran driver in there and talk to you about the line and things about the track that might jump out and bite you,'' said Martin Truex Jr., a Busch Series rookie who drives the Dale Earnhardt Jr.-owned No. 81 Chevrolet Monte Carlo.
Strong teammates can also help a rookie from sliding down the learning curve.
"I have Rusty Wallace and Ryan Newman as teammates, and that takes a little more of that curve out,'' said Gaughan, who drives the No. 77 Dodge for Penske South Racing and also has coaching help from NASCAR great Buddy Baker.
"He's supposed to be my coach all year,'' Gaughan said of Baker, who also helped nurture Newman during his ascent to Cup racing. "I listen to everything he says, and he does a great job telling me what he wants and where he wants me to be. ... With any luck, he'll stay more than just a year.''
With the right combination of experience, talent and support, rookie drivers hope they'll last more than a year, too.
Copyright 2018 The Lawrence Journal-World. All rights reserved. This material may not be published, broadcast, rewritten or redistributed. We strive to uphold our values for every story published.