New York — All the numbers say the same thing: The Minnesota Twins are simply overmatched against Mike Mussina and the New York Yankees.
The Twins are 0-13 against New York the last two years -- the first time ever the Yankees have swept consecutive season series from an opponent.
Mussina (17-8), who will start Game 1 of the best-of-five division series this afternoon at Yankee Stadium, is an incredible 20-2 with a 2.90 earned run average in 24 career starts against Minnesota.
"I don't care what happened in the past," Twins star Torii Hunter said. "This is the postseason, this is a different feeling. I'm ready to play. I come here to win."
Hunter and his teammates have plenty of reasons to believe they can, despite their recent history against the American League East champions.
Although the Yankees outscored Minnesota 49-13 this season, all seven games were in April. New York was en route to an 18-3 start, while the Twins stumbled out of the gate 9-12.
Since then, Minnesota juiced up its offense by adding leadoff hitter Shannon Stewart and solidified its pitching staff by moving young left-hander Johan Santana from the bullpen to the top of the rotation.
"We haven't seen them in so long," Yankees manager Joe Torre said. "They are basically not the same team that we played."
The 24-year-old Santana (12-3) will start the playoff opener, only his second appearance at Yankee Stadium. Featuring a fastball in the low 90s mph and an outstanding changeup, he went 8-0 in his final 12 starts of the season.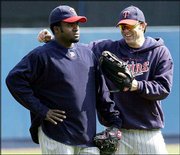 Despite Santana's age and limited experience -- he struggled in six relief outings for the AL Central champions last postseason -- Twins manager Ron Gardenhire never hesitated in giving him the ball in Game 1.
"That tells you all Santana is one nasty sucker, boy," Hunter said.
The Yankees were beaten by Anaheim in the first round last year, and owner George Steinbrenner won't stand still for a third consecutive season without winning the World Series.
With a $180 million payroll, another playoff failure could even cost Torre his job.
"I don't think anybody else could put more pressure on me than I put on myself," Torre said.
Copyright 2018 The Associated Press. All rights reserved. This material may not be published, broadcast, rewritten or redistributed. We strive to uphold our values for every story published.