A new engineering center at Kansas University bankrolled by Kansas' largest-ever research grant will have ripple effects reaching far beyond the professors working on new types of chemical reactions.
The $17 million grant from the National Science Foundation will help industry, add jobs in Kansas and across the Midwest and help educate young children about careers in science, officials predicted Monday.
"I don't know if researchers ever tear down goal posts, but today you have become real research winners," said U.S. Sen. Pat Roberts, R-Kan.
U.S. Rep. Dennis Moore, D-Kan., and Gov. Kathleen Sebelius also were on hand Monday for the grant's official announcement at KU's Life Sciences Research Laboratories, which will house the new center.
The award -- the largest federal research grant in university and state history -- will create the Center for Environmentally Beneficial Catalysis. When combined with support from KU, the University of Iowa, Washington University in St. Louis and industry partners, the project will total $30 million over the next five years.
It will be one of 21 NSF-funded engineering centers in the United States and the first in Kansas.
What it does
The center will work with corporations to develop new catalysts, which speed chemical reactions that help make products such as gasoline, medicine, clothing and food.
Many catalysts are liquid acids that are environmentally harmful. The center will focus on using solid acids -- which aren't environmentally harmful -- and dense-phase carbon dioxide to perform the same functions.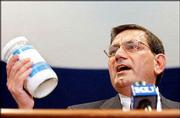 If successful, the center would receive another five-year NSF grant after 2008, then be funded completely by industry.
The center will be directed by Bala Subramaniam, professor of chemical engineering. Daryle Busch, professor of chemistry, will be an associate director.
At KU, which will lead the grant, about 20 faculty members currently work on issues involving catalysis. Subramaniam said he expected KU to hire another five faculty during the next five years, and the 15 graduate students and post-doctoral fellows who work in the catalysis labs could increase to more than 50 during the grant period.
Tiepan Shi, a post-doctoral fellow from China who works in the lab, said he's expecting the experience to help when he starts looking for a job in a few years.
"That will certainly help," he said. "Industry will get involved with this. It is exciting."
Other universities
KU researchers applied twice before being awarded the grant. The first time, in 1999, the project was given favorable review, but NSF officials said it needed more collaboration from other scientists.
This time, the application included researchers from the University of Iowa, who use biological agents in catalysis processes, and at Washington University, who expand molecular-level models of catalysis to an industry-level application.
"They were a critical part of our proposal," Busch said. "Everything we're doing is building this complete structure."
Milorad Dudukovic, director of the Chemical Reaction Engineering Laboratory at Washington University, said he thought the variety of research represented caught the attention of NSF.
Dudukovic said Washington University and the University of Iowa each would receive between $2 million and $3 million of the grant, with KU receiving the remainder of the money.
Economic development
According to U.S. Department of Commerce estimates, $17 million in research funds creates 700 jobs and $120 million in other economic effects.
"As the research moves from labs to production facilities, companies will be formed creating more jobs and this center will attract businesses to locate in Lawrence," Roberts predicted. "We have seen several life science-related companies expand operations to be near the University of Kansas. I think the same will be true in the chemical field in less than five years."
Many big-name companies already are waiting to work with the new center, Subramaniam said. They include DuPont, Chevron Phillips, Eli Lilly, Dow Chemical, Shell and Exxon Mobile.
"We want to be the leading center for this type of research," he said. "We want it to be a place where chemical industries will first come to us."
Keith Hutchenson, senior research associate at DuPont, said many companies would be interested in finding more environmentally friendly ways for catalysis -- if they can do it economically. He said the company already had switched to using solid-acid catalysts in making Lycra, the fabric used in spandex.
"The previous process used a nasty solvent," he said. "It's much safer this way. We're certainly all interested in reducing our environmental footprint."
Educational outreach
NSF-funded centers also include a significant outreach program designed to enhance science education in schools.
That includes a mentoring program between graduate students and students in public schools, a $5,000 stipend for a science teacher to work in the CEBC for a summer and programs for science classes.
Joe Heppert, director of KU's Center for Science Education, said he hoped the Lawrence school district would be involved, as well as schools throughout the Midwest.
"All of the programs reflect the fact that NSF views science education as a lifelong endeavor," Heppert said. "They get an opportunity to experience science with their own hands and find out how extremely collaborative it is."
Copyright 2018 The Lawrence Journal-World. All rights reserved. This material may not be published, broadcast, rewritten or redistributed. We strive to uphold our values for every story published.