Though Kansas University football players didn't help their fans tear down the goal posts after Saturday's victory over No. 23 Missouri, KU's players and coaches were just as thrilled as the crowd.
"This game today, no matter who the conference team was, it was important to win," KU head coach Mark Mangino said. "But I think the fact that it's part of the Border War and everything, it makes it a little special. There's no question about it; I'm not going to deny that."
Sure, the 35-14 Kansas win Saturday was revenge for last year's 36-12 loss to rival Missouri in Columbia, Mo. -- after which the Tigers helped their fans tear down the goal posts --but it was more than that.
The victory marked the first time KU had started a season 4-1 since 1997, snapped a five-game KU losing streak in Big 12 Conference openers and was Kansas' first victory over a ranked team since beating No. 17 Colorado Oct. 24, 1998. It also gave the Jayhawks a four-game winning streak.
Maybe most important of all, the game came in front of a sellout crowd of 50,071 fans who saw the Jayhawks not only beat their rivals, but dominate them in the second half.
"There's always been a core of loyal, diehard fans, which we appreciate," Mangino said. "And as you know, when you win, it expands -- your base gets bigger.
"The fact of the matter is, the people in this community have been very fair with me and our program, and very, very supportive. Rather than just being supportive and saying a kind word, now they really have something to get excited about."
The Jayhawks were excited during the game, as linebacker Gabe Toomey and others helped pump up the crowd on big plays.
"A sellout crowd ... I just thrive on that," said Toomey, who led the Jayhawks with 12 tackles.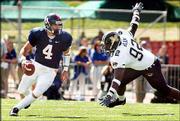 KU's players and coaches already were focused on the next game, Oct. 11 at Colorado.
"It's another step in the right direction, and that's what we think of it as," quarterback Bill Whittemore said. "We're going to enjoy this win tonight. But ... we've still got a lot to improve on. We're going to go back and try to get the Buffaloes."
Despite not having a game this weekend, the Jayhawks aren't worried about a letdown against Colorado.
"It doesn't matter," Toomey said of the bye. "I like to rest, but the momentum's not going away. It'll be here for a while."
Long enough to get the Jayhawks two more wins and make them eligible for a bowl game?
Mangino wouldn't say.
"I think once you get caught peeking ahead, you're setting yourself up for trouble," he said. "I'm not even going to touch bowl thoughts with a 10-foot pole, because we've got a lot of work to do, but I'm pleased to have four wins, and I know there's a locker room full of kids there who are pretty excited about having four wins."
Copyright 2018 The Lawrence Journal-World. All rights reserved. This material may not be published, broadcast, rewritten or redistributed. We strive to uphold our values for every story published.