Miami — With rainy weather, apathetic fans, unsettled ownership and losing records, the Florida Marlins have provided comic relief in recent seasons.
Look who's laughing now.
The surprising Marlins beat the New York Mets, 4-3, Friday night to clinch their first playoff berth since winning the 1997 World Series. They'll face the NL West champion Giants in a best-of-5 series beginning Tuesday in San Francisco.
"We're happy to get in, but this is just the beginning," said Derrek Lee, who drove in two runs. "We want to go deep in the playoffs."
The Marlins trailed Philadelphia in the wild-card race last weekend, but pulled away with five consecutive wins. At 90-70, they're 20 games above .500 for the first time since '97.
Closer Ugueth Urbina began hopping in celebration as center fielder Juan Pierre settled under a fly ball for the final out. Jubilant Marlins then piled on top of each other near the mound, and soon they were pouring champagne on each other.
"We always went to the playoffs in high school," said 23-year-old pitcher Josh Beckett, Florida's probable starter in the opening playoff game. "This time I actually get to drink beer."
The victory put 72-year-old manager Jack McKeon in the postseason for the first time. Florida is 74-48 (.607) since he took over May 11.
"We're all going to smoke cigars tonight," said McKeon, who has several boxes of them in his office. "This is the most fun I've ever had with any team. I love these guys."
Leadoff batter Pierre, a catalyst all season, filled that role again in the clinching victory. He stole two bases to set a team record with 64, singled three times to reach a career high with 203 hits and played a part in Florida's first three runs.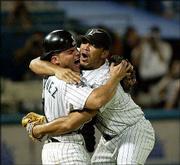 Carl Pavano (12-13), the No. 5 starter on a strong pitching staff, limited New York to six hits and three runs in 71/3 innings. He retired 11 in a row during one stretch.
The Marlins' rapidly expanding bandwagon attracted 33,215 fans, the largest crowd of the week and the fourth-largest of the season in Miami.
"If they keep coming, we're going to keep winning," All-Star third baseman Mike Lowell pledged. Florida has won 15 of its past 17 home games.
Brewers 12, Astros 5
Houston -- Richie Sexson homered twice and doubled as Milwaukee beat Houston, dropping the Astros a half-game behind idle Chicago in the NL Central. There was no need for scoreboard watching at Minute Maid Park. The Pittsburgh-Cubs game at Wrigley Field was rained out earlier in the day, and a doubleheader was scheduled for today.
Sexson hit an RBI double during a six-run second inning. He hit a solo homer off Rick White in the fifth and a two-run shot in the seventh off Kirk Bullinger.
Sexson has 45 homers this season, tying his own franchise record set in 2001. Gorman Thomas also hit 45 homers in 1979. It was Sexson's fourth multihomer game this season.
D'backs 7, Cardinals 6
Phoenix -- Shea Hillenbrand's leadoff home run ignited a three-run sixth inning and Arizona defeated St. Louis Manager Tony La Russa wasn't in the dugout. He and catcher Mike Matheny were serving the first of two-game suspensions.
Padres 5, Rockies 0
San Diego -- Adam Eaton and four relievers combined on a eight-hitter and San Diego opened its final series at Qualcomm Stadium by beating Colorado. After playing 35 years in the Mission Valley stadium, the Padres will move into their new ballpark near the waterfront, Petco Park, next spring.
Giants 10, Dodgers 1
San Francisco -- Barry Bonds hit his 658th home run, and San Francisco clobbered Los Angeles. After sitting in a clubhouse office talking with Willie Mays before the game, Bonds moved within two homers of tying his godfather for third on the career list.
Expos 5, Reds 1
Cincinnati -- Tomo Ohka pitched a five-hitter and Brad Wilkerson homered as Montreal beat Cincinnati.
Braves 6, Phillies 0
Philadelphia -- Horacio Ramirez pitched six sharp innings, and Atlanta moved closer to clinching home-field advantage throughout the NL playoffs with a victory over Philadelphia in the final night game at Veterans Stadium.
Copyright 2018 The Associated Press. All rights reserved. This material may not be published, broadcast, rewritten or redistributed. We strive to uphold our values for every story published.