Dubai, United Arab Emirates — Finance leaders ended a global money summit saying they wanted to narrow the divide between rich and poor nations to create more trade, economic growth and security -- but developing countries said those words must be matched with action and money.
"We do not seek permanent financial crutches," Pakistani Finance Minister Shaukat Aziz told delegates as the joint World Bank and International Monetary Fund annual meetings wrapped up Wednesday. "We fully understand that the primary responsibility for a better life for our people rests with the governments of developing countries.
"But the magnitude of resources needed ... is such that support of the development partners is essential," Aziz said.
Finance officials, bankers and economists came to Dubai disappointed by the failure of World Trade Organization talks in the Mexican resort of Cancun, and there were numerous calls to restart the negotiations intended to lead to a new global trade deal by 2005.
Poor nations refused to go along with the will of the wealthy West in Cancun, and the IMF and World Bank said that highlighted the need for a system that allowed for broader participation.
World Bank President James Wolfensohn said the meeting in Dubai -- the first such summit in the Arab world -- showed "a greater sense of balance" between the two sides. It was unclear how that would translate into real change.
Poor nations are demanding greater voting rights in the IMF and World Bank, whose policy-making boards are dominated by rich nations.
Philippine Financial Secretary Jose Isidro Camacho charged that poverty in middle-income countries is not getting enough attention. He accused global institutions of a "credit-rating mentality" that he called counterproductive.
The higher per capita earnings in middle-income can leave poverty "masked by measurement of averages," Camacho said.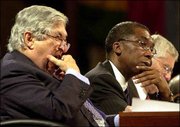 Copyright 2018 The Associated Press. All rights reserved. This material may not be published, broadcast, rewritten or redistributed. We strive to uphold our values for every story published.