The stage has been set for another battle about whether Kansas University's classified employees should stay in the state's civil service system.
Because a vote on the issue in May ended in a tie, proponents of leaving the system soon will bring the issue to another vote. They say establishing an alternate system could lead to better pay raises.
Opponents say they don't have enough assurances of job security without guarantees provided by the civil service system, and they've enlisted the help of a statewide organization for their cause.
"This does not make the work environment great," KU classified employee George Cone, who opposes the proposed changes, said of the divided staff. "It's very difficult, and it's hard on everybody."
Classified employees, who include secretaries, janitors and maintenance workers, split evenly -- with 545 voting in favor, 545 voting opposed -- on the proposal in May.
The major change in policy would be that KU would have direct control over titles and salaries of KU's approximately 1,450 classified employees. Now, the Legislature sets the salaries directly.
Under the proposed system, two-thirds of money allowed for pay increases would be given to all workers who receive a satisfactory evaluation. The other third would be given to department heads to distribute on a merit system to employees who have exemplary evaluations.
KU administrators have said the system would allow them to use tuition money to help pay classified staff, as they've done for faculty and unclassified staff this year.
"We wouldn't work on something we think would harm us," said Kathy Jansen, president of the Classified Senate, who is in favor of the proposed system. "It's going to be better; otherwise, we wouldn't be doing it. We understand the fears, but it's a risk we take. We'd be in more direct control of the administration of our pay system."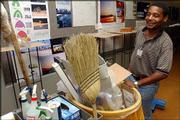 KU administrators say the remainder of classified employee policies -- including health insurance, vacation and hiring and firing policies -- would not change.
The Classified Senate opted to have another vote on the issue after doing a survey this summer. The survey convinced them to tweak the plan by mandating training for all supervisors of classified employees and adding another level of supervisor review of merit-based raises.
Ballots will be distributed Oct. 6 and due Oct. 14.
But Kathy Coffey, who works in KU's sheet metal shop, said those assurances weren't worth the risks of leaving the civil service system, which places hiring and firing restrictions on employers.
"I feel like we're talking to a bunch of used-car salesmen," she said. "They say, 'Trust me, trust me.' If they think it's simply an issue between trusting them or trusting the Legislature, I'm not sure I can do either. But I know what we have right now. There's no gray areas."
Cone said he supported allowing individual employees to determine whether they'd stay in civil service or be part of KU's new system. But Ola Faucher, director of human relations, said having two pay and benefit systems to administer would be too cumbersome to manage.
"The work group decided that really wasn't in the best interest of the university," Faucher said. "Our goal is to improve the situation. We wouldn't be making this effort if we didn't want to improve things."
The Kansas Association of Public Employees, a union that represents state employees, including graduate teaching assistants at KU, issued a statement earlier this week saying it opposed the idea of employees leaving the civil service system. It said KU was attempting to "candy-coat" the move by promising higher salaries.
If the proposal passes, KU would present it to the Kansas Board of Regents, which likely would consider whether to make the proposal a statewide issue. Only Wichita State University has taken steps to consider a similar vote of its own.
State Rep. Tom Sloan, R- Lawrence, chairman of the House Higher Education Committee, said he would support legislation allowing KU employees to leave the state system -- if they approve it in their vote. Sloan said he'd like each university to determine for itself whether to stay in civil service.
"I'm always in favor of closer working relationships between administrators and employees," he said. "If you get them further away from the governor and Legislature, it's best for the people involved. We still retain oversight, but as far as who should make what money, that should be a local decision."
Copyright 2018 The Lawrence Journal-World. All rights reserved. This material may not be published, broadcast, rewritten or redistributed. We strive to uphold our values for every story published.