Marian Brown remembers when the Lawrence chapter of the NAACP was a thriving contributor to the community. Now, for lack of participation, the civil rights group is in danger of folding its tent in Lawrence.
Brown and others are hoping a community forum set for Thursday involving local and state NAACP officials will revive lagging interest in the organization -- especially among its members.
"We've got to get something going and see if there is interest and support out there," said Marian Brown, who has been a member of the Lawrence NAACP since 1977. She was a member in Leavenworth before that.
There are 53 dues-paying members of Lawrence Branch No. 4015 of the National Association for the Advancement of Colored People. The local branch must maintain a minimum of 50 members to avoid having its charter taken away by the national organization. The charter is renewed each year.
Interest among the membership has declined dramatically in recent years, Brown said. Earlier this month a committee met to organize the forum. Prior to that, attendance at meetings had dwindled to two people -- if one is even conducted, Brown said.
The purpose of Thursday's forum is to discuss how important an active, local NAACP branch can be to a community, said the Rev. Janis Grubbs-Cobbs, branch president.
"We want to let the people express any of their concerns about local civil rights and let them know they have a forum for that," Grubbs-Cobbs said. "Also we want the people to let us know if they want to have an NAACP branch."
The forum will be at 7 p.m. Thursday in St. Luke A.M.E. Church, 900 N.Y. Refreshments will be available before the forum.
Featured participants include Jesse Milan, president of the Kansas State Conference of NAACP; Louisa Fletcher, president emeritus of the conference; Rebecca Murphy, past secretary of the conference; and Howard Walker, past president of Lawrence NAACP branch. Grubbs-Cobbs will be the facilitator.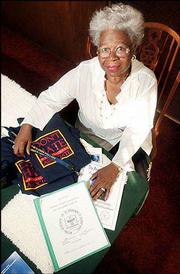 The Lawrence NAACP has a long history of community involvement. It was formed in 1942 and established a youth division at Kansas University, according to Bill Tuttle, a KU professor of American studies.
The local branch was especially active in the late 1960s, when civil rights strife affected the nation. The branch worked closely with black students at Lawrence High School who were demanding more courses in black history and even a black homecoming queen, Tuttle said.
"Some of what they were asking for was pretty sound," he said.
More recently, the branch was active six or seven years ago when the late Ben Zimmerman, a former KU social welfare professor, was membership chairman, Tuttle said.
"He did an aggressive job," Tuttle said.
NAACP members don't have to be black or of any minority group. Tuttle, who is white, has been a member for years. He joined in the 1960s because of friends in the military who were members and his academic interest in black history, he said.
"I think there are a lot of people in the white community who would like to know more about the NAACP," he said.
The NAACP responds to complaints about civil rights violations and job and sex discrimination among all races, Brown said. But it can do more, she said.
She noted the local branch once had a popular community soul-food dinner. A Freedom Fund Awards Banquet was a fund-raiser for the NAACP and special awards were presented to community members for their public service. It was last held in 1999, Brown said.
"To do those things we need bodies, and we just haven't had them," Brown said.
Copyright 2018 The Lawrence Journal-World. All rights reserved. This material may not be published, broadcast, rewritten or redistributed. We strive to uphold our values for every story published.