When a runaway driver piloting tons of hurtling steel refuses to heed police, a strip of hollow metal spikes is generally regarded as the best, last resort by law enforcers for stopping the speeding vehicle.
But the spikes don't always work. They didn't Aug. 26 when a driver pursued by Lawrence Police dodged the spikes and later collided with a car driven by Judith Vellucci. The crash killed the 56-year-old Lawrence woman.
"Unfortunately it just comes down to the fact that high-speed chases are dangerous to everyone," said 2nd Lt. John Eichkorn of the Kansas Highway Patrol.
Nonetheless, the road spikes "are what we've had the most success with," he said.
Since spike strips became available to law enforcement agencies several years ago, they have been used successfully countless times across the nation and in some foreign countries to stop cars being chased by officers.
But they can be dangerous.
'Dangerous to everyone'
In July, a Flagler County, Fla., sheriff's deputy and two Tennessee law officers were killed while deploying spikes. In June, a Vermont State Police Trooper was killed doing the same thing.
In those incidents, vehicles were trying to drive around the spikes and either went out of control or allegedly were intentionally driven toward the officers, according to reports.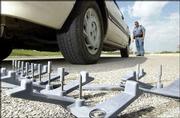 In Florida, Flagler County launched a review of policies concerning the use of spike strips and high-speed chases. In Tennessee, Gov. Phil Bredesen also called for a review of spike strip use.
It's happened in Kansas, too.
In June 1998, Kansas City, Kan., Police Sgt. Rick Asten was killed when he was struck by a stolen Chevrolet Blazer being chased by officers. The Blazer had driven around spikes deployed by Asten.
Though the incident caused the department to review its policy for using spikes, the review brought no major changes.
"This was a case where Sgt. Asten didn't do anything inappropriate," Police Chief Ron Miller said in a recent interview. "The driver came across two lanes of traffic to hit him on purpose."
One way for Lawrence Police and Douglas County Sheriff's officers to stop fleeing vehicles is to deploy the Stinger Spike System.The Stinger has 110 hollow metal spikes in a plastic casing that unfolds like an elevator gate. Fully extended, the Stinger is about 15 feet long (a typical traffic lane is 12 feet wide). When the hollow spikes puncture a tire, it deflates slowly -- in 15 to 30 seconds -- so the driver doesn't lose control of the vehicle.Spike strips are most effective when deployed so the suspect cannot avoid the unit, such as on a bridge or narrow road. They should not be used against motorcycles.The pull method¢ When traffic clears, place spike strip on roadside with cord facing road. Unwrap several turns of cord, and cross to opposite side of road, allowing cord to unwind from spool. Make sure cord lies flat on pavement, so cars may pass before deploying unit. Stand in a safe location.¢ When suspect car arrives, ensure there are no other vehicles between target car and spike strip, and then pull unit across lane. Drop cord once the unit is in position.¢ After suspect car runs over spike strip, retrieve unit by pulling it to the near side of the road.The throw method¢ Pick up spike strip by ends, not sides. Unwrap several turns of cord and place foot over end near spool.¢ When suspect car arrives, slide spike strip across roadway by bending over, holding unit about ankle height and tossing unit with a swinging motion. Pull cord to position unit, and take cover, unwinding cord on the way. Drop cord.¢ After suspect car runs over spike strip, retrieve unit by pulling it to the near side of the road.Sources: Douglas County Sheriff; Federal Signal Corp.; Stop Tech Ltd.
Kansas City police did note, however, that Asten had deployed the spikes on a four-lane paved street near the Wyandotte County Fairgrounds entrance.
Although he was standing away from the spikes on the other side of a concrete median strip, the fleeing motorist drove through a break in the median to get to Asten, Miller said.
The force of the impact damaged the Blazer enough that the driver, Tracy Markee, now 31, had to abandon it about a half-mile down the road. He was arrested and charged with capital murder. In a plea agreement to avoid a possible death penalty, Markee was convicted of reckless second-degree murder and is in prison until at least 2031.
Stop Sticks and Stingers
Police primarily use two types of spikes. Stop Sticks, from Stop Tech Ltd., are a strip of spikes encased in plastic. Officers toss them onto the roadway in an effort to flatten tires on a speeding, fleeing car as it goes by. If time allows, officers fasten three-foot pieces of them together and lay them across one side of the road.
Among the agencies using Stop Sticks are the Kansas Highway Patrol and Kansas City, Kan., Police.
Lawrence Police and Douglas County Sheriff's officers use the Stinger Spike System made by Federal Signal Corp. The folded strip of spikes is placed on one side of the road, then the officer goes to the other side. When the car being chased approaches, the officer uses a 40-foot cord to pull and unfold the strip of spikes like an elevator gate.
In both brands, the spikes go into a tire and pull away from the strip. Because they are hollow, the sticks allow the tire to deflate slowly, flatten and theoretically stop the car. They are not intended to cause a blowout.
"This allows the driver to keep control of the vehicle," said Sheriff's Lt. Don Crow, patrol supervisor.
The vehicles usually stop within 30 seconds, Crow said.
Since the sheriff's officers obtained Stingers four years ago they have been used a dozen times, Crow said. They have been successful at stopping a vehicle in all but four of those instances, he said.
Additional option
Stinger strips are carried in all sheriff and police patrol cars. Stop Sticks are carried in most Highway Patrol cars. Kansas City police restrict Stop Stick usage to patrol supervisors.
The Kansas Law Enforcement Training Center in Hutchinson, where most city and county officers receive their training, does not teach how to use spikes.
"We let them know that it is one option that's available, but there is an element of danger, and we leave it up to the individual departments to conduct their own training," said Jack Leon, specialized training officer at the center.
Lawrence Police and Douglas County Sheriff's officers go through a two-hour class as well as a practical exercise in the usage of the Stinger spikes, officials said. There are periodic reviews.
The Highway Patrol's policy on Stop Stick usage calls for them to be used only on paved roads. They are not to be used against motorcycles. They are not to be used on winding roads or roads with steep inclines. Similar policies are followed by other law enforcement agencies.
Despite precautions, deployed spikes sometimes damage the tires on patrol cars involved in the chase if they are not pulled away fast enough, officers said. There have been incidents in which cars driven by innocent motorists also have run over the spikes, they said.
Kansas City Police have received bills for damage to semitrailer tires, Miller said.
Sometimes fleeing motorists continue to drive on flat tires.
"I don't believe they are the end-all for stopping car chases, but they do slow the car down to safer level of speed," Miller said of spikes.
Other methods for stopping cars are being studied, such as electronic devices that shut down certain computers that run a car.
"There is concern that it could affect computers on other cars," Eichkorn said. "There really isn't anything else out there right now."
Copyright 2018 The Lawrence Journal-World. All rights reserved. This material may not be published, broadcast, rewritten or redistributed. We strive to uphold our values for every story published.