Even Kansas University's tallest basketball players look tiny while standing next to the new, 25 1/2-foot Jayhawk painted on center court at Allen Fieldhouse.
"It's pretty big, man," 6-foot-9, 250-pound KU junior Wayne Simien exclaimed after playing in a pick-up game Saturday on recently repainted James Naismith Court. "It makes the court look bigger, actually. It seems like it takes six steps to get off that big yellow beak."
Bigger often means better, and that's the attitude Simien took toward the new Jayhawk, which replaced the state of Kansas that had been on center court the past several seasons.
"I hope people like it. We like it around here," Simien said of the supersized Jayhawk. "I guess it probably signifies all the changes the athletic department is going through around here.
"As far as handling business out there on the court," Simien added, "it's not going to affect us at all."
Several hundred fans marched through Allen Fieldhouse Saturday to take a peek at the new court design as part of KU's open house festivities.
The Jayhawks participated in individual drills during the afternoon, then played pick-up basketball with high school player Malik Hairston, who was on an official recruiting visit to KU, and Darnell Jackson, who orally committed to KU months ago.
"I like the Jayhawk," freshman guard J.R. Giddens said. "I think it's like a new statement. We have a new coach, a new system and a new court. It's kind of a new fit."
"Oh, I like it," agreed freshman guard Omar Wilkes. "I like the big 'Hawk. It's great to look at from on top. It's probably more different for the guys who've played on it (old design) the last couple of years."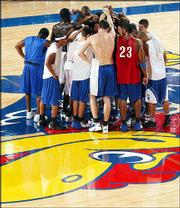 Future Jayhawk Jackson, 6-9 of Midwest City, Okla., broke into a big grin when asked about the Jayhawk.
"I love the Jayhawk. I love the fieldhouse and everything about Kansas. It's beautiful," Jackson said. "I definitely like the Jayhawk."
A pair of former KU players who participated in the pick-up games couldn't help but notice the new Jayhawk.
"It's definitely different, but it's cool though," said Kirk Hinrich, who is about to start his rookie season with the Chicago Bulls.
Nick Bradford, who will leave this week to play pro basketball in Norway, looked down in amazement at the bird as he sat in the stands lacing his shoes.
"I'm not really feelin' it. I'm not feelin' it," Bradford joked as he glimpsed at the court. "Let me go get a good look," he added, leaving the stands to observe the mythical bird up close and personal.
"It looks good," Bradford said after returning, "but my personal opinion is I like the flag (of Kansas) better. It still looks good, though."
First-year KU coach Bill Self and first-year athletic director Lew Perkins decided to go with the big Jayhawk over several other designs.
"The most identifiable thing with Kansas is the Jayhawk, in my opinion," Self said. "The state of Kansas was fine, but I didn't feel the state jumped out and grabbed you like the Jayhawk will.
"I am a fan of the Jayhawk. You look on TV and everybody sees the center of the court every single possession. That area is as recognizable to fans and people watching as any area on the floor. When people turn on the TV and Kansas is playing in Allen Fieldhouse, people will know where they are playing. I think it'll be great for the program."
¢
More on red jerseys: As reported two weeks ago, KU will be wearing a third, red uniform in selected games -- either home or road -- this season.
The players were the ones who requested the third jersey.
"It's cool. You are starting to see a lot of teams the last couple of years go with three jerseys," Simien said. "As far as superstitions (KU lost while wearing red in the 1986 Final Four), I'm not really into that kind of stuff."
"I wish we had 'em last year," Hinrich said.
Self has said the Jayhawks on most occasions will wear white at home and blue on the road with the red "special occasion" jerseys.
¢
Good visit: Hairston, a 6-5 guard/forward from Detroit, had a great time on his recruiting trip. He made the trip with his dad, Richard.
"Malik and I had the opportunity to spend a great deal of time with coach Self and his staff," Richard Hairston told Shay Wildeboor of rivals.com.
"Kansas is not going to miss a beat with coach Self. They can select the players they are looking for, bring those players in for visits and no player is going to refuse that offer. Kansas is the grandfather of college basketball."
Hairston, who has completed three scheduled official visits to KU, Ohio State and UCLA, still could take one or two more trips -- to Michigan or Michigan State.
"It was a very special trip," Richard Hairston said, "but Malik must now sit down and let everything settle in."
Three players are slated to visit KU next weekend: C.J. Giles, 6-11 from Seattle, Wash.; Russell Robinson, 6-1 from New York and Quentin Thomas, 6-4 from Oakland, Callif.
Giles, the son of ex-Jayhawk players Chester Giles and Gail Goodwin, calls KU his leader over Miami and Arizona.
"If I take my visit to Kansas, love everything about it and I feel just blown away, I will give the Jayhawks a commitment and cancel my visit to Arizona (Oct. 17)," he said, noting his dad also would make the trip to KU. "When it comes to Kansas, I think my mom and dad could have a huge influence on the decision I make."
Copyright 2018 The Lawrence Journal-World. All rights reserved. This material may not be published, broadcast, rewritten or redistributed. We strive to uphold our values for every story published.