Miami — The Buffalo Bills had a hard time moving the ball, and they had a hard time getting it away from Ricky Williams.
With dominating defense and a workhorse running back, the Miami Dolphins beat Buffalo, 17-7, Sunday night to forge a tie atop the AFC East.
Williams carried a franchise-record 42 times for 153 yards and one score, helping the Dolphins control the ball for nearly 41 minutes.
"I just kept hitting it up in there," Williams said. "You want an opportunity to control the game."
Buffalo, which scored 69 points in its first two games, totaled just 118 yards. Miami made interceptions to end two early scoring threats by the Bills, whose only points came on Nate Clements' 54-yards interception return.
The Dolphins stymied Eric Moulds, harried Drew Bledsoe and sidelined Travis Henry. They also moved into a tie for the division lead with the Bills and New England, all at 2-1.
"We've got to play this way every week," Miami coach Dave Wannstedt said. "It was as outstanding a defensive effort as I've been around for a long time against an outstanding offensive unit."
Bledsoe completed 10 of 25 passes for 98 yards with two interceptions and four sacks. The Dolphins held halfback Henry to seven yards rushing and intercepted his first NFL pass to stop one scoring threat before he left in the second quarter with a rib injury.
The Dolphins also could claim a victory in their feud with Moulds, who had just two receptions for 30 yards. He angered the Dolphins last season by spitting in cornerback Patrick Surtain's face -- unintentionally, Moulds said -- and traded barbs with them last week.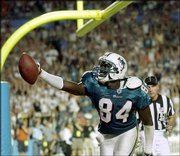 "They double-teamed me the whole game and basically said, 'You're not going to be the guy to beat us tonight,"' Moulds said.
Williams fumbled for the third consecutive game but more than compensated by helping the Dolphins control the ball. They ran 73 plays to 44 for Buffalo.
His jersey soaked with sweat and caked with dirt, Williams clinched the victory on a one-yard touchdown dive with 1:52 left. The officials originally spotted the ball at the 18-inch line, but awarded Miami the score after reviewing a replay.
Williams broke the team record of 40 carries set by Lamar Smith in a playoff victory over Indianapolis three years ago.
"He's the best back in the league," Bills coach Gregg Williams said. "They controlled the line of scrimmage. They were more physical in the trenches."
Surtain, Brock Marion and Sammy Knight made interceptions for the Dolphins. Adewale Ogunleye had two sacks, and Junior Seau and Tim Bowens added one apiece.
The Bills' first four possessions produced two turnovers and no first downs, and they wasted two scoring chances inside the Miami 20 in the second quarter.
One threat ended when a trick play backfired, with Henry's underthrown pass being intercepted by Surtain at the one.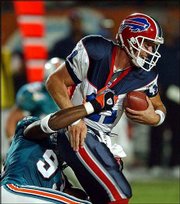 "We had been setting it up for the past few weeks," Gregg Williams said. "We thought it was there. Travis got hit when he let it go. He probably should have tucked it and ran."
Buffalo quickly forced a punt and drove to the eight, but Marion intercepted Bledsoe in the end zone.
"We got pressure on Bledsoe, and that's what we needed to do," cornerback Sam Madison said. "We kept him out of rhythm."
The showing by the Dolphins' pass defense was impressive and surprising, considering they were riddled for 639 yards passing in the first two games.
Cardinals 20, Packers 13
Tempe, Ariz. -- Jeff Blake wore out the Packers on a day of record heat in the desert, then Dexter Jackson sealed it with a clutch interception at the finish. Jackson, last year's Super Bowl MVP, intercepted Brett Favre's pass in the end zone with 10 seconds left to save Arizona's victory.
Blake completed 20 of 31 passes for 273 yards, including a one-yard pass to James Hodgins for the winning touchdown with 3:59 to play. Favre, 23-for-33 for 226 yards and a touchdown, drove the Packers (1-2) to the Arizona seven in the final seconds. But on third-and-goal, his pass was picked off by Jackson. The Cardinals (1-2) took a knee and earned their first victory of the season and second in 12 games. Favre, 35-1 when it's 34 degrees or colder, is 12-18 in games when the kickoff temperature is above 70, and this one was way, way above 70. The 102-degree temperature at kickoff equaled the hottest game ever for the Packers.
Giants 24, Redskins 21, OT

Landover, Md. -- Matt Bryant kicked a 29-yard field goal 4:15 into the extra period, putting the Giants and Redskins in a tie for first place in the NFC East.
The Giants (2-1) led 21-3 at halftime, but a mistake-filled second half and bad clock management late allowed Washington (2-1) to tie it on John Hall's 34-yard field goal with 13 seconds left in regulation.
Seahawks 24, Rams 23
Seattle -- Matt Hasselbeck threw a three-yard touchdown pass to Koren Robinson with a minute remaining, and Josh Brown made the PAT as the Seahawks overcame a 13-point deficit to start 3-0 for the first time in five years. Rams running back Marshall Faulk, held to 31 yards on 15 carries, left in the third quarter with an injured left hand. Marc Bulger fell to 7-2 as the starter for St. Louis (1-2).
Browns 13, 49ers 12
San Francisco -- Andre Davis caught an 11-yard touchdown pass from Kelly Holcomb with 29 seconds left as Cleveland rallied for two late scores. Holcomb knew his starting spot might have been in the balance after two lousy games, but he finally led the Browns (1-2) on two stirring drives for the victory. Both ended in TD passes to Davis.
Ravens 24, Chargers 10
San Diego -- Jamal Lewis ran for 132 yards and one touchdown on 23 carries, a week after setting the NFL single-game record with 295 yards. Lewis needed 182 yards to break O.J. Simpson's two-game record of 476 yards set in 1976. The Ravens (2-1) won their second straight. San Diego (0-3) has been outscored 88-37 this season. Including their second-half collapse last year, the Chargers have lost seven straight and 10 of 12.
Bucs 31, Falcons 10
Atlanta -- Defensive tackle Warren Sapp scored the first offensive touchdown of his career on a six-yard catch as the Bucs rebounded from a disappointing loss. The Bucs (2-1) were clearly perturbed by the way they lost to Carolina a week earlier, getting two field goals and an extra point blocked before falling 12-9 in overtime.
Colts 23, Jaguars 13
Indianapolis -- Reggie Wayne caught a career-high 10 passes for 141 yards and two touchdowns, and the Colts are off to their first 3-0 start since 1996 and only their second such start since 1978. Jacksonville (0-3) has lost five straight dating to the end of last season. Fred Taylor had 17 carries for 126 yards, topping the 5,000-yard career mark and became the first runner to gain more than 100 yards against the Colts defense in 15 games.
Titans 27, Saints 12
Nashville, Tenn. -- Steve McNair threw for 252 yards and two touchdowns, becoming just the fifth quarterback in NFL history to notch 20,000 yards passing with 3,000 yards rushing. Eddie George had 29 carries for 100 yards and ran for his first touchdown of the season to seal the victory for the Titans (2-1).
Patriots 23, Jets 16
Foxboro, Mass. -- Tom Brady scored on a one-yard run late in the third quarter to lead the Patriots. Brady, who hurt his right elbow with 5:45 left in the second quarter, gave the Patriots (2-1) a 16-9 lead with his score.
Vikings 23, Lions 13
Detroit -- Daunte Culpepper left with a bruised back after his second rushing touchdown gave the Vikings the lead. Minnesota (3-0), with three wins in the NFC North, is off to its best start since winning seven games to start the 2000 season. The Lions (1-2) have lost two straight since beating Arizona in the opener.
Steelers 17, Bengals 10
Cincinnati -- Jerome Bettis ran for a one-yard touchdown, and Joey Porter returned from gunshot wounds to the buttocks and right thigh and had a sack to lead the Steelers. Bettis entered late in the third quarter and had six consecutive runs for the final 23 yards of a touchdown drive.
Copyright 2018 The Associated Press. All rights reserved. This material may not be published, broadcast, rewritten or redistributed. We strive to uphold our values for every story published.