With more than 100 girls all cheering at once, it was difficult to tell who had won the Lawrence High Invitational golf tournament Thursday at Alvamar.
Overland Park Aquinas' Courtney Zande eventually took that honor with a 2-over-par score, but the real reason so many golfers formed a jumble of giddiness outside Alvamar's clubhouse was that the tourney was called -- finally -- because of inclement weather.
"I'm kind of glad they decided to finally call it," Free State's Kristen Kearns said of the 21-team tournament that featured three stoppages in play because of lightning and persistent rains.
"A lot of girls were talking about how they weren't doing very good due to the weather," said Kearns, who shot a plus-25 in her first-ever outing in less-than-optimal conditions.
Winds and rain, which ranged from drops to a downpour, didn't stall Aquinas, though.
The Saints took the team title with a 14-over par, followed by Manhattan (21 over) and Washburn Rural (23 over). The Lions took seventh with a score of 49 over, while Free State struggled with a 114-over mark and finished 18th.
"I think our score reflected the conditions," Firebird coach Craig Hershiser said. "This course is tough enough without those conditions. When you throw in the fact that it was cold, wet and windy, that's really hard to play in."
Lawrence High coach Mike Lewis said the coaches voted to count the tournament based on the results of the over-par scores from nine holes, instead of trying to finish another time.
"We sure wish it could have been 18 holes, but at least all the girls got in nine holes by playing either the front nine, back nine or in between," Lewis said. "Scoring-wise, using the over-par format was about as fair as it could be."
LHS sophomore Jamie Shmalberg said all the competitors learned another valuable lesson in addition to making every shot count in such conditions.
"Bring a better jacket if it rains," she said.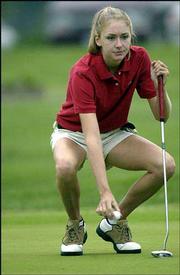 Copyright 2018 The Lawrence Journal-World. All rights reserved. This material may not be published, broadcast, rewritten or redistributed. We strive to uphold our values for every story published.