Lawrence Memorial Hospital is ranked at the bottom among northeast Kansas hospitals in providing recommended care for heart attack patients, according to a new report.
Gene Meyer, president and chief executive of Lawrence Memorial, said Wednesday the hospital was trying to determine how it could improve, but also expressed confidence patients were being treated well.
"It is not a report that we're proud of, but we are proud of the care we give," Meyer said.
The report also showed that KU Med in Kansas City, Kan., was among the best in the region for care of patients suffering heart attacks and heart failure but was tied as the worst-ranking hospital in providing care for pneumonia. Officials at KU blamed record-keeping for the low ranking on pneumonia care.
The first-ever report is part of a national effort to study how often patients of 25 area hospitals receive recommended treatment for the most common health problems affecting patients.
Called "The Quality Initiative: A Public Resource on Hospital Performance," the 44-page report was sponsored by several national health care associations and will be updated annually. Its stated purpose is to reduce medical errors, improve patient care and inform the public.
Big Three ailments
The report focused on care for heart attack, heart failure and pneumonia. "Patients with these conditions who go to hospitals and are given the currently recommended care are more likely to recover and avoid other medical problems," the report said.
Each year, more than 1 million people in the United States have heart attacks. Of those, 350,000 die, making heart attack the leading cause of death in the nation.
Heart failure affects nearly 5 million people in the United States, with from 500,000 to 1 million new cases diagnosed each year.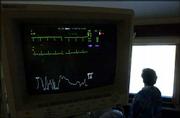 And each year, from 2 million to 3 million cases of pneumonia result in 10 million doctor visits, 500,000 hospitalizations and 45,000 deaths.
In most instances, the report examined patient records covering a nine-month period from July 1, 2002, to March 31. The study then examined whether patients received care in line with what are considered established national guidelines for treatment of the specific illness.
For example, current guidelines for heart attack generally call for giving the patient an aspirin and beta-blocker within 24 hours of arrival at the hospital. The guidelines also call for medication to reduce the heart's workload and prescribing aspirin and beta-blocker when the patient leaves the hospital.
If there is a "missed opportunity" to provide this care, the hospital loses points in its overall score.
But the report points out that its scoring system could be skewed by factors not related to the actual care of a patient. Those factors could be blamed on the doctor not providing the documentation of care on the patient's record, or the doctor deciding the recommended treatment was not appropriate for the specific case.
Local scores
For heart attack care, Kansas City-area hospitals scored an average of 86 percent, with KU Med scoring at the top with two other hospitals -- Shawnee Mission Medical Center in Merriam and St. Luke's Hospital of Kansas City, Mo. -- at 98 percent.
Lawrence Memorial was last at 66 percent.
Meyer said the low ranking wasn't "an indictment of the quality of our care." For example, he said that while the guidelines call for giving a heart attack patient an aspirin, a physician may give the patient some other kind of medication.
But, he said, the hospital is studying ways it can improve. "Long before we knew what our score would be, we put together an internal team to look at the heart-attack patients and look at how we could better comply with the guidelines," Meyer said. "We want to look at this closely."
For heart-failure care, the average was 80 percent, with KU Med ranking third out of 19 hospitals, scoring 91 percent, while LMH scored 78 percent.
For pneumonia, the average was 72 percent. LMH scored slightly above that at 74 percent, while KU Med finished in a tie for last with Cushing Memorial Hospital in Leavenworth, at 61 percent.
Dr. Susan Pingleton, a pulmonary and critical internist at KU Med with 25 years of experience, said the cardiology assessments were "superb," and that the hospital's low score in pneumonia care was due to inadequate record-keeping.
KU Med scored high on two of the three indicators of quality care for pneumonia, which included giving a patient an antibiotic within four hours of arriving at the hospital and making sure the patient received enough oxygen.
But its scored dipped on records that dealt with making sure the patient received a pneumonia vaccine, if needed.
Singleton said she was certain patients received the proper care, but that it wasn't obvious from the way the doctors had recorded that information.
She said an internal group already had been formed to improve the record-keeping.
"The next go-round, when the data comes out after this quarter, I think it will be much better," she said.
Overall, she said the report would provide important information to the public and help the hospitals identify areas where improvement was needed. "We welcome this data reporting," she said.
The results can be viewed online at www.healthykansascity.org.
A report sponsored by several national health care associations rated 23 hospitals in the Kansas City area for how often they give currently recommended care to heart attack, heart failure and pneumonia patients. The top five hospitals in each category, the average for all Kansas City hospitals and the scores of Lawrence Memorial Hospital and KU Med are listed below.
Heart attack
Frequency
KU Med
98%
Saint Luke's Hospital of Kansas City
98
Shawnee Mission Medical Center
98
Truman Medical Center Hospital Hill/Truman Lakewood
96
Baptist-Lutheran Medical Center
94
Average
86
Lawrence Memorial Hospital
66
Heart failure
Saint Luke's Hospital South
92
Truman Medical Center Hospital Hill/Truman Lakewood
92
KU Med
91
Olathe Medical Center
90
Saint Luke's Hospital of K.C.
90
Average
80
Lawrence Memorial Hospital
78
Pneumonia
Saint John Hospital
84
Menorah Medical Center
79
Liberty Hospital
77
Olathe Medical Center
76
Baptist-Lutheran Medical Center
74
Lawrence Memorial Hospital
74
Average
72
KU Med
61
Source: The Quality Initiative
Copyright 2018 The Lawrence Journal-World. All rights reserved. This material may not be published, broadcast, rewritten or redistributed. We strive to uphold our values for every story published.