Minneapolis — Chicago White Sox manager Jerry Manuel flip-flopped Jon Garland and Esteban Loaiza in the starting rotation.
But Loaiza just flopped in the opener of a key three-game series with the Minnesota Twins.
Brad Radke beat Loaiza for the second time in six days as the Twins stretched their AL Central lead over the White Sox to 11/2 games with a 5-2 victory Tuesday night.
"It seems like every time you need a big start out of him, he comes in and does the job," Minnesota catcher A.J. Pierzynski said of Radke, who won his fifth straight decision.
Loaiza, fighting the flu, couldn't find the plate. He walked a season-high five in 21/3 innings -- his shortest start of the year.
"My curve was moving too much, and they weren't swinging at it," Loaiza said. "I did my best, and we did, too. We just need to come back and win."
Manuel put it a little more bluntly.
"We've got to win the next two games," he said. "No doubt about it."
The Twins, who clinched the division title Sept. 15 last season, have been alone in first place for two straight days -- the first time that's happened since June 22-23. A win in at least one of the next two against Chicago, and Minnesota should have the edge with seven of its final nine against lowly Detroit.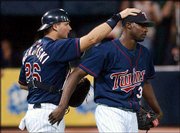 "Driver's seat? Oh, my," manager Ron Gardenhire said. "We just want to come out and try to play. We don't worry about the driver's seat."
Torii Hunter and rookie Michael Ryan each had two hits for the Twins, who took a 4-0 lead after three innings. A crowd of 32,921 was given Homer Hankies left over from last year's playoff run, and they made it sound a little like a postseason game.
Loaiza (19-8) entered tied for seventh in the league in fewest walks per nine innings (2.0), but his night began ominously with a leadoff walk to Shannon Stewart. It ended after four singles, four runs, 74 pitches and just seven outs.
"He was different tonight than what I usually see," White Sox shortstop Jose Valentin said. "You could see him looking for help. He wasn't the same Loaiza he was all year."
Loaiza, who never won more than 11 games in a season during his eight previous major-league seasons, allowed five runs in a 5-2 loss to Radke and the Twins last week in Chicago.
Yankees 6, Orioles 3
Baltimore -- Roger Clemens moved into a tie for 17th place on the career victory list, allowing two earned runs in seven innings as New York beat Baltimore. Alfonso Soriano hit his third homer in two nights and Hideki Matsui drove in three runs for the Yankees, who maintained their 51/2-game lead over second-place Boston in the AL East. Clemens (15-9), who plans to retire after this season, allowed three runs and seven hits in his 308th victory, tying with Hall of Famer Hoss Radbourn.
Red Sox 3, Devil Rays 2
Boston -- Pedro Martinez pitched a six-hitter for his 100th win with Boston, and the Red Sox used a two-run eighth inning to beat Tampa Bay. Martinez (13-4) had thrown 15 consecutive shutout innings before Tampa Bay tied it 1-1 in the eighth when Julio Lugo walked, moved to second on a groundout and scored on Al Martin's pinch-hit single. Martinez, in his sixth year with Boston, walked one and struck out six in his second complete game of the season.
Blue Jays 9, Tigers 6
Detroit -- Frank Catalanotto singled home the go-ahead run in a four-run seventh inning, and Toronto beat Detroit to hand the Tigers their 112th loss. Detroit (38-112), which has dropped four straight, tied the 1952 Pittsburgh Pirates (42-112) and 1965 New York Mets (50-112) for the seventh-most losses in a major-league season. The Tigers moved within five of the American League record.
Rangers 10, Mariners 5
Arlington, Texas -- Alex Rodriguez hit his major-league-leading 44th homer and rookie Laynce Nix homered twice to lead Texas past Seattle. Hank Blalock had a three-run homer for Texas, which opened a 9-0 lead in the fourth inning and dropped Seattle 21/2 games behind Boston in the AL wild-card race. The Mariners have lost three straight and are 6-8 in September. Rodriguez homered in the first inning.
Angels 6, Athletics 5
Anaheim, Calif. -- Scott Spiezio hit a three-run homer with one out in the ninth to give Anaheim a victory over Oakland. Spiezio's 16th home run, on the first pitch he saw from Jim Mecir, ended Oakland's seven-game winning streak. Mecir (2-3) started the ninth in his first save situation of the season and yielded a one-out single to Garret Anderson. Mecir then walked Tim Salmon before Spiezio lined a fastball into the seats in right field.
Copyright 2018 The Associated Press. All rights reserved. This material may not be published, broadcast, rewritten or redistributed. We strive to uphold our values for every story published.