Those are cute, but what are they?
Elden Bailey hears that often when customers at the Lawrence Farmers Market, 1000 Vt., first spy his Asian pears.
"I think a lot of people don't recognize what they are," says Bailey.
Bailey and his wife, Jan, operate Jan's Produce, eight miles northeast of Lawrence.
"They think they're plums or apples. So we usually let people take a taste. They generally like them, and they're in favor of wanting to buy some."
The taste of the little yellow, brown-speckled orbs that Bailey sells is elusive, too.
"They sure don't have a pear-as-we-know-it taste. I've heard every flavor in the world when people try to describe it. My opinion is it tastes like a cross between an apple and a pear. A lot of regular pears, I don't like. But I like these Asian pears," he says.
So do plenty of other shoppers at the farmers market, like Dottie Nordlund of Lawrence, who stops by Bailey's stall about twice each week for fresh produce.
"I think they're really tasty for a little pear," she says, taking a bite of one. "Just slice 'em up, and that's it."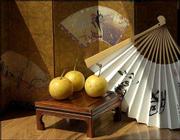 Asian pears -- there are hundreds of varieties -- have shown up in Lawrence in the past 12 to 15 years, since a handful of farmers in the area began adding the trees to their orchards.
The pears are crisp and juicy, and, when they're mature, are ready to eat as soon as they're harvested. If they're put into cold storage, between 32 and 36 degrees, they'll even keep for a couple of months.
Bailey, who has about 20 Asian pear trees, knows the fruit is ripe when it turns yellow. He has four varieties of the pears, and one variety or another is ready to pick from September through October.
He's been selling them at the farmers market for $2.50 per quart. And business is brisk.
"I have a girl from K-State who drives in twice during pear season and picks up a pretty good sack of 'em. Now she's pretty hung up on Asian pears," Bailey says.
The following recipe is from www.recipe.com.Asian Pear and Lychee Strudel----2 each phyllo dough sheets1/4 cup butter, melted1/3 cup coconut, shredded and toasted2 cups lychee nuts, seeded and halved (canned lychee nuts sold in supermarkets)1/4 cup walnuts, chopped and roasted1/4 cup golden raisins, soaked in plum wine3 tablespoons candied ginger1 1/2 cups Asian pear, peeled and diced1 teaspoon lemon zest1 tablespoon sugar1 tablespoon lime juice or lemon juice1 teaspoon Chinese five-spice powder1 tablespoon plum wineconfectioner's sugarFilling: Soak golden raisins in plum wine overnight or longer. Depending on ingredients available to you, mix appropriate quantities up so as to fill the dough. You can use more or less of each ingredient to suit individual tastes. About four cups of filling will be needed.Assembly: Spread two sheets of phyllo dough out on work surface, one on top of the other. Paint the top layer of dough with some of the melted butter, then spread thin layer of toasted coconut over entire pastry. Pour filling along the long edge of phyllo dough, and roll dough up as tightly as possible. Remember to fold in the ends as you roll, so ends are "sealed." Put pastry on nonstick baking sheet. Paint top of pastry roll with melted butter, and bake at 350 degrees until dough is golden brown. When done, take strudel out of oven and let cool on a baking rack. Just before serving, sprinkle powdered sugar over top. Slice roll on a diagonal. Serve strudel pieces on plate with slices of kiwi, orange, lemon and pear as garnish. Yield: 8 servings.
Not your regular pear
Asian pears bear little resemblance to their European cousins, such as Bosc, Bartlett or Comice pears, and they have different characteristics, too.
Asian pears are ready to eat upon picking, while European pears usually take about a week, after removal from cold storage, to become soft and juicy.
Nor do they change appearance after picking or storage, as the Europeans do.
Asian pears are often called "apple pears," because they're crisp and juicy like apples, but with a different texture. They're also referred to as salad pears, Oriental, Chinese or Japanese pears.
There are three types of Asian pear: round or flat fruit with green to yellow skin; round or flat fruit with bronze-colored skin and a light-bronze russet; and pear-shaped fruit with green or russet skin.
Among the favored varieties are: Hosui, a large, golden russeted fruit that ripens in September; Olympic, one of the sweetest of the Asian pears, ripening in late September; and 20th Century or Nijisseiki -- firm and juicy with an aromatic flavor, ripe from July through early August.
Floyd Ott can tell you plenty about Asian pears.
Ott, whose farm and extensive fruit orchards are six miles south of Eudora, grows 19 varieties of the pears on roughly 100 trees. Among his varieties are 20th Century, Shinseiki and Olympic.
His reason for growing so many kinds of Asian pears is to extend his picking season up until the first week of November.
Ott sells them on Saturdays at the Lawrence Farmers Market for $1 per pound.
"These are not an alternative to European pears," says Ott, 78.
"They are two completely different families. A European pear is what you're accustomed to buying in the grocery store: Bosc, D'Anjou, Bartlett. Asians pears are very sweet and firm, and they all tree ripen. They keep pretty well."
Like eating candy
You don't have to recite the merits of Asian pears to Ken Krause -- they're already a great crop for him.
"We sell literally tons of them, and we have people who come in especially for those," says Krause.
He and his wife, Nancy, operate Fieldstone, a bed-and-breakfast nestled in a 180-acre orchard near Overbrook, about 30 miles southwest of Lawrence. He grows four varieties of asian pears on about 200 trees.
"We have people who were overseas in Japan and Korea, and they've tasted them and they like them. Last year we had a family that came here, and they picked 300 pounds of Asian pears."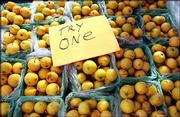 Krause has a pick-yourself operation, and a 20-pound bag of his pears sells for $10. He also sells his Asian pears to the Community Mercantile Co-op, 901 Iowa.
The co-op sells Krause's Hosui and Shinseiki varieties for $2.49 per pound, according to Linda Cowden, produce manager.
Krause has found his own favorite use for them.
"I dehydrate them. I'll take the ones that get hurt while we're picking, and I'll slice those up and dehydrate them, and they're like eating candy," he says.
Copyright 2017 The Lawrence Journal-World. All rights reserved. This material may not be published, broadcast, rewritten or redistributed. We strive to uphold our values for every story published.