Rodanthe, N.C. — A hurricane warning went up late Tuesday along the North Carolina coast and up to 90,000 people were urged to get out of the way of Hurricane Isabel, the most powerful storm in four years to menace the mid-Atlantic coast.
Cars, recreational vehicles and SUVs streamed inland from North Carolina's Outer Banks before the warning was posted for 190 miles, from Cape Fear to the Virginia line. A hurricane watch stretched northward to Chincoteague, Va.
Isabel's winds weakened during the day to around 105 mph, then picked up to 110 mph. Forecasters said little change was expected before the hurricane reached land. Its projected course could take it straight into the Outer Banks early Thursday.
By Tuesday evening, grocery stores and restaurants were closed or shuttered, and the Cape Hatteras Lighthouse was barred to visitors. The main beach highway, N.C. 12, was unusually barren of traffic and the beaches nearly desolate.
"Even a lot of old salts are bailing out," Brian Simmons said as he placed plywood across the window of Stoney's Seafood in Avon. "I don't know if it's some vibe they feel or something."
Coastal residents from South Carolina to New Jersey boarded up homes and businesses and stocked up on batteries, water and other supplies. North Carolina Gov. Mike Easley declared a state of emergency, allowing him to use the National Guard and also seek federal disaster relief.
Easley urged residents to evacuate low-lying coastal areas.
"Now is the time to prepare," he said. "The course and intensity of this storm may change very quickly."
At 10 p.m. CDT Tuesday, Isabel was about 520 miles southeast of North Carolina's Cape Hatteras, moving northwest at around 8 mph. It was down to a Category 2 storm on the Saffir-Simpson Hurricane Scale of intensity, down from a Category 5.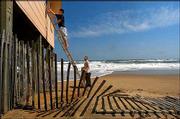 Copyright 2018 The Associated Press. All rights reserved. This material may not be published, broadcast, rewritten or redistributed. We strive to uphold our values for every story published.