Lawrence tourism officials are touting the Robert J. Dole Institute of Politics and an annual Christmas parade as possible attractions for lucrative bus tours.
About 40 members of the Kansas Motorcoach Marketing Alliance on Monday were in Lawrence to hear about plans to capitalize on the Dole Institute and the Eldridge Hotel Old Fashioned Christmas Parade.
Judy Billings, director of the Lawrence Convention and Visitors Bureau, said the opening of the Dole Institute gave the city a chance to become a player in the bus industry.
"The institute gives us a lot of opportunities, but if we're going to attract overnight tours, it has to be part of a larger theme," Billings said.
Billings said she planned to start working on a package that would create a multiday bus tour that would take visitors to the Dole Institute, the Eisenhower Presidential Library in Abilene and the Truman Presidential Library in Independence, Mo.
"For people who like politics and history, it should be a popular tour," Billings said.
Rob Phillips, owner of the Eldridge Hotel, said he was interested in attracting bus tours to the annual downtown Christmas parade, which the hotel has sponsored since 1993.
"I've thought for a while that this has to be a great thing for bus tours," Phillips said. "It is just a tremendous visual experience. It is a mass of horse-drawn vehicles that you can't see anywhere else."
Phillips said he had marketed to tour operators a package for the 2004 parade that would include a two-night stay in Lawrence during the parade weekend. The tour would include seeing the parade, a western music show at Liberty Hall and the Country Club Plaza Christmas lights in Kansas City, Mo.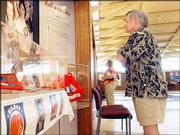 "It is my personal goal to have 20 bus tours in the city for the parade in 2004," Phillips said.
Kelli Hilliard, group tour manager for the Kansas Department of Commerce's Travel and Tourism Division, said both of the Lawrence ideas should help the state attract more bus tours.
"One of our problems has been that people still don't realize what Kansas has to offer," Hilliard said. "They don't see us as having any big attractions."
The tours could provide a significant boost to the Lawrence economy, according to state statistics about motorcoach tours. Hilliard estimated that the average bus tour had about 50 people and they each spent about $100 per night in a city.
"It would be great economic development, and everybody knows that the Eldridge Hotel needs all the economic development it can get," Phillips said.
In June, officers with the Kansas Department of Revenue entered the hotel and seized its cash assets to partially satisfy about $110,000 in unpaid guest, sales and Kansas withholding tax bills. Phillips, who said the unpaid taxes were a result of the downturn in the tourism industry, said Monday that he was negotiating a payment plan with the state and was upbeat about the hotel's future. A Kansas Department of Revenue official was unavailable for comment Monday.
Copyright 2018 The Lawrence Journal-World. All rights reserved. This material may not be published, broadcast, rewritten or redistributed. We strive to uphold our values for every story published.