Bargains still can be found at auctions and antiques shows.
Recently at an online auction, a piece of pottery marked "C.A.P." was ignored by bidders. It sold for about $50. C.A.P. is the mark of the Cincinnati Art Pottery Co. It was founded in 1879 and closed in 1891. The Rookwood Pottery, Frederick Dallas Pottery, Coultry Pottery, Wheatley Pottery, the Pottery Club of Cincinnati and Cincinnati Art Pottery all operated at the beginning of the art pottery movement in the United States. Only Rookwood Pottery and Wheatley Pottery stayed in business into the 1900s.
The 19th-century vases by all of these companies are sought by serious collectors and museums today. Most are in a Victorian style inspired by the designs of the Haviland art pottery, a look that has been out of fashion for many years. The C.A.P. pitcher, 8 1/2 inches high, is worth more than $600.
Look carefully at old and unusual art pottery. Sometimes a mark is very faint; sometimes it is unfamiliar. Research is one of the best ways to get a good buy.
I inherited an Art Deco silver-plated martini pitcher with a Bakelite handle. It is shaped like a coffeepot, but it has a metal stopper in the spout. The mark on the bottom reads "Meriden S.P. Co., International Silver Co. 365, Pat. Jan. 11, 1927. The words form a circle surrounding a picture of a lion holding a vase. With the martini back in vogue, does this pitcher have any value?
The Meriden Silver Plate Co. was organized in 1869 in Meriden, Conn. It was one of the original companies that formed the International Silver Co. in 1898. The new company continued to use the brand names and marks of the original silver companies. That's why there are two names in the mark on your pitcher. During the 1920s and '30s (during and after Prohibition), the International Silver Co. sold a wide variety of cocktail serving sets. Some were in traditional designs and shapes, while others were contemporary. Yours has a traditional shape but a contemporary design, and the Bakelite handle adds to the contemporary look. The patent date refers to the all-metal stopper that replaced cork. Your martini pitcher would sell for $150 or more.
I have a 65-year-old stick of Wrigley's Juicy Fruit gum. It was sent to me in 1938 with a letter from the Wrigley "Spearman" explaining how good gum is for toddlers' teeth, "which need more exercise than they get with modern soft food." The stick of gum is not broken. It's in its original paper wrapper and is covered with cellophane. I also have the original letter and envelope from the William Wrigley Jr. Co. of Chicago. Is the gum a collectible?
Vintage candy and gum wrappers are collectible. But the most valuable wrappers (with or without the contents) are those with "crossover" appeal. This means that an old gum wrapper picturing Mickey Mouse or Superman would be more valuable than your gum. If you want to sell, you could try an online auction. You might get $2 -- or $200.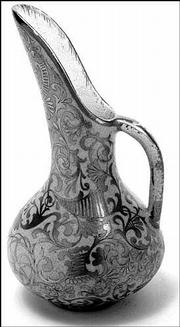 Tip
When storing a sugar bowl with a cover on a high shelf, be sure to fasten the top with string. The lid could fall off if you tip the bowl when you try to take it off the shelf. This applies to any piece of china or glass with a cover.
Current prices are recorded from antiques shows, flea markets, sales and auctions throughout the United States. Prices vary in different locations because of local economic conditions.¢ Cracker Jack toy, prairie whistle, warbler birdcall, plastic, Japan, 1950s, 1 inch, $8.¢ Black and White Scotch Whisky countertop display, pair of Scottie pups, 1 black, 1 white, 1950s, 10 1/2 x 3 x 8 inches, $65.¢ Lemon squeezer, Griswold No. 250, aluminum insert, black, 9 1/2 inches, $80.¢ Stangl pottery figurine, bird, blue swallowtail, 6 1/2 inches, $95.¢ Celluloid button, "Welcome Home, Cpt. Chas. Lindbergh," red, white and blue, 7/8 inches, $100.¢ Shelley china juicer and base, Harmony pattern, streaky mottled pink-and-green glaze, 2 pieces, $350.¢ William IV-style stool, upholstered, mahogany, padded oblong top, molded frieze, baluster-form feet, c. 1900, 14 x 23 inches, $635.¢ Madame Alexander Marme doll from "Little Women," hard plastic, sleep eyes, synthetic wig, blue dress, 15 inches, $925.
Copyright 2018 The Lawrence Journal-World. All rights reserved. This material may not be published, broadcast, rewritten or redistributed. We strive to uphold our values for every story published.