This was the summer that got away.
Our children were involved in activities that took up entire months. Each family member seemed to go in a different direction. Somehow, we'd come to August and never taken a break with the whole family together.
It was too late for a "real" vacation, but there was just enough time for an end-of-summer escape. Someplace on a lake, within a few hours drive, which is why I was searching frantically through the piles of paper on my desk. I knew it was here somewhere ...
"It" was an enticing offer: three nights lodging at the Lodge of Four Seasons Resort at Lake of the Ozarks, complimentary 18 holes of golf with cart on the new Jack Nicholas course for my husband, $50 voucher for dining at the Porto Cima clubhouse, $50 voucher at Spa Shiki for a massage for me -- and all for $139. Sure, there were a few strings attached -- including a required 90-minute marketing session by Four Seasons Lakesites.
For those who don't know, Lake of the Ozarks is an expansive, twisting lake with more than 1,150 miles of shoreline, popular for its proximity to St. Louis and Kansas City.
From Lake Ozark through Osage Beach down to Camdenton you'll find restaurants, the largest name-brand outlet mall in Missouri (they call it an "outlet village"), plenty of quaint smaller shops and antique stores, mini-golf, marinas, a water park, sports parks, movies, country shows and more.
While the lake's east side is fairly developed, its west side is more rural. The new bridge from Sunrise Beach (west side) to Lake Ozark (east side) eliminates the need to drive clear around the lake. It's a $2.50 toll each way, but well worth it.
Day One
The drive down from Lawrence was less than three hours.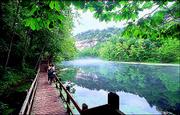 Booking as late as we had, rooms at the Lodge were long gone. We were to be put up at a hotel off-site (with full use of Lodge amenities) but we lucked into a condo instead just down the road from the Lodge. It had two bedrooms, a screened porch, a master suite with Jacuzzi and a pool just feet from the front door, and a view of the lake. "Sweet," said the daughter. "Perfect," said the husband.
After a relaxing afternoon swim in the condo pool, we headed out to explore.
Lodge of Four Seasons is one of the few four-star resorts at Lake of the Ozarks. That means when you pull up the long drive through the woods to the portico, there are about three smiling guys who have your car doors open and are offering to help with luggage before you even get the engine off. It also has multiple pools, plus a marina, swim dock, spa, gardens and several restaurants. As we walked around, I took a few minutes to stop by Spa Shiki and book my massage.
While not big fans of country music, we wanted a taste of the local entertainment scene. After checking out the main drag (U.S. Highway 54), we grabbed a sandwich and headed for the evening show at the Main Street Music Hall in Osage Beach.
If Branson shows are "super-sized," then the Music Hall is regular size. It has a welcoming, comfy family feel (in part because many of the performers are related -- Gabby Gumm, Matt Gumm and Sandy Gumm at the core). Performers are energetic and enthusiastic as they move quickly from musical numbers to comedy skits. Sure, it was hokey, but gosh darn if we didn't laugh out loud.
Lake of the Ozarks Convention and Visitor Bureau: 800-FUN-LAKE and (573) 348-1599 or www.funlake.com. Inquire about "Golf Around" packages where you get to play various courses.Four Seasons Communities: For info on homes, property or timeshares, call (800) 850-5253.Spa Shiki: For reservations, call (800) THE-LAKE or (573) 365-8108. Total spa experience at Lodge of the Four Seasons. Clients have access to steam room and sauna before or after treatments, so schedule enough time to make full use of the facilities.Music Hall: (573) 348-9500 for reservations or www.lakemusichall.com. On west side of U.S. Highway 54 in Osage Beach at The Landing (group of shops). Cost, including tax, is $14.75 adults; $12.60 seniors; $6.43 children 5-12; 4 and under free. Discount coupons are available. Shows are at 8 p.m. Monday through Saturday.Big Surf Waterpark: (573) 346-6111 or www.bigsurfwaterpark.com. Exit off U.S. 54 on State Road "Y" between Osage Beach and Camdenton. Hours vary with season so call to confirm. Ticket prices: $21.95 for ages 8-59; $16.95 for children 3-8; 2 and under free. Discount passes after 3 p.m. to close.Big Shot Amusement Park: (573) 346-6111 or www.bigshotamusementpark.com. No general admission; tickets per ride. Combo pass allows two hours unlimited rides at Big Shot and all day at Big Surf. Hours vary; so call to confirm.Tropic Island Cruises: (573) 348-0083 or www.tropicislandcruises.com. Depart daily at 3 p.m. from Lodge of Four Seasons Marina. Cost is $14 for adults, $10 for children 4-12, and free for age 3 and under. Discount coupons readily available (check in places like the Lodge lobby) so grab one first. Private charters and parties also can be booked.Bridal Cave: (573) 346-2676. Follow signs off Route 2 northwest of Camdenton. Guided tours every 20 to 25 minutes. Adults $12, children 5-12 $6, 4 and under free. Hours vary; call to confirm.
Day Two
We slept in, then spent a lazy morning floating on the lake and sunning on the swim dock. My husband's tee time was 1:30 p.m., so we dropped him off at the Porto Cima clubhouse.
Golf is big at Lake of the Ozarks: I counted 12 courses open to the public, with private ones (like Porto Cima) on top of that. Frank later reported Porto Cima was the best course he'd ever played.
Because almost all Lake of the Ozarks shoreline is privately owned, the only way to really get a feel for the lake and shoreline is from a boat. We hurried to catch a narrated, scenic lake cruise with Tropic Island Cruises. It's Tropic Island's 10th anniversary year, but the tour boat is a newer 1999 all-steel, 75-foot, 150-passenger motor yacht.
They serve drinks, soft drinks and snacks on board, and owner/bartender Omer Clark (and wife Jacquie) will answer any and all questions with a gracious smile. The entire crew was hospitable and happy to share their love of the area.
While I tend to prefer a narration heavier on regional history, marine, plant and wildlife, and a tad less about property values and folklore, everyone else seemed entertained. Because they cruise even in the rain, it's a pleasant diversion for a family even if the weather turns.
After getting the children settled in with pizza and videos, my husband and I drove over to the Porto Cima clubhouse for a romantic dinner: salad, wine, cedar plank salmon and walnut-encrusted chicken breasts, finished off with a hazelnut torte. "I could get used to this," was my husband's comment.
Day Three
Children and hubby relaxed by the pool while I headed for Spa Shiki. I'd booked an hourlong Swedish massage (somewhat more than my voucher but well worth the extra). Draped in a white robe and Oriental-style slides, I lounged until claimed by my masseuse and led to a back room. The whole experience was thoroughly satisfying (except for the part where my muscles started silently screaming).
"You need some work on those knots in your neck," the massage therapist said. "Get a massage once a week and they should resolve." (Yeah, sure, in my dreams.)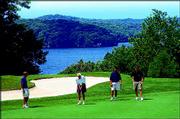 The gang was waiting for me in the lobby, ready for a little action at Big Surf Waterpark. With a large wave pool, several flume rides and a three-story-tall ride called the Zambezi Falls (just watching made my stomach turn over), the park kept the children entertained. I did a few of the rides but mostly dozed on a lazy tube float down the Nile River ride.
Just across the street is the Big Shot Amusement Park, with paintball, go-karts, mini-golf, bumper boats, batting cage, roller coaster and some kiddie rides. It's open until midnight during the season; call for hours off-season. It's a great way to let the children work off energy in the evening when it cools down a bit.
Later that afternoon we left the children at the condo and headed over for the marketing presentation. Braced for a hard sell, we were pleasantly surprised. Our salesman was low-key, respectful and professional. He discussed lakeside vacation homes and property (both out of our league for now), then moved to time-share options.
My husband was intrigued by the new "Private Quarters Club" where you get 21 days a year in an upscale condo (right on the course) with free golf (except cart rental) on the Porto Cima course. You can use the time as your prefer, whether three weeks or seven long weekends. We didn't buy now (kid in college, aging parents, a few too many fiscal commitments), but we left feeling positive and interested for the future.
Supper was at Toad Cove, a Lake of the Ozarks staple with three restaurants -- Horny Toad, Frisky Frog and Jeremiah's Cantina -- seven bars, a marina, nightclub, boutique and sand volleyball courts. We strolled over to Jeremiah's Cantina and lucked into a waterfront table. We watched the sunset over hefty platters of Mexican fare, icy Coronas in hand.
Day Four
Sadly, it was time to return home, but with such a short return drive we still had a whole day to play.
After checking out, we drove over to Lake of the Ozarks State Park -- the largest state park in Missouri. With camping, beaches, marina, hiking, bike trails and horseback riding, this state park is worth an entire trip. State parks in Missouri are free, an appreciated plus. We took notes for another day, resolved to return, then headed south on U.S. 54.
We stopped for lunch at C.J.'s Family Restaurant in Camdenton but ended up having the weekend breakfast buffet instead. All-you-can-eat for only $5.95 (from 7 a.m. to 2 p.m. Saturday and Sunday). With an accommodating and cheerful staff, this was the best value we found at the lake.
Just south of Camdenton is Ha Ha Tonka State Park. We climbed a short path to see the stone walls of a burned-out castle perched on the cliffs over the lake. After hiking on some of the park's trails, we took an hour for one last lake swim at the park.
Lake of the Ozarks is also known for its caves. For our last stop, we chose Bridal Cave. We had a guided tour for about an hour through the chambers, where the mineral deposits take on otherworldly shapes and structures. Altogether amazing, it looks more Disney than Disney -- but it's real. The cave is not for the claustrophobic, as there are a few tight squeezes, but it's cool (literally and metaphorically) to see it in person.
Then it was time to head for home. We'd done a lot yet also had time to relax. We'd managed four days of family togetherness without altercation. Best of all, the lake is close enough that we can easily return, for even a weekend, and there is plenty more to explore.
-- Susan Kraus is a Lawrence freelance writer.
Copyright 2018 The Lawrence Journal-World. All rights reserved. This material may not be published, broadcast, rewritten or redistributed. We strive to uphold our values for every story published.