Ten years ago, aspiring businessman Dave Wright had a heck of a problem.
The recent Kansas University graduate wanted to get into the retail business but couldn't come up with a business plan strong enough to compete against the likes of Wal-Mart.
Then he realized there was something that Wal-Mart didn't sell -- used merchandise. The realization led Wright to open Play It Again Sports, 1029 Mass., a national franchise whose stores sell used sporting goods.
"At that point in time, Wal-Mart was dominating the retail industry by bringing prices as low as they absolutely could go on most items," he said. "I couldn't figure out how to make a living doing that. For me, the logical step was to go used."
It apparently has been a logical step for many Lawrence retailers.
In 1984, according to data gathered by a Kansas University business class, there were about five retailers on Massachusetts Street that sold used merchandise as a significant part of their business.
According to a recent count by the Journal-World, there now are approximately 30. That's an increase of about 500 percent -- even faster than the 160 percent growth rate of food and beverage establishments on Massachusetts Street during the same period.
Steady sales
Jennifer Sievers, owner of Arizona Trading Co., 734 Mass., was not surprised by the research showing an increasing number of resellers in the downtown area.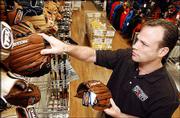 "I think the attitude has changed about used merchandise in general," said Sievers, whose store sells used clothing. "It's not the old thrift store idea anymore. It is something more hip that appeals to a wider audience."
Sievers said such stores were successful because they had a unique ability to weather good and bad economic times. That's in part because the stores don't just sell used merchandise -- they also buy it.
For example, both Play It Again Sports and Arizona Trading Co. acquire inventory from customers.
During a strong economy, Sievers said the store had plenty of customers because people were in the mood to buy new clothes and sell clothes to make room in their closets. That provided for an inexpensive and usually high-quality inventory, Sievers said. Plus, some of the sellers would buy a few items while they were at the store.
During a weak economy, Sievers said the store was busy because people were drawn to the low prices. She said that success probably had as much as anything to do with the increasing number of resellers downtown.
"I think a lot of business people have seen how the reselling business has worked in downtown, and who wouldn't want that?" Sievers said.
Among the major resellers on Massachusetts Street today are: Dusty Bookshelf, Richard's Music Co., Topiary Tree, Arizona Trading Co., Children's Orchard, Black-Eyed Susans, Kief's CDs & Tapes, Lawrence Antique Mall, My Father's Daughter, Second Chance, Sugartown Traders, Love Garden Sounds, Comic Market, Play It Again Sports, Vagabond Bookman, Sports Dome, Comic Market.Among the resellers on Massachusetts Street in 1984 were: Swap Shop, which sold used furniture; George's Furniture and Antiques; the Music House, which included used instruments in its inventory; the Antique Doctor, which sold a variety of antiques; and Dean's Books.
Finding a bargain
Scott Krugman of the National Retail Federation said his group hadn't conducted a study on the number of resellers, but he was certain it was growing.
"We're hearing a lot more about them, and that makes sense because we're in an economic period that's a little bit soft, and when that happens people are looking for price," Krugman said. "That has benefited discounters, it has benefited dollar stores and it certainly has benefited resellers."
Price is a big factor in the success of resellers. Wright estimated that most of his store's used merchandise was about half the price of similar new items.
"The idea of getting a bargain is the thing that gets many people in the door a lot of times," Wright said.
But the true beauty of the business may be that the bargain goes both ways. Wright said he buys most of his used inventory for about 25 percent of the price that it would sell for new. He turns around and sells it for twice that, but said it was still a good deal for customers because it was still half what they would pay for a new item.
"It's called a win-win situation," Wright said. "It's what keeps business going."
Higher profit margins, though, aren't the only advantage resellers have.
John Kiefer, president of Lawrence-based Kief's Audio-Video, 2429 Iowa, opened Kief's CDs and Tapes, a used music store, on Massachusetts Street about five years ago.
"You get the good margins but you also get to sell a product that usually isn't price comparable," Kiefer said. "Think about it. If I have a 10-year-old speaker, you either want it at the price I'm offering or you don't. But you probably aren't going to be able to go to 10 other stores and see what price they have it for sale at.
"And the other advantage is the big box stores leave you alone. They're not in that business."
Changing downtown
That may be changing though. Wright said some large sporting good stores had started buying and selling used golf clubs and others were buying and selling used snowboards. He expects them to expand into other merchandise areas.
While Play it Again, a national chain of more than 500 stores, isn't quite the same as a mom-and-pop outfit selling used shoes, big mainstream retailers getting into reselling could change the landscape a bit.
And some people say ending the trend of more resellers on Massachusetts Street may not be entirely bad.
Kiefer said he had concerns about a proliferation of used merchandise sellers changing the image of downtown from that of a "plaza-like shopping area" to a flea market.
"I may not know what I'm talking about, but I predict downtown someday almost entirely will be tattoo shops, food and drink establishments and used shops," Kiefer said. "At some point that begins looking pretty strange."
Wright agreed that a second-hand image probably wasn't desirable for downtown. But he said he didn't see the downtown gaining that image anytime soon.
"I don't think people feel like downtown is some sort of flea market," Wright said. "I think they just kind of stumble onto our stores.
"But the stores that are down here now are drawing traffic, and anything that draws traffic, I think, is great for downtown."
Copyright 2018 The Lawrence Journal-World. All rights reserved. This material may not be published, broadcast, rewritten or redistributed. We strive to uphold our values for every story published.