LARAMIE, WYO. — The Wyoming Cowboys personified the "too little, too late" cliche Saturday against the Jayhawks.
Down 42-21 with just a quarter remaining, quarterback Casey Bramlet led the Cowboys (1-2) on two scoring drives in the final six minutes, but the effort wasn't enough because a poor second quarter doomed Wyoming.
"We can't just get within a touchdown. That is not going to make things happen," Wyoming coach Joe Glenn said. "We need to start making plays to win ball games instead of playing to keep it close."
Bramlet, who finished 33-of-46 passing for 328 yards and four touchdowns, flourished in the fourth quarter, but wilted in the second period.
Bramlet was 12-for-12 for 112 yards in the fourth quarter, finding Ryan McGuffey and Jovon Bouknight for touchdowns. He completed his final 18 passes, but was just 6-of-13 passing for 39 yards in the second quarter.
"We really couldn't find ourselves in the second quarter," Glenn said. "We did come out and competed well in the second half, but we need to find a way to win."
After giving up 313 total yards and five plays of 10 yards or more in the first half, Wyoming's defense shut down KU in the second half, allowing just 144 yards after halftime.
Combined with the late scoring drives led by Bramlet, the Cowboys' improved defense nearly led to a miraculous comeback, though the Jayhawks should have expected a tough battle.
"We knew Wyoming was going to come in to fight the whole four quarters," KU tailback Clark Green said, "and that's what coach had been warning us the whole week. That's what we had to do was try and stop them."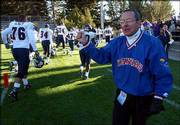 Wyoming was stopped in the first half, gaining just 239 total yards and not scoring after the 1:57 mark in the first quarter. In fact, the Cowboys went scoreless for more than 28 minutes before Bouknight brought them within 14 points on a seven-yard reverse late in the third quarter.
Though KU extended the lead to 21 points again just two and a half minutes later, Wyoming never gave up.
"They're a good team. They proved that," KU linebacker Nick Reid said. "Being down 21 points ... they never gave up and fought the whole time. I've got to give them props for that."
McGuffey finished with 13 catches for 135 yards and two touchdowns, moving into third place on Wyoming's career reception list and fourth place on the school's career receiving-yardage list.
"He made a lot of plays," KU coach Mark Mangino said. "Give the kid credit.
"I want to give Wyoming credit, too. They played hard. They wanted to win this game very badly at home."
Wyoming outrushed KU, 179 yards to 162. The 179 yards were the most by the Cowboys since Oct. 5, 2002, when they rushed for 239 yards against The Citadel. That was also the last game Wyoming outrushed its opponent.
Derek Armah led Wyoming with 85 rushing yards on 18 carries, despite aggravating a shoulder bruise and suffering a slight ankle sprain. Bouknight caught four passes for 99 yards and two touchdowns and added 24 rushing yards and a touchdown on two carries.
Copyright 2018 The Lawrence Journal-World. All rights reserved. This material may not be published, broadcast, rewritten or redistributed. We strive to uphold our values for every story published.