So long as it was a Johnny Cash song, you could listen to anything you wanted Friday at the Shenago Lounge, 2907 W. Sixth St.
"I've heard Johnny Cash all day and all night," said bartender Dianne Gil Bari. "That's all my patrons have been playing, just about."
Similar tributes to "The Man in Black," whose quavering Arkansas rasp went straight to the heart of everyone from hardened convicts to college students, sprang up across the country upon news of Cash's death at age 71.
"You want a story for how cool Johnny Cash was?" asked Jan Flory, a Shenago Lounge customer. "My folks are old German Baptist people, no jewelry, make-up, no radio, no TV, not nothing. My mother had a kitchen cupboard plastered with Johnny Cash pictures. When she got pissed at my father she would open that cupboard and stare at Johnny Cash's picture and pull out a little radio none of us were supposed to know she had."
Flory said her mother heard of Cash's death while in the hospital for surgery.
"She was sad," Flory said. "I had just got her back on her feet last night and she said: 'Oh, Johnny died.' She still has her little cupboard covered with Johnny Cash, so that's all right and the music will live forever."
BR549 throws a wake
Lawrence native Jeff Mead, lead singer with the country band BR549, found his own way to pay tribute to Cash, who died of complications from diabetes.
Mead was in Seattle on Friday, sharing a bill with alt-country rocker, the Reverend Horton Heat.
"We're putting together a Johnny Cash wake -- a half-hour set of all Johnny Cash," Mead said. "We can do a half-hour, easy."
Mead said he and his friends had preferred to think that Cash, who had been ill for months, would never die.
"You know, we always thought when the smoke cleared, there'd be Willie Nelson, Keith Richards and Johnny Cash," he said.
Cash's rough, unsteady voice championed the downtrodden and reached across generations with songs like "Ring of Fire," "I Walk the Line" and "Folsom Prison Blues." He died at 2 a.m. Friday at Baptist Hospital in Nashville.
Complications from diabetes resulted in respiratory failure, said his manager, Lou Robin. The funeral service will be private, but a public memorial is being planned.
For the common man
In his songs, Cash was a dignified, resilient voice for the common man -- but there was often a dark edge in his music.
"Folsom Prison Blues," which went to No. 4 on the country charts in 1956, included the famous couplet: "I shot a man in Reno, just to watch him die."
Forty-seven years later, Cash's video for "Hurt" was nominated for six MTV Video Music Awards, winning one.
The singer's deeply lined face fit well with his voice, which was limited in range but perfect for singing about prisoners, heartaches and tales of everyday life.
As news of his death spread, other musicians praised Cash for his independent, rebellious streak that made him a powerful influence in country, rock, folk and gospel music.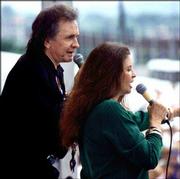 Marty Stuart, who was once in Cash's band and married to his daughter Cindy, said Cash "answered to no one but himself, what he heard in his own heart and own mind and own soul. He was never dictated to by a trend or convention or by corporate powers that be. He did it his way."
'Touching, powerful'
Cash had been released from the hospital Tuesday after a two-week stay for treatment of an unspecified stomach ailment. The illness caused him to miss last month's MTV awards, where his "Hurt" -- a cover of Trent Reznor's hard rock song with Nine Inch Nails -- won for cinematography.
"To hear that Johnny was interested in doing my song was a defining moment in my life's work," Reznor said Friday. "To hear the result really reminded me how beautiful, touching and powerful music can be. The world has truly lost one of the greats."
He had battled a disease of the nervous system, autonomic neuropathy, and pneumonia in recent years. His second wife, singer June Carter Cash, who co-wrote Cash's hit "Ring of Fire," died in May.
Singer Dolly Parton said: "Johnny Cash has only passed into the greater light. He will never, ever die. He will only become more important in this industry as time goes by."
Cash wrote much of his own material and was among the first to record the songs of Bob Dylan and Kris Kristofferson.
Funny and serious
Some songs by Johnny Cash:"Cry, Cry, Cry," 1955"Folsom Prison Blues," 1956"I Walk the Line," 1956"Ring of Fire," 1963"It Ain't Me, Babe, with June Carter," 1964"Long-Legged Guitar Pickin' Man," with June Carter, 1967"Daddy Sang Bass," 1968"A Boy Named Sue," 1969"Man in Black," 1971"One Piece at a Time," 1976"There Ain't No Good Chain Gang," with Waylon Jennings, 1978"Highwayman," with Willie Nelson, Waylon Jennings and Kris Kristofferson, 1985"Delia's Gone," 1994"Hurt," 2002
"One Piece at a Time" was about an assembly line worker who built a car out of parts stolen from his factory. "A Boy Named Sue," a Shel Silverstein song he took to No. 1 in 1969, was a comical story of a father who gives his son a girl's name to make him tough.
Cash said in his self-titled 1997 autobiography that he tried to speak for "voices that were ignored or even suppressed in the entertainment media, not to mention the political and educational establishments."
"The thing that I'll always remember about Johnny Cash was his social consciousness," said Mark Roseberry, manager at Kief's Downtown Music. "When I was 15, Vietnam was going on and Johnny Cash came out with a song called 'What is Truth?' and one of the lines went, 'and the lonely voice of youth cries out, What is truth?'
"Man, I knew I had a friend that day."
Roseberry said he missed Cash's Lied Center appearance in 1998.
"I remember thinking it was a little pricey, so I passed," he said. "I've regretted it ever since."
Cash's career spanned generations, with each finding something of value in his simple records, many of which used his trademark rockabilly rhythm.
Cash was a peer of Elvis Presley when he began recording in Memphis in the 1950s, and he scored hits like "Cry! Cry! Cry!" during that era. He had a longtime friendship and recorded with Dylan, who has cited Cash as a major influence.
Awards, Hall of Fame
Cash won 11 Grammy Awards -- most recently in 2003, when "Give My Love To Rose" earned him honors as best male country vocal performance -- and numerous Country Music Assn. awards. He was elected to the Country Music Hall of Fame in 1980 and inducted into the Rock and Roll Hall of Fame in 1992.
June Carter Cash, who partnered with him in hits such as "Jackson," and daughter Rosanne Cash also were successful singers.
The late 1960s and '70s were Cash's peak commercial years, and he was host of his own ABC variety show from 1969 to 1971. In later years, he was part of the Highwayman supergroup with Waylon Jennings, Nelson and Kristofferson.
In the 1990s, Cash found a new artistic life recording with rock-rap producer Rick Rubin on the label American Recordings. He was back on the charts in 2002 with the album "American IV: The Man Comes Around."
He also wrote books, including two autobiographies, and acted in films and television shows.
In his 1971 hit "Man in Black," Cash said his black clothing symbolized the world's downtrodden people. Cash had been "The Man in Black" since he joined the Grand Ole Opry at age 25.
"Everybody was wearing rhinestones, all those sparkle clothes and cowboy boots," he said in 1986. "I decided to wear a black shirt and pants and see if I could get by with it. I did and I've worn black clothes ever since."
Air Force veteran
John R. Cash was born Feb. 26, 1932, in Kingsland, Ark., one of seven children. When he was 12, his 14-year-old brother and hero, Jack, died after an accident while sawing oak trees into fence posts. The tragedy had a lasting impact on Cash, and he later pointed to it as a possible reason his music was frequently melancholy.
He worked as a custodian and enlisted in the Air Force, learning guitar while stationed in Germany, before launching his music career in Memphis after his 1954 discharge.
Because of Cash's frequent performances in prisons and his rowdy lifestyle early in his career, many people wrongly thought he had served prison time. He never did, though he battled addiction to pills on and off and received a suspended jail sentence in 1965 on a misdemeanor narcotics charge in Texas.
He blamed fame for his vulnerability to drug addiction.
"When I was a kid, I always knew I'd sing on the radio someday. I never thought about fame until it started happening to me," he said in 1988. "Then it was hard to handle. That's why I turned to pills."
He credited June Carter Cash, whom he married in 1968, with helping him stay off drugs, though he had several relapses over the years and was treated at the Betty Ford Center in California in 1984. Together, June Carter and Cash had one child, John Carter Cash. He is a musician and producer.
In March 1998, after Cash's 1998 Grammy for best country album for "Unchained," he made headlines when his California-based record company took out an ad in the music trade magazine Billboard. The ad showed a much younger Cash flipping his middle finger, sarcastically illustrating his thanks to country radio stations and "the country music establishment in Nashville," which he felt had unfairly cast him aside.
Singer Rosanne Cash is Johnny Cash's daughter from his first marriage, to Vivian Liberto. Their other three children were Kathleen, Cindy and Tara. They divorced in 1966.
Cash lived in Hendersonville, Tenn., just outside of Nashville. He also had a home in Jamaica.
---
The Associated Press contributed to this report.
Copyright 2018 The Lawrence Journal-World. All rights reserved. This material may not be published, broadcast, rewritten or redistributed. We strive to uphold our values for every story published.