Los Angeles — The Detroit Shock couldn't guard the Los Angeles Sparks' All-Star trio of Lisa Leslie, DeLisha Milton and Tamecka Dixon one-on-one. So they went to a zone, and that didn't work either.
After trailing by 21 points in the first half, the Shock never erased their double-digit deficit, and the two-time champion Sparks won 75-63 Friday night in the opening game of the best-of-three WNBA Finals.
The Shock were a woeful 7-of-37 in the first half, surprising for a team that led the league in scoring with 75.1 points a game. Detroit had 12 of its 15 turnovers in the half, when the Sparks scored 20 points off the miscues.
"That's the first time that we really have gotten a little rattled, and it was not anything that the Sparks did," Detroit coach Bill Laimbeer said. "It was us. We just didn't have the game."
Leslie, last year's finals MVP, scored 14 of her 23 points in the first half and had 12 rebounds. Milton added 19 points, Kansas University product Dixon had 15 and Nikki Teasley had 11 assists for the Sparks.
Detroit's Swin Cash scored 16 points and Deanna Nolan had 15. WNBA rookie of the year Cheryl Ford had 11 points and 12 rebounds playing in front of her father Karl Malone, one of the new members of the Los Angeles Lakers.
"He didn't give me a pep talk, it was just 'Go play your game,'" Ford said.
Center Ruth Riley was held to six points as Leslie repeatedly scored over her.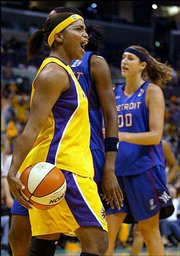 "There was a little bit of nerves going on," Cash said. "We were making just some idiotic passes. We were just throwing the ball right to them and they're a great team, they're going to convert."
It was like 1988 all over again for Laimbeer, formerly one of the "Bad Boys" on the Detroit Pistons, who lost to Sparks coach Michael Cooper and the Lakers in seven games of that year's NBA Finals.
But Laimbeer was upbeat, smiling and even a little cocky afterward.
"Nothing that we saw out there makes us any less confident in our abilities, in our eventual outcome of the series," he said. "We're ecstatic. We think we learned a whole year's worth of experience in one game. Now it's our turn. We're just as good as them."
Cooper and the Sparks are within one victory of a championship three-peat, something the Houston Comets did when they won four consecutive titles from 1997-2000. Game 2 is Sunday in Detroit, where Game 3 would be Tuesday if necessary.
The Sparks' halftime lead was the second-largest in WNBA playoff history. Detroit, making its first-ever finals appearance after being the league's worst team last year, was playing at Staples Center for the first time this season after beating Los Angeles in overtime at home.
Copyright 2018 The Associated Press. All rights reserved. This material may not be published, broadcast, rewritten or redistributed. We strive to uphold our values for every story published.