Beau Pritchett believes the Sept. 11, 2001, terrorist attacks on the United States were an incentive, rather than deterrent, for Kansas University students to study abroad.
"Now, more than ever, it's important to develop ties with the rest of the world," said Pritchett, senior program coordinator for the KU study abroad office.
Pritchett, who spent two years in France and was in Madagascar while in the Peace Corps, said one-on-one cultural exchanges contributed to better relations among nations.
"I don't think this is the time to stay at home," he said.
Nationally, statistics to be published in November are expected to show a slight increase in the number of U.S. college students studying abroad. More than 150,000 American students are expected to go overseas this year.
"September 11 convinced people there's a world out there that we need to understand better, and that has translated into increased interest in studying abroad," said Heykyung Koh of the Institute of International Education, a nonprofit educational and professional exchange organization based in New York City.
While the number of KU students going international has leveled off since the 2001 terrorist attacks, nearly 500 students at the university plan to go overseas during the 2003-2004 school year. They'll choose from more than 100 programs in about 50 countries.
Jessica Secrist, a KU student from Lenexa who is majoring in psychology, wants to take the plunge.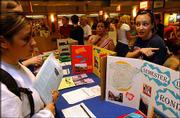 She'd like to spend next summer in a study abroad program. Spain, England, Australia and Germany are the most intriguing, she said, but her preferences don't have anything to do with Sept. 11.
"Not at all. I'd just understand the language better," said Secrist, who collected an armload of brochures Wednesday at a KU study abroad open house in the Kansas Union.
Recent study abroad participants at the open house echoed Secrist's perspective on Sept. 11.
"It's a reason to go abroad," said Abigail Randall, who studied in Spain during the spring semester. "I gave them (Spanish people she met) another perspective on American culture."
Randall, of Omaha, Neb., went to Mexico for a six-week language program in early 2001. The Sept. 11 attacks preceded her decision to spend the spring semester in Santiago, Spain.
The U.S.-led invasion of Iraq was cause for concern for Randall, because she was in Spain when the fighting started. Spain's president supported President Bush regarding the war against Iraq, but many of Spain's citizens did not.
"There were protests against Americans," she said. "I never felt unsafe, but there was a lot of anti-Americanism."
Robert Wells, who is studying Spanish at KU, said the people he met during a six-month stay in Granada, Spain, changed his life.
"It's a good experience to have to extend beyond your comfort zone," he said.
Copyright 2018 The Lawrence Journal-World. All rights reserved. This material may not be published, broadcast, rewritten or redistributed. We strive to uphold our values for every story published.