Chicago — Mark Buehrle's pitching, his nifty pickoff move and three home runs built the Chicago White Sox what seemed to be a comfortable six-run lead.
Then they had to squirm through a nervous ninth inning, holding on after a four-run rally, to beat Minnesota, 8-6, Tuesday night and take a two-game lead in the AL Central.
"I was hoping they could make the (final) out and not get another hit or they might tie the game," Chicago's Magglio Ordonez said. "The Twins never give up, they fight you and score runs."
Buehrle (12-13) allowed seven hits and two runs in six innings and improved his career record against the Twins to 10-4 -- his most wins against any team.
"If we had lost, we'd be tied for first again and the momentum would probably go back to them," Buehrle said. "They still lost the game. They might get a little confidence knowing they battled back, but we still won."
Ordonez, Roberto Alomar and Carlos Lee homered as Chicago won its fifth straight and also beat the Twins for the sixth consecutive time.
"It's good we didn't quit, but at the same time those guys are having a lot of fun," Twins outfielder Dustan Mohr said. "Every time they hit a home run, they stand in the box for 10 seconds and watch it. I'm kind of getting tired of seeing it."
The Twins made it close. Lew Ford hit a ground-rule double to start the ninth, and Denny Hocking followed with an RBI triple off Jose Paniagua to make it 8-3. Justin Morneau drove in Hocking with a pinch-hit single. Paniagua then walked Corey Koskie one out later before he was removed by manager Jerry Manuel.
Paniagua, who allowed three hits and a walk, walked off the mound and apparently said something to plate umpire Mark Carlson, who then ejected the reliever.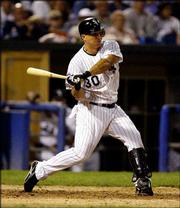 "That kind of action we don't condone," Manuel said, adding he would meet with the reliever. Paniagua, who pitched in his first major-league game since last September, wouldn't comment.
Tom Gordon came in and walked Torii Hunter, and A.J. Pierzynski drove in another run with a sacrifice fly to make it 8-5. Pinch-hitter Jacque Jones singled in another run before Gordon struck out Michael Cuddyer to end it for his 11th save.
Ordonez's 27th homer, off Rick Reed, put Chicago up 4-2 in the fifth.
After a disputed call and Buehrle's pickoff cut off a Twins rally in the sixth, the White Sox scored four in the seventh after two were out and sent a noisy crowd of 27,623 on another half-price admission night into a frenzy.
Alomar hit his third homer since coming to Chicago, also off Reed. After Frank Thomas doubled, Ordonez delivered an RBI single off Grant Balfour, and Lee followed with his 28th homer for an 8-2 lead.
Red Sox 9, Orioles 2
Baltimore -- Derek Lowe pitched six innings of six-hit ball, and David Ortiz homered and drove in four runs to lead Boston past Baltimore. With his towering home run in the third inning, Ortiz enabled the Red Sox to set a club single-season record for homers (214) and extra-base hits (591).
The shot also gave Boston a 4-0 lead and propelled the Red Sox to their sixth win in eight games. The victory enabled Boston to widen its wild-card lead over Seattle to two games after the Mariners' late home game with Texas.
Bill Mueller and Jason Varitek also homered for the Red Sox, who improved to 6-8 against the pesky Orioles.
Lowe (15-6) struck out five and walked two, throwing 109 pitches in winning his fourth straight decision since losing two in a row to Baltimore in early August.
Yankees 4, Tigers 2
New York -- Pinch-runner Drew Henson stumbled home to score the tiebreaking run on Bernie Williams' eighth-inning single, and New York beat Detroit. Jorge Posada hit a two-run single for the Yankees, who got an excellent effort from their maligned bullpen and remained 31/2 games ahead of Boston in the AL East.
Detroit (37-106) needs six wins in its final 19 games to avoid matching the post-1900 record of 120 losses in a season set by the 1962 New York Mets.
The punchless Tigers snapped a 26-inning scoreless drought and tied it with two runs in the fifth, but still dropped their fourth straight.
Rangers 5, Mariners 4, 10 innings
Seattle -- Mark Teixeira's RBI single in the 10th inning lifted Texas over Seattle Mariners and snapped a four-game losing streak. Alex Rodriguez drew a one-out walk off reliever Shigetoshi Hasegawa (2-2) and later scored the go-ahead run. Rodriguez reached third on a one-out single by Rafael Palmeiro, whose three-run homer tied it at 4 in the eighth.
Devil Rays 11, Blue Jays 6
St. Petersburg, Fla. -- Carl Crawford hit a three-run homer, and rookie Doug Waechter won his third straight game as Tampa Bay beat Toronto. Crawford put the Devil Rays ahead 6-4 with his three-run shot in the fourth.
Athletics 8, Angels 1
Oakland, Calif. -- Miguel Tejada and Eric Chavez each drove in three runs to back Justin Duchscherer's successful return to the big leagues as Oakland beat Anaheim. Duchscherer (1-0) allowed four hits over seven innings as the A's remained ahead of the Seattle Mariners in the AL West.
Duchscherer, who last appeared with the Texas Rangers late in the 2001 season, struck out six and walked two.
Copyright 2018 The Associated Press. All rights reserved. This material may not be published, broadcast, rewritten or redistributed. We strive to uphold our values for every story published.