Beloit — As Jo Schoolfield played "Hail Mary, Gentle Woman" on the church piano, the men painting the walls and ceiling of the sanctuary began to hum and whistle.
As she watched these men balance on 40-foot-high scaffolding, brandishing their paint rollers like swords, Schoolfield said she was only too happy to entertain them. After all, they were restoring the nearly century-old St. John the Baptist Catholic Church, and she appreciated the skill and craftsmanship they were putting into their work.
"If they have any requests, I'll be glad to play them, because they're making it really beautiful in here," said Schoolfield, a substitute pianist at the church.
Schoolfield's words were music to Tim Linenberger's ears. Linenberger has been painting, stenciling ornate designs, applying gold leaf to altars, restoring statues and enhancing stained-glass windows in churches most of his adult life. It is a skill he learned from his late father, Dennis, who learned it from his uncle.
"It's definitely a specialty field," Linenberger, 44, said. "At a church, you have to look at a whole realm of things. You have to put together the right color combinations with stencil designs to transform the sanctuary into something new and different. Plus, you're working on all these upper arches and beams, and accenting windows and bringing color out of the (stained) glass."
'Sense of accomplishment'
This is Linenberger's second restoration job at St. John's. Nearly 20 years ago, Linenberger assisted as his father repainted and restenciled the walls and arched ceiling of the sanctuary, and added a multitude of colors to the previously white Stations of the Cross bas-reliefs lining the lower walls. Now Linenberger runs his own business, and while he said he also painted homes, much of his reputation was based on his church work.
Although Linenberger has worked with all deno-minations, he primarily res-tores Catholic churches.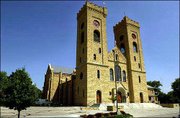 "You think of those traditions when you begin working on a church," he said. "There's a lot of elaborate and ornate work to do, but there's also a great sense of accomplishment, gratification and spiritual fulfillment when you do it."
Linenberger and his crew of four started work in mid-August, and Linenberger estimated it would take eight to 10 weeks to complete. The crew spends most of its day rolling oil-based primer along the ceiling and walls while standing on an intricately connected set of metal scaffolding.
Marking 100 years
St. John's will celebrate the 100th anniversary of its completion in 2004, said the Rev. Henry Baxa, priest at St. John's, and the restoration was intended to pay tribute to the deep faith and dedicated efforts of the families who built the church at the beginning of the 20th century.
"The theme for the restoration is 'It's our turn now,"' he said. "Our ancestors built this church, and now we're saving it for future generations."
Baxa said church committee members chose to work with Linenberger for his experience and reputation.
"He has a real good sense of creating a spiritual space in a house of God," he said. "Tim has done churches in Victoria, Ellis and Solomon, and he and his dad restored this church about 20 years ago. His dad also did it one time before that, so they've been involved here a good 50 years. I think Tim sees what he does as more of a vocation than a job -- a special ministry."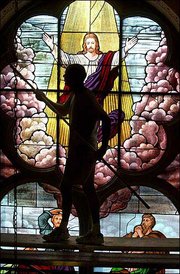 Copyright 2018 The Lawrence Journal-World. All rights reserved. This material may not be published, broadcast, rewritten or redistributed. We strive to uphold our values for every story published.