Miami — A humble second-year franchise playing at touted Miami, the Houston Texans were the biggest underdogs of the NFL's opening weekend.
That made them mad. So did the Dolphins' trash-talking during pregame warmups.
"One of their players said, 'I'll see you after today's practice,"' Houston's Jabar Gaffney said. "That was their thinking -- they were looking at us like this was just a little practice."
The Dolphins only can wish the game had been just a practice. Kris Brown kicked his fifth field goal, a 35-yarder, with 25 seconds left, and the Texans stunned Miami, 21-20, Sunday.
"Not many people gave us a chance to win, but we're not shocked," Brown said. "We took it as a slap in the face that we were the largest underdogs the opening weekend."
The Week 1 stunner was the Texans' second in as many seasons. Last year they became the first expansion team since 1961 to win its opening game by beating the Dallas Cowboys.
Miami, a 14-point favorite, fell to 0-1 for the first time in 12 years.
"I'm stunned. Shocked. Disappointed. Amazed," defensive tackle Larry Chester said. "No one could have told me we were going to lose -- not with this team."
David Carr kept Miami's proud defense on its heels by throwing for 266 yards, including a 78-yard touchdown to Corey Bradford. Brown made field goals of 50, 36, 24 and 23 yards before hitting the game-winner.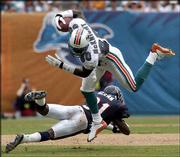 The Texans forced the game's only three turnovers, including an interception by Marcus Coleman that set up the winning score. They limited Ricky Williams, last year's NFL rushing champion, to 69 yards on the ground.
"There was never any room to run the ball," he said, "because we couldn't get in any kind of rhythm."
The Dolphins, touted as a potential Super Bowl team, had won 11 consecutive openers and 17 consecutive home games in August and September since 1994. They're below .500 for the first time since the end of 1996.
Coleman intercepted Jay Fiedler's desperation pass at the five-yard line on the final play, and the crowd booed the Dolphins as the clock ran out. Miami lost to a team that went 4-12 last year and was outscored 107-38 while losing all four exhibition games last month.
"The way we were playing today, it wouldn't have mattered who we played," coach Dave Wannstedt said. "We would have lost the game."
49ers 49, Bears 7
San Francisco -- Jeff Garcia passed for 229 yards and two touchdowns, and Garrison Hearst caught a TD pass and rushed for another score as the 49ers sparkled in new coach Dennis Erickson's debut.
Ahmed Plummer returned an interception 68 yards for a score. Jimmy Williams and Brandon Lloyd made exceptional special teams plays in San Francisco's electric debut under Erickson, who replaced Steve Mariucci.
Falcons 27, Cowboys 13
Irving, Texas -- Dallas bumbled in the debut of new coach Bill Parcells, and Doug Johnson threw third-quarter touchdown passes to the lead the Falcons.
Johnson, filling in for the injured Michael Vick, also plunged one yard for a victory-sealing score early in the fourth quarter to spoil Parcells' return to the sideline. Johnson finished 16-of-27 for 228 yards with one interception, while Quincy Carter was 15-of-32 for 268 yards with an interception and a fumble.
Seahawks 27, Saints 10
Seattle -- Matt Hasselbeck threw two touchdown passes, and Shaun Alexander ran for 108 yards and scored twice to lead Seattle.
The Seahawks held the Saints to 103 yards rushing, meaningful because the they ranked last in the NFL last season, giving up 152.6 yards rushing per game.
Deuce McAllister of the Saints had 99 yards rushing on 22 carries.
Bills 31, Patriots 0
Orchard Park, N.Y. -- Lawyer Milloy and Drew Bledsoe led Buffalo to victory over their former team.
The win snapped Buffalo's five-game losing streak against New England, and it capped a hectic, emotional week after the Bills snagged Milloy, a four-time Pro Bowl selection, Wednesday, a day after the Patriots released him for salary-cap reasons.
Panthers 24, Jaguars 23
Charlotte, N.C. -- Jake Delhomme replaced an ineffective Rodney Peete at the start of the second half and energized Carolina's rally with three touchdown passes.
Delhomme, one of a handful of offseason additions brought in to revamp Carolina's sluggish offense, threw a 12-yard touchdown pass to Ricky Proehl on fourth-and-11 with 16 seconds remaining to win it.
Seth Marler attempted a 55-yard field goal as time expired, but Mike Minter blocked the kick.
Giants 23, Rams 13
East Rutherford, N.J. -- Kenny Holmes recovered one of Kurt Warner's six fumbles for a touchdown, and the Giants sacked the St. Louis quarterback six times and intercepted him once. Warner went to the hospital after the game with a concussion.
New York forced four turnovers, and each started a drive that led to points.
Halfback Tiki Barber led the Giants with 146 yards rushing on 24 carries.
Vikings 30, Packers 25
Green Bay, Wis. -- Randy Moss caught nine passes for 150 yards and a touchdown as the Vikings won in front of a record crowd of 70,505 at remodeled Lambeau Field.
The Vikings, who snapped a 12-game losing streak outdoors, built a 27-3 lead and held off Green Bay's furious rally. The Vikings forced four turnovers, including three interceptions by Brett Favre, who hadn't been picked off that many times in the first half since 1995.
Lions 42, Cardinals 24
Detroit -- Joey Harrington threw a career-high four touchdown passes as the Lions spoiled Emmitt Smith's debut with the Cardinals and Anquan Boldin's record for a receiver in his NFL debut.
Boldin, a second-round draft pick, caught 10 passes for 217 yards and two touchdowns, breaking the mark of Washington's Hugh Taylor, who had 212 yards in 1947.
Smith ran for 64 yards on 13 carries, extending his rushing record to 17,226 yards. The Lions also gave coach Steve Mariucci a victory in his debut.
Steelers 34, Ravens 15
Pittsburgh -- Tommy Maddox threw three touchdowns passes, and Pittsburgh's Joey Porter-less defense roughed up Baltimore rookie quarterback Kyle Boller in his NFL debut.
Maddox went 21-of-29 for 260 yards and no interceptions. Plaxico Burress had six catches for 116 yards, and Hines Ward had nine for 91 yards.
Broncos 30, Bengals 10
Cincinnati -- Clinton Portis ran for 120 yards and two first-half touchdowns, and the NFL's worst team of the past 12 years went on another self-destructive binge that helped the Broncos roll.
The Broncos turned to their Rookie of the Year rusher to pull them through their new quarterback's shaky debut. Jake Plummer repeatedly was off-target, threw three interceptions and was 12-of-25 for 115 yards.
Colts 9, Browns 6
Cleveland -- Peyton Manning drove Indianapolis 65 yards to set up Mike Vanderjagt's 45-yard field goal with one second left.
Vanderjagt's third field goal ended what figured to be a shootout between two of the AFC's best offenses, but turned into an error-filled matchup of penalties, turnovers and blown chances.
Titans 25, Raiders 20
Nashville, Tenn. -- Tennessee found a new hero, giving them some revenge against Oakland.
Steve McNair threw two touchdowns, and punter Craig Hentrich matched his career high by kicking three field goals.
Copyright 2018 The Associated Press. All rights reserved. This material may not be published, broadcast, rewritten or redistributed. We strive to uphold our values for every story published.