Miami — Brock Berlin might have thought he hurt Florida when he left for Miami. Turns out, that was only the beginning of the pain.
Overcoming a 23-point deficit early and leg-buckling cramps late, Berlin threw for 340 yards Saturday night to lead the third-ranked Hurricanes on a stunning rally for a 38-33 victory.
"I can't explain it," said Berlin, who jilted Florida in favor of Miami after the 2001 season. "My emotions are just sailing right now."
Berlin overcame two interceptions, a fumble returned for a touchdown and an overall terrible start to go 27-for-41 and earn a win in his first home start for the Hurricanes (2-0).
He added to the drama when, on the 89-yard drive that won the game, he ran around end to convert a fourth-and-1, then fell to the ground with cramps. The 'Canes took a timeout to help him get over it. On the next play, he hit Kyle Cobia for an 11-yard gain, and three plays later, Frank Gore (127 yards) scored a 12-yard touchdown to give Miami the lead.
Florida (1-1) got the ball back with 1:37 left and drove down to the Miami 20. But Al Marshall picked off freshman Chris Leak's desperation pass. Berlin came back onto the field to take a knee and run out the clock.
No. 2 Ohio St. 16,
San Diego St. 13
Columbus, Ohio -- Will Allen returned a tipped pass 100 yards for a touchdown in one of the few Ohio State highlights as No. 2 Buckeyes barely slipped past 32-point underdog San Diego State. The Buckeyes won their 16th game in a row, but were in trouble throughout as quarterback Craig Krenzel had the worst day of his career. Krenzel went 5-of-20 for 76 yards with one interception and three sacks. Ohio State had two turnovers.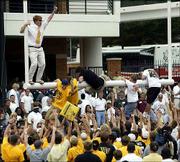 No. 4 USC 35, BYU 18
Los Angeles -- Matt Leinart threw three touchdown passes as fourth-ranked Southern California built an early lead, then scored two late touchdowns to hold off Brigham Young. USC (2-0) went up 21-0 in the first quarter, then BYU slowly fought its way back into the game, the first ever between the schools.
No. 5 Michigan 50, Houston 3
Ann Arbor, Mich. -- Chris Perry ran for 184 yards and two touchdowns for the Wolverines (2-0), who play host to No. 19 Notre Dame next week following two wins by a combined score of 95-10.
No. 8 Georgia 29, Middle Tennessee 10
Athens, Ga. -- Michael Cooper ran for the first two touchdowns of his career and David Greene threw for 267 yards as No. 8 Georgia struggled early before beating Middle Tennessee. Billy Bennett added three field goals for the Bulldogs (2-0), who were 291/2-point favorites against a team that lost its opener to Division I-AA Florida Atlantic. They set a school record with 18 penalties, easily beating the previous mark of 14 set in 2001 against Georgia Tech.
No. 9 Virginia Tech 43, James Madison 0
Blacksburg, Va. -- Cedric Humes ran for three touchdowns after Kevin Jones left the game with an injury to lead No. 9 Virginia Tech. The Hokies (2-0) held the Dukes (1-1) to 143 yards total offense and forced three turnovers. Jones was slammed into a concrete wall by Demetrius Shambley. Jones injured both hands on the play and did not return. X-rays showed that he did not break any bones. Shambley, who hit Jones several yards out of bounds before driving him into the wall, was ejected from the game.
No. 10 Pitt 43, Kent St. 3
Pittsburgh -- Rod Rutherford, benched at the start for disciplinary reasons, threw four touchdown passes in the second quarter and No. 10 Pittsburgh breezed to a victory. Larry Fitzgerald caught scoring passes of 7, 11 and 54 yards in less than 10 minutes as Pitt (1-0) turned a 3-0 deficit into a 28-3 halftime lead.
No. 11 Florida St. 35, Maryland 10
Tallahassee, Fla. -- Greg Jones ran for two touchdowns and Chris Rix passed for two more as No. 11 Florida State wiped out an early 10-point deficit. Florida State (2-0, 2-0 Atlantic Coast Conference) is now 14-0 against Maryland. The 35 points were the fewest Florida State has scored in seven home wins over Maryland (0-2, 0-1).
No. 12 Tennessee 34, Marshall 24
Knoxville, Tenn. -- Casey Clausen threw three touchdowns passes and James Wilhoit kicked two field goals in the fourth quarter for No. 12 Tennessee. Marshall (1-1) led early before Tennessee (2-0) scored two touchdowns to go ahead for good after halftime. Casey Clausen started slowly but finished 21-of-33 for 235 yards and one interception. Cedric Houston had 26 carries for 160 yards.
Wake Forest 38,
No. 14 N.C. State 24
Winston-Salem, N.C. -- Nick Burney ran for two touchdowns to lead an early Wake Forest ground game as the Demon Deacons beat No. 14 North Carolina State. Wake Forest (2-0, 1-0 Atlantic Coast Conference) pounced on the Wolfpack (1-1, 0-1) early, building a 25-point first half lead, and had North Carolina State on its heels from the opening drive.
South Carolina 31,
No. 15 Virginia 7
Columbia, S.C. -- Dondrial Pinkins threw a 99-yard touchdown pass to Troy Williamson -- the longest in South Carolina history -- to lead the Gamecocks past No. 15 Virginia. Pinkins added a 5-yard touchdown run and Daccus Turman had 123 yards rushing and a touchdown for South Carolina (2-0), which defeated a ranked opponent for the first time since beating then-No. 22 Ohio State 31-28 in the 2002 Outback Bowl. Virginia (1-1) managed only 17 yards passing in the first half and just 9 yards rushing in the second half. Overall, the Cavaliers were outgained 423-170.
Bowling Green 27,
No. 16 Purdue 26
West Lafayette, Ind. -- Josh Harris threw a 32-yard touchdown pass to Charles Sharon with 2:08 left as Bowling Green upended No. 16 Purdue. Coach Gregg Brandon clapped his hands and patted players on the back as the Falcons (2-0) celebrated their first victory over a ranked opponent since Sept. 16, 1972. That win, 17-14, also came against Purdue (0-1).
Georgia Tech 17
No. 17 Auburn 3
Atlanta -- Freshman Reggie Ball threw for one touchdown and set up two other scores as Georgia Tech handed No. 17 Auburn another stunning loss in the first meeting between the schools in 16 years. Auburn (0-2) began the season ranked sixth in The Associated Press rankings, and at least one magazine picked the Tigers as the best team in the country.
No. 18 Wisconsin 48, Akron 31
Madison, Wis. -- Lee Evans had 214 yards receiving and Anthony Davis had 247 yards rushing for No. 18 Wisconsin. It was the first time in the program's 114-year history that the Badgers (2-0) had a wideout and running back both top 200 yards in the same game.
No. 19 Notre Dame 29, Washington State 26, OT
South Bend, Ind. -- Nicholas Setta kicked a 40-yard field goal in overtime as No. 19 Notre Dame overcame a 19-point deficit to beat Washington State. The Irish (1-0), who had gone 12 quarters without an offensive touchdown when they entered the fourth quarter trailing 19-6, scored 20 points for their biggest come-from-behind win since beating Southern California 25-24 in 1999 after trailing 21-3 at halftime.
No. 20 Arizona St. 34, N. Arizona 14
Tempe, Ariz. -- R.J. Oliver awakened No. 20 Arizona State with a 100-yard interception return as the Sun Devils defeated Northern Arizona in their first meeting in 53 years. Andrew Walter dominated the game, as expected, throwing for 224 yards and four touchdowns.
No. 22 Washington 38, Indiana 13
Seattle -- Cody Pickett threw two of his three touchdown passes to Reggie Williams as Washington gave Keith Gilbertson his first victory as coach. Freshman tailback Shelton Sampson ran for two TDs for the Huskies (1-1). Washington beat Indiana (0-2) with 28 unanswered points.
No. 25 TCU 17, Navy 3
Fort Worth, Texas -- Corey Connally and Lonta Hobbs had second-half touchdown runs as No. 25 TCU overcame a sluggish start to beat Navy. The Horned Frogs (2-0), playing just five days after a win at Tulane, scored on their first two drives of the second half.
Copyright 2018 The Associated Press. All rights reserved. This material may not be published, broadcast, rewritten or redistributed. We strive to uphold our values for every story published.