The Kansas River has a new keeper.
Laura Calwell, longtime member of Friends of the Kaw, became the temporary, part-time riverkeeper to replace a full-time pollution watchdog who was let go because of lack of funds.
"I've been involved for a long time and this was something I thought I could do," said Calwell, of Mission, who served as president of Friends of the Kaw in 2002. She and her husband, Mike Calwell, have been involved with the group for several years.
"Organizationally, I realized that I could quite comfortably step in and fill the role of riverkeeper on an interim basis," she said.
The position is modeled after the ones pioneered by the national Riverkeepers organization, which in many states has recruited volunteer or paid staff to patrol and monitor streams to safeguard against pollution.
The Friends of the Kaw board of directors agreed to have Calwell fill the position until a permanent riverkeeper can be hired next year.
In early June, a lack of funds caused then-riverkeeper Dave Murphy to be laid off. Murphy held the job full-time and was paid $25,000 annually.
"He did a very, very good job -- that wasn't the problem," Calwell said.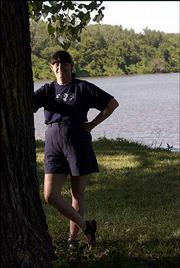 Calwell will be paid by the hour for particular tasks, though she declined to say what the rate is. The position will remain part-time after a new riverkeeper is hired, she said.
Calwell, who also runs an interior decorating business in Mission, is helping to administer grants Friends of the Kaw has received for river cleanups, taking groups on the river and assisting with administrative duties.
She and Friends of the Kaw are working with a group called Missouri River Relief, a nonprofit organization conducting a Missouri River cleanup Sept. 13.
Friends of the Kaw is organizing its own cleanup that day on the Kansas River from the Kaw Point area to the Seventh Street Access Ramp in Kansas City, Kan. The cleanup will be from 9 a.m. to 4 p.m. For more information, call Mike Calwell at (913) 677-2088.
Other upcoming Kansas River events include:
l Sept. 21, Rollin' Down the River Festival sponsored by Kaw Valley Heritage Alliance. It will be at Springhill Suites by Marriott, 1 Riverfront Plaza. Cleanup will be done from 9 a.m. to noon south of the Bowersock Dam. Contact Andrew Roberts, 841-5739, or acrobert@mail.ukans.edu.
l Sept. 21, 1 p.m.-5 p.m., Burcham Park river festivities including "Paddling and Camping on the Kaw Expo." Rep. Dennis Moore, D-Kan., will speak at 1 p.m. Rex Buchanan, associate director of the Kansas Geological Society and an expert on cultural river history, will speak at 3 p.m.
l Nov. 12, 6:30 p.m.-9 p.m., Friends of the Kaw annual meeting and dinner, Shadow Glen Country Club, Olathe. Speaker will be Mike Hayden, secretary of Kansas Department of Wildlife and Parks.
Copyright 2018 The Lawrence Journal-World. All rights reserved. This material may not be published, broadcast, rewritten or redistributed. We strive to uphold our values for every story published.