Atlantic City, N.J. — The top five stories of a parking garage under construction at a casino collapsed Thursday, sending concrete slabs and metal beams crashing down as workers ran for cover. Three people were killed and one was missing, officials said.
About 20 people were injured in the collapse at the Tropicana Casino and Resort, several critically. State police said as many as 30 workers were trapped immediately after the collapse.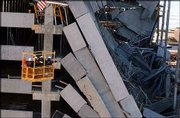 Searchers used cameras, dogs and the missing ironworker's cell phone in an attempt to find the laborer. Late Thursday, authorities said they were focused on recovery, not rescue.
"There's always a slim possibility" that the missing ironworker is alive, said Chief James Foley, task force leader for the New Jersey Urban Search and Rescue team. "But we don't see anything at this point that would indicate that."
Authorities worried about the 10-story building's stability.
Robert Levy, the city's emergency management director, said the building "could go at any time." He said search cameras and dogs had gone into the rubble, and trucks carrying lumber were being brought in to shore up the building.
Last October, three workers were injured at the Tropicana site when a one-story panel of concrete they were standing on collapsed.
Copyright 2018 The Associated Press. All rights reserved. This material may not be published, broadcast, rewritten or redistributed. We strive to uphold our values for every story published.