Boston — Manny Ramirez makes so much money that even the biggest spenders in baseball don't want him.
The Boston Red Sox placed him on irrevocable waivers Wednesday, and teams have until noon today to claim the slugging left fielder.
If he's claimed, Boston would get nothing in return but would unload the contract, the second-richest in baseball history. If he isn't claimed, he would remain with the Red Sox.
The New York Yankees' payroll of $164 million -- not including postseason and award bonuses -- is the highest in the major leagues, but they have no interest in claiming Ramirez, a top baseball executive familiar with the team's plans said Thursday on the condition of anonymity.
Ramirez has five years and $101.5 million remaining on a $160 million, eight-year contract and would get an extra $1 million if he switches teams. He is scheduled to make $20.5 million next season.
That price leaves few teams in a financial position to claim him and pay the entire amount. It also could hurt Boston's ability to keep some of its other top players who can become free agents after next season -- pitchers Pedro Martinez and Derek Lowe, shortstop Nomar Garciaparra, catcher Jason Varitek and right fielder Trot Nixon.
The Red Sox refused to confirm that Ramirez was placed on waivers. Clubs often place many of their players on waivers to gauge other teams' interest and to lay the groundwork for trades.
"We're not permitted to comment on waiver issues," team president Larry Lucchino said Thursday through his assistant.
The move, first reported by The New York Times, Boston Herald and The Providence Journal, was confirmed Thursday to the AP by the baseball executive.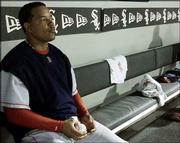 Calls to Ramirez's agent, Jeff Moorad, and Red Sox general manager Theo Epstein were not returned.
"When you put a player through waivers, you're letting teams know they don't want anything in return," said Scott Boras, a prominent agent who negotiated Alex Rodriguez's $252 million, 10-year contract with Texas.
Ramirez was placed on waivers two days after the Red Sox announced they would not exercise their option to bring back manager Grady Little. The Red Sox made it to the seventh game of the AL championship series and led the Yankees, 5-2, with one out in the bottom of the eighth. Little left Martinez in the game, and New York tied it with three runs in the eighth, then won on Aaron Boone's homer in the 11th.
In 12 playoff games, five against Oakland and seven against New York, Ramirez hit .265.
He signed as a free agent with Boston Dec. 13, 2000, and John Henry's group bought the team in February 2002.
"This club inherited this contract. Their analysis must consider something other than his performance on the field," Boras said. "When you look at his on-the-field performance, I think he's performing at a very high level. Obviously, the club must have other factors in their decision."
Copyright 2017 The Associated Press. All rights reserved. This material may not be published, broadcast, rewritten or redistributed. We strive to uphold our values for every story published.