Washington — U.S. Sen. Pat Roberts got to celebrate Halloween a day early Thursday.
The jump-start on the holiday was courtesy of Republican Sen. Chuck Hagel of Nebraska, who arrived in Roberts' office -- dressed up as the Kansas Republican.
Roberts looked perplexed for several seconds when Hagel walked in wearing a mask of Roberts' face, a bald head wig and a robe of Kansas State University purple.
"Words fail me," said Roberts, who is known for his sense of humor.
"They don't often do," shot back Hagel, who makes a habit of dressing up as a well-known Washington figure for Halloween.
This year, he choose Roberts, whose profile has risen this year as chairman of the Senate Intelligence Committee, on which he is presiding over a contentious inquiry into prewar intelligence on Iraqi weapons.
"I wanted to cheer the chairman up -- he's been having a hard time for a couple of weeks," Hagel said.
The two senators walked together to the Senate floor when a vote was called. Hagel observed Senate decorum by not entering the chamber; instead, he stood in the door and waved to baffled colleagues, and he kissed a startled Maryland Democratic Sen. Barbara Mikulski on the cheek.
Hagel also presented the Kansan with a framed portrait of Roberts with devil horns and a goatee doodled on the face. Then he scribbled: "To My Scary Kansas Friend Pat Roberts, Happy Halloween, 2003. Your Monster Friend to the North, Chuck Hagel."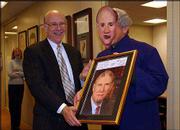 Copyright 2018 The Associated Press. All rights reserved. This material may not be published, broadcast, rewritten or redistributed. We strive to uphold our values for every story published.