Joy Wrolson didn't know much about her health insurance coverage until she landed in the hospital last year with a blood clot in her leg.
She ended up paying $2,500 in out-of-pocket expenses -- for blood tests, co-pays and other hospital costs not covered in the insurance she is provided as a graduate teaching assistant at Kansas University.
If Wrolson had been covered under a better health plan -- such as her father's health insurance in Minnesota -- she would have paid $350.
"It's very difficult," she said. "Right now, I find it difficult to even make the monthly payments."
Wrolson was one of about 30 members of KU's Graduate Teaching Assistants Coalition who protested the insurance plan Thursday afternoon at Wescoe Beach. They said this year's plan offered them fewer benefits than they had a year ago.
"It's awful," said Shaun Parkman, a GTA from Nederland, Texas. "It's sort of a general complaint that our health insurance is terrible."
Under the contract negotiated between GTAC and KU, KU officials agreed to request paying a higher employer contribution from the state Health Care Commission. The commission agreed, and KU began paying 75 percent of teaching assistants' health coverage this year, up from 50 percent.
But the assistants who protested Thursday said this year's plan had been scaled back. Specifically, they noted there is a cap of $100,000 in benefits a year, and $250 for prescription drugs. Both of those are half of last year's total.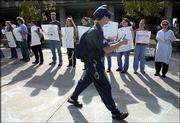 The Health Care Commission did give GTAs the option of buying an additional policy that increases their cap to $200,000 a year. That rider costs $260 per year, but KU doesn't contribute to any of the cost.
The students are asking KU administrators to pay the same 75 percent of the rider that they do for basic premiums. They also are asking for additional health insurance choices -- currently they're offered just one plan -- and for GTAs who work fewer than 20 hours a week to be eligible for benefits.
"This is our major issue for the year so far," Parkman said. "This is serious business, our health."
Lynn Bretz, a KU spokeswoman, said the contract with GTAC prohibited university officials from commenting on the teaching assistants' requests. But she said Ola Faucher, director of human resources, was willing to meet with the students to discuss the issue.
"In general, they raised some good questions about health insurance coverage," Bretz said. "We share their concerns about rising health care costs, there's no doubt about that. We're all seeing the same thing. We're sympathetic about the issue in general; I just can't talk about the specifics."
Caleb Asher, spokesman for the state Department of Administration, which includes the Health Care Commission, said the Board of Regents would have to go to the commission if regents wanted to change health care policies for teaching assistants across the state.
Asher dismissed the idea raised by some GTAs that KU and the state planned to decrease benefits as a tradeoff for increasing employer contributions.
"This is just the national trends in health care," he said. "There was not any other plan or scheme involved in raising those costs."
Copyright 2018 The Lawrence Journal-World. All rights reserved. This material may not be published, broadcast, rewritten or redistributed. We strive to uphold our values for every story published.