Shawnee — Turnovers can end scoring drives. They also can end seasons.
They did both against Mill Valley High's football team Thursday night, when the Jaguars lost to visiting Eudora, 20-13, giving the Cardinals the Class 4A District 5 crown.
The Jaguars (4-5 overall, 1-2 in district play) committed four turnovers, three of which resulted in Cardinal points.
Mill Valley scored 10 unanswered points in the third quarter to take a one-point lead, but couldn't contain the Cardinal backfield of Brendan Jackson, Mark Lister and Josh Barr.
Lister had a one-yard touchdown run for what would prove to be the game-winning score.
"We showed some character and some heart being down and making a great drive and sticking it in the end zone when we needed to," Eudora coach Gregg Webb said.
Mill Valley took possessions with 6:22 to play and advanced as far as Eudora's 26-yard line, but hope to tie or win was stopped short by -- what else? -- a turnover.
Cardinal cornerback Troy Van Horn snagged a Josh Mims pass around the five-yard line to wrap up the contest.
Jackson continued to tear up the grass, rushing for 140 yards on 20 carries, but unlike his long sprints against Kansas City Ward a week ago, he had to work for every inch.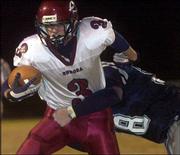 "It was real tough out there," Jackson said. "I just got abused. They're a tough team."
The Cardinals (7-2, 3-0) weren't too bad themselves in the toughness department.
Led by Barr (as a defensive lineman) and linebacker Chris Durkin, the defense allowed the Jaguars some big plays, but came up big when it had to, twice holding Mill Valley inside the five-yard line to field goals.
Barr and Durkin tag-teamed Sims early in the second quarter. Barr leveled Sims, and Durkin added insult to injury by taking the ball and rumbling 38 yards across the goal line for a 12-0 Eudora advantage.
"You're just spotting them six points when you do that," Mill Valley coach George Radell said.
Unfortunately for the coach, that wasn't the only time his club assisted Eudora.
Eudora's first score came courtesy of a punt-return fumble by Mill Valley's David Woods, letting the Cardinals start 30 yards from the end zone.
But the Cardinals weren't without errors. Quite the contrary.
"We made more mental mistakes than we had all year," Webb said. "We still are making too many mental mistakes. It's the same story."
With the loss, Radell and his bunch put an end to a continuously frustrating season riddled with injuries and other obstacles.
"I think we're better than our 4-5 record," Radell said. "That's probably the most disappointing thing."
With the win, the Cardinals swept their district and now await a Tuesday night bi-district contest with Baldwin at EHS, giving the squad another crack a team that beat them earlier in the year, 15-7.
Webb knows that even with a Tuesday contest, he won't need to fire up his guys at this time of the year.
"The closer you get to the game," Webb said, "the better you start feeling and you just play."
Eudora 20, Mill Valley 13
Eudora 6 6 0 8 -- 20
Mill Valley 0 3 10 0 -- 13
E -- Barr 5 run. (Kick blocked)
E -- Durkin 38 fumble return (kick failed)
MV -- Koch FG 32.
MV -- Koch FG 20.
MV -- Starnes 56 run (Koch kick)
E -- Mark Lister 1 run. (Durken pass from Tyler Cleveland).
Copyright 2018 The Lawrence Journal-World. All rights reserved. This material may not be published, broadcast, rewritten or redistributed. We strive to uphold our values for every story published.