Islamabad, Pakistan — Pakistan kept up the momentum toward peace with India on Wednesday, offering its own list of steps to improve relations and open the long-locked frontier in disputed Kashmir to civilian traffic -- but only with United Nations monitoring.
Foreign Secretary Riaz Khokhar acknowledged the measures each side had put forth were "piecemeal proposals," noting they sidestepped a political solution on Kashmir which he called "the cancer and the poison" between the nuclear-armed rivals.
Khokhar urged India to reconsider its rejection of broad-ranging political talks, but he did not make the confidence-building measures conditional on such talks and welcomed most of India's 12-point proposal.
But while India and Pakistan inched forward with steps to ease travel restrictions and people-to-people contact, their hostile rhetoric barely eased, with each country accusing the other of one-upmanship and insincerity -- an indication of the distrust that remains after 55 years of hot and cold war.
"The time has come for the two countries to indulge in serious negotiations," Khokhar told reporters. "We are clear in our mind. We want to improve our relations with India, but this is going to be on the basis of dignity and honor."
Last week, New Delhi announced a series of proposals to ease tensions with Pakistan after a December 2001 attack on India's parliament brought the South Asian neighbors to the brink of war. India accused Pakistan of sponsoring the attack, a charge Islamabad denied.
In the most startling advance, Pakistan accepted India's offer to reopen the road that winds through the mountains from Srinagar to Muzzafarabad, the capitals of Indian- and Pakistani-controlled Kashmir.
The road has huge symbolic importance to Kashmiris, where many families live on both sides of the cease-fire line that divides Kashmir. Both nations claim the former princely state in its entirety; they have fought three wars, two of them about Kashmir.
However, Khokhar said the frontier crossing must be monitored by United Nations personnel, and Kashmiris who use the highway should use U.N. travel documents.
The Indian government had no immediate reaction to the proposal.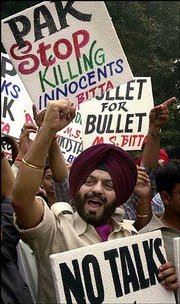 Copyright 2018 The Associated Press. All rights reserved. This material may not be published, broadcast, rewritten or redistributed. We strive to uphold our values for every story published.