PLEASANTON — In 1864, the Battle of Mine Creek, one of the Civil War's largest cavalry clashes, lasted less than an hour -- a quick and vicious fight that left hundreds dead or wounded.
Now, 139 years later, the Sons of Confederate Veterans wants to place a monument at the site. But they were turned away by the Kansas State Historical Society, leaving them more than a little miffed.
At one point, there had been talk about a large monument flanked by a smaller one for Union troops and another for Confederate soldiers at the battlefield 60 miles south of Kansas City, Mo.
In August, the historical society settled on a 4 1/2-by-5 1/2 foot granite monument honoring both sides. It was dedicated Saturday in front of the visitors center.
"Absolutely, we feel we have been rebuffed by the state in our efforts to honor our Confederate ancestors," said Jon Jenkins, commander of the organization's Kansas Division, which has about 200 members.
Even so, Sons of Confederate Veterans members attended the dedication. They set up a Civil War-era campsite on nearby private land complete with period clothing and weapons.
"We are going there to honor the Confederate dead," said Jenkins, of Wichita.
Mary Allman, KSHS executive director in Topeka, said the society decided on one monument because, "We want to honor both sides and do it in the most appropriate manner. We're doing what we feel is appropriate."
But Jenkins, whose great-grandfather's brother survived the battle, said he was taking it personally.
"This is no different from anybody else wanting a memorial for their ancestors," he said. "I think they are having a political correctness moment."
Allman said she was surprised by Jenkins' reaction because, "I think what we proposed is fair and appropriate to honor both sides."
Not giving up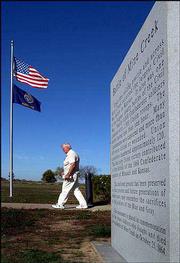 For Confederate Gen. Sterling Price's troops, the Battle of Mine Creek was a decisive defeat. Jenkins hopes his group will fare better.
"We intend to erect a monument. It's just not going to happen now," he said.
The Confederate group wants to put its monument on land owned by the Mine Creek Battlefield Foundation, a private nonprofit group started in 1999. It owns 320 acres of the battlefield adjacent to 280 acres owned by the state.
Civil War historian Arnold Schofield, a foundation founder, said the Confederate group's request was being considered.
He said the foundation was working with state officials to develop an overall plan for the battlefield, including creating markers and footpaths for tourists.
"I'm not against a monument, but you have to be careful when you place a monument on a site you want to remain pristine," said Schofield, of Fort Scott.
Battle history
On Oct. 24, 1864, Price's troops crossed from Missouri into Kansas and camped at Trading Post, a few miles north of Mine Creek. Before dawn of Oct. 25, his troops were routed by Union forces, starting a running battle that lasted the day.
Some 8,000 Confederate horse soldiers stretched for a mile on the low ground of rolling hills on the northside of Mine Creek to fight a rearguard action as Price's supply train and troops tried to move south.
Facing them were some 2,500 Union cavalrymen better equipped and better armed as they charged downhill, colliding at full gallop with southern soldiers who tried to hold the line.
"It was like rolling blue thunder coming down the hill toward you," Schofield said.
After the clash of sabers, firearms and hand-to-hand fighting, Confederate casualties were around 600 and about 120 for the Union.
The fighting continued south for another 40 miles as Price retreated back into Missouri and abandoned plans to attack nearby Fort Scott, a large Union garrison and supply depot, and invade Kansas.
Copyright 2018 The Associated Press. All rights reserved. This material may not be published, broadcast, rewritten or redistributed. We strive to uphold our values for every story published.