If she could move from one seat to another, Cindy Conant was having a good day.
Most of the time she would just sit in one spot, cradling what was supposed to be a bundle of joy.
Before her baby was born, she prayed every night for a baby, even if it meant enduring morning sickness and weight gain.
But afterward, her body stricken with flu-like symptoms, Conant didn't know if the very thing she had prayed for was a mistake.
"I was a mother who didn't know how to make such a tiny little thing stop crying," said Conant, of Knoxville, Tenn. She had no desire to eat or to shower.
Behind the fragile shell of motherhood and the fake smiles, Conant was a mother in need of mothering.
No amount of research on the Internet, in baby books and magazines or phone calls to family gave Conant the answers she was desperately seeking.
Now, at 38 and the mother of three boys, Conant tells her story as the fuel to fire a newly formed Postpartum Depression Task Force of East Tennessee "so no other new mother has to wonder what's wrong with her."
Her first son, Zachary, was almost a year old, and "I still felt like I was spiraling out of control," Conant said. "I didn't say anything to my doctors. There were no support groups or anyone I could talk to."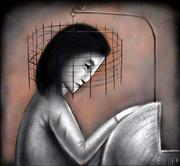 Conant said, "I felt embarrassed. Here I was with a healthy baby boy, who was predicted to have Down syndrome. Many women would want to be in my shoes."
Feeling crazy
But postpartum depression robbed her of the joy she should have been feeling.
Lasting anywhere from two weeks to up to a year after giving birth, post-partum depression (PPD) steals the best parts of motherhood from 8 to 15 percent of women, according to the Mental Health Association of East Tennessee.
The contributing factors of PPD are not clear, but hormonal changes, life stresses and the life change of giving birth seem to be related.
Symptoms of postpartum depression may include:¢ Uncontrollable crying.¢ Sleep difficulties.¢ Appetite changes.¢ Fatigue.¢ Confusion or poor concentration.¢ Nervousness.¢ Over- or under-concern for the baby.¢ Feelings of guilt.¢ Fear of harming the baby and/or yourself.¢ Lack of interest in sex.Source: Postpartum Depression Task Force of East Tennessee
The American Psychiatric Assn. states the symptoms of postpartum depression include headaches, chest pains, panic attacks, fatigue, hopelessness and loss of interest in life and being a caregiver.
The recommended treatments include taking anti-depressant medication, ongoing therapeutic counseling, socializing with friends or a support group, exercising and eating right.
Like most women dealing with PPD, Conant said she felt as if she were going crazy or losing her mind.
"My husband would come home, and I would still be sitting in the same place I was when he left for work," Conant said.
Fifty to 80 percent of new mothers experience the "baby blues" but are able to bounce back before the onset of post-partum depression begins.
Baby blues are a common afterbirth experience. It is labeled "normal and harmless" for a new mother to have feelings of being overwhelmed. Accompanying those feelings can be a loss of appetite, sadness, confusion and crying spells for up to two weeks after childbirth.
After Conant came to grips with the fact that Zachary's birth three weeks early hadn't given her the opportunity to attend parenting classes and accepted the difficult birth experience she'd had and "finally just got outside and talked to others, I got better."
Increasing awareness
Made up of health-care professionals, educators and volunteers, the Postpartum Depression Task Force of East Tennessee hopes to be the 911 for mothers and their families suffering from postpartum depression.
The mission is to ensure no mother hits rock bottom or slips into the phase of complete isolation, according to program coordinator Stacy Hicks.
"We want to be proactive in increasing awareness by educating, eliminating stigma and providing efficient access to care through a team approach," Hicks said.
One of the goals of the task force is to establish a 24-hour helpline for mothers suffering from PPD.
For now, the task force makes presentations available to organizations or individuals, and offers guidance and support "to any one or group willing to listen," said Cheryl Stallings, nurse and coordinator of women and children's outreach at Methodist Medical Center of Oak Ridge, Tenn.
"The fact is the birth of a child is not always a joyous occasion," Hicks said. "A woman shouldn't be afraid to admit this or fear she might lose her child if she does."
Copyright 2018 The Lawrence Journal-World. All rights reserved. This material may not be published, broadcast, rewritten or redistributed. We strive to uphold our values for every story published.