Marie N. Simons, 97, died Saturday, Oct. 25, at Lawrence Memorial Hospital after a short illness. She recently had resided at Presbyterian Manor Woods after moving back to Lawrence in 2001 from her home in Scottsdale, Ariz.
She was a longtime civic advocate and social leader in the Lawrence area, and was preceded in death by her husband, Dolph Simons Sr., former editor, publisher and chairman of the board of the Lawrence Journal-World.
Mrs. Simons was born July 16, 1906, in Omaha, Neb., the daughter of Mr. and Mrs. C. O. Nelson. She attended public schools in Omaha and Washburn, Neb., as well as Lindenwood College for Women at St. Charles, Mo. She later attended and graduated from Kansas University in 1928. Mrs. Simons received her bachelor of arts degree in social studies, then became a public school teacher in Nebraska, including a tenure as principal of Julian Consolidated High School before her marriage. She also taught briefly at Lawrence's University High School, then located in the 1300 block of Louisiana Street, just east of the present Kansas Union parking lot.
She and Dolph Simons of Lawrence were married in Auburn, Neb., on Feb. 16, 1929. She had been a resident of Lawrence since that time. Mrs. Simons and her husband also had residences in Minnesota and Arizona.
In addition to numerous civic activities, she remained active in Kappa Kappa Gamma sorority affairs and served as alumni adviser for a number of years. She also was an active member of Trinity Episcopal Church of Lawrence, the Lawrence Music Club and the AZ chapter of PEO.
Mrs. Simons' husband, who died in February 1989, served as chairman of the Kansas University Endowment Association and president of the Kansas University Alumni Association, and the couple was actively involved in numerous other KU activities and programs, as well as Lawrence, state and national social, philanthropic, political and journalism programs. Mr. Simons served as a vice president of The Associated Press in New York and was chairman of the 10th Federal Reserve District headquartered in Kansas City, Mo.
Mrs. Simons was one of the original three trustees of the Elizabeth Watkins Community Museum in Lawrence, and she and her husband were instrumental in the conversion of the former Watkins Bank building, which had been used as Lawrence's City Hall, into the museum. Mr. and Mrs. Simons co-chaired a drive to raise funds to purchase the building and for restoration decoration expense.
During World War II, Mrs. Simons headed numerous residential drives for the American Red Cross.
Mrs. Simons and her husband worked closely with the late Helen Spencer to have the Spencer Museum of Art built at KU. They helped start the KU Chancellor's Club. Mr. Simons was active through the Endowment Association in acquiring sizable acreages for additions to the KU campus, and he and Mrs. Simons worked for acquisition for public interests the acreage that now includes South Junior High School, Broken Arrow School, the surrounding parkland and the land now identified as the Baker Wetlands.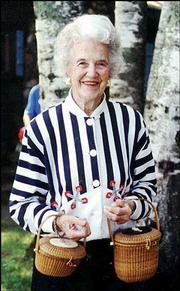 Until recent years, Mrs. Simons was secretary-treasurer of The World Company, the parent company of the Lawrence Journal-World and Sunflower Broadband.
The late Dolph Simons was recognized at the local, state and national levels for his involvement, activities and accomplishment, but he always made a point of recognizing the assistance, role and support of Mrs. Simons in his careers. Once, in a note to a friend who had congratulated him about an award, Mr. Simons wrote in reply:
"Marie actually deserves more space and attention than her old man. But, because of the primary 'homemaker' activity of many women of her time, they sometimes may not be in the forefront of so many newsworthy activities as their men. They should be. From the standpoint of love, devotion and character-shaping, people like Marie and so many others deserve double the attention of most of the menfolk. Their massive roles in making ours a better world cannot possibly be overestimated."
There are two children, Dolph C. Simons Jr., chairman, editor and publisher of the Lawrence Journal-World and The World Company; and Dr. John N. Simons, former chairman of the plastic surgery department at the Mayo Clinic, Rochester, Minn. He later moved to Scottsdale, Ariz., where he built a surgical center, and now resides near Brainerd, Minn.
Other survivors include nine grandchildren, John Simons Jr., Fort Collins, Colo.; Jim Simons, Long Lake, Minn.; Mrs. Gary (Andrea) Smith, Paradise Valley, Ariz.; and Mrs. Dahl (Suzanne) Hansen, Scottsdale, Ariz., all children of Dr. John and Althea Simons; and Melissa Simons, Scottsdale, Ariz., daughter of Dr. John and Barbara Simons; and Dolph Simons III and Dan Simons, Lawrence; Pamela A. Simons, Fort Collins, Colo.; and Linda Simons de Menocal, Bedford, N.Y., all children of Dolph C. and Pam Simons.
Copyright 2018 The Lawrence Journal-World. All rights reserved. This material may not be published, broadcast, rewritten or redistributed. We strive to uphold our values for every story published.