San Bernardino, Calif. — A wildfire leaped through dense housing tracts in the foothills of the San Bernardino Mountains on Saturday, destroying more than 50 homes, threatening hundreds of others and forcing thousands of people to flee.
The fire, which erupted around 9 a.m. about 30 miles east of downtown Los Angeles, was fed by fierce Santa Ana winds as it devoured 6,000 acres of chaparral within hours. No injuries were reported, but the blaze and an even larger wildfire nearby closed highways and choked the region with heavy smoke and flaming ash.
The cause of the fire was unknown, and no injuries were reported, but more than 50 homes were destroyed, San Bernardino National Forest spokeswoman Georgia Smith said.
The fire moved erratically, burning down one house, then skipping two before snaring another. In some cases back yards burned and houses were unscathed.
Evacuations were ordered for thousands in San Bernardino and the community of Crestline. The main evacuation center at the local airport was so packed city officials urged families to go to alternate sites.
Still, many residents refused to leave and tried to fight the fire with garden hoses.
Bobby Rodriguez, of Calimesa, came down to check on his friend's house and arrived to find the back of it on fire. He grabbed a hose and was watering the already burned detached garage, then trying to prevent the house from catching fire.
"I'm hoping nothing cinders up and blows up on the roof," Rodriguez said.
City Fire Chief Larry Pitzer said more than 1,000 firefighters were battling flames along a 12- to 15-mile front.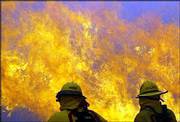 The fire spread furiously both up and down Old Waterman Canyon. It also split east and west, creating two fronts for firefighters to battle.
"We have a fire front ... that is hop-scotching and wind-driven," Battalion Chief Jess Campos said, adding that the flames were jumping a block to a block and a half at a time. "It just exploded pretty much."
Copyright 2018 The Associated Press. All rights reserved. This material may not be published, broadcast, rewritten or redistributed. We strive to uphold our values for every story published.