DELIA — Fifth-grader Kelsey Reynolds said she thought best at school while relaxing on a floor pillow munching Chex mix.
"Some kids learn better chewing on something," she said. "That's why we have a refrigerator and a microwave."
Kelsey and other students at Delia Charter School are free to pursue their particular, even peculiar, learning methods in the new school northwest of Topeka.
The rural school of about 60 students is different from most. Here, students have a highly individualized learning plan based on extensive testing of how they best learn.
"We're very excited," said Pam Sumner, director of the charter school affiliated with the Kaw Valley school district. "We hope that students choose to come here."
The first charter schools opened in Kansas during 1997, but sustaining the schools -- especially after federal startup grants run out -- remains a challenge.
And now, just six years after they began opening in Kansas, half of the state's 26 charter schools have served notice they'll go out of business next year. The reasons include some of the same problems facing all public schools in Kansas: declining funding and increasingly burdensome performance standards.
Seven existing charter schools informed the state they'd seek renewals in 2004. The school in Delia was among six new charters initiated this year that run through 2006.
And Diane DeBacker, director of school improvement and accreditation in the Kansas State Department of Education, said she anticipated about a half-dozen applications for new charter schools this winter.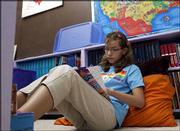 The key attraction, she said, was the state's announcement Monday of a three-year, $8 million grant from the U.S. Department of Education to assist in the planning and creation of new charter schools in Kansas.
"Anytime there's money that's outside what the general fund can generate ... there will be some school districts that will go after that money," DeBacker said.
In fact, when the Kansas Legislature in 1994 rewrote state law to allow charter schools, it was the promise of federal dollars that made them attractive. So did the opportunity such schools presented to tailor programs to specific students or groups.
Pressure to improve academic performance of Delia's students -- three-fourths are part of low-income households and half are American Indians -- forced change there, Sumner said.
The school board decided to make the school a charter school without knowing whether federal funding would be available, she said.
She has since applied for more than $100,000 from the state.
Farm families that formed the backbone of the district for decades are nearly gone, Sumner said.
The nearby Prairie Band of the Potawatomi Indian Reservation and jobs at the Harrah's gambling casino are now a big part of the community's fabric.
"As the community changes, we needed to change what we did for the kids," said Sumner, who also teaches a combination fourth- and fifth-grade class. "We needed a form of instruction that really met their needs."
Fewer restrictions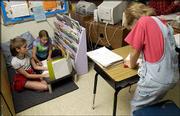 All of Delia's students were tested to determine their learning style, and curriculum is now presented in ways that reflect those individual traits. That includes a more free-form arrangement in classrooms that allows students to study on pillows, a rocking chair or traditional desks. They're allowed to have snacks, making them the envy of children elsewhere.
Fifth-grader Fred Catron, 10, said he liked the hands-on activities in class.
"It's a fun way to learn," he said.
Sumner said charter status also freed the school from a few hiring rules. Regular classroom teachers are certified in elementary education, but the school hired an artist who wasn't certified to teach art. In the past, the subject wasn't offered at the school due to budget woes.
"That wouldn't be easy to do in a regular school," she said.
She said a grant provided money to hire a noncertified instructor in the Potawatomi language. All students in the school take the language class, she said.
"They're working on a curriculum," Sumner said. "They're really trying to bring back the language, because it's dying."
The school started an after-school program, which gives students an opportunity to receive extra instruction on reading, math and writing.
The list of Kansas schools that will give up their charters next year includes John Dewey Learning Academy in Lecompton and Basehor-Linwood Charter School in Basehor. Both will remain in operation, but only as educational programs in the districts.
Federal standards
Delia Charter School must comply with the state's Quality Performance Accreditation standards and abide by the federal No Child Left Behind law, which sets rigorous rules for demonstrating sustained improvement in student achievement.
Steve Johnston, superintendent of the Perry-Lecompton school district, said requirements of the federal law were at the root of decisions to drop 50 percent of the state's charters.
"It's all related to No Child Left Behind," he said. "The rules are pretty burdensome."
For example, the John Dewey Learning Academy was among the 15 original charter schools in Kansas. It functioned as an alternative high school for districts in Jefferson County.
But the charter will be allowed to expire and ultimate responsibility for about 30 students there will be transferred back to their home schools. The move was necessary, Johnston said, because the Perry-Lecompton district can't hope to meet federal targets with those students on its rolls.
Not all the downsizing of charter schools in Kansas has to do with government mandates.
Brenda DeGroot, director of what is now called Basehor-Linwood Virtual School, said the school's financial success and a desire to avoid duplicating the accrediting process were the driving factor in deciding to drop its charter in 2004.
The school, which serves 350 students from all over the state with a distance-learning program, has grown substantially since it started in 1998 with about 60 children. Many are home-schooled students.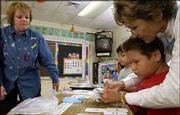 The same teachers, curriculum and assessments tied to the virtual school are used in the Basehor-Linwood district. Removing the charter label made sense, DeGroot said, because it simplified the accreditation process for staff.
"Why put them through two accreditation processes?" she said.
Sumner, who is in her 24th year of teaching, said creation of the charter school in Delia had invigorated her career.
"I love this school. It's a family atmosphere," she said. "But we had to change. Not everyone liked it. But we must think of the students first. We're doing this for them."
Copyright 2018 The Lawrence Journal-World. All rights reserved. This material may not be published, broadcast, rewritten or redistributed. We strive to uphold our values for every story published.